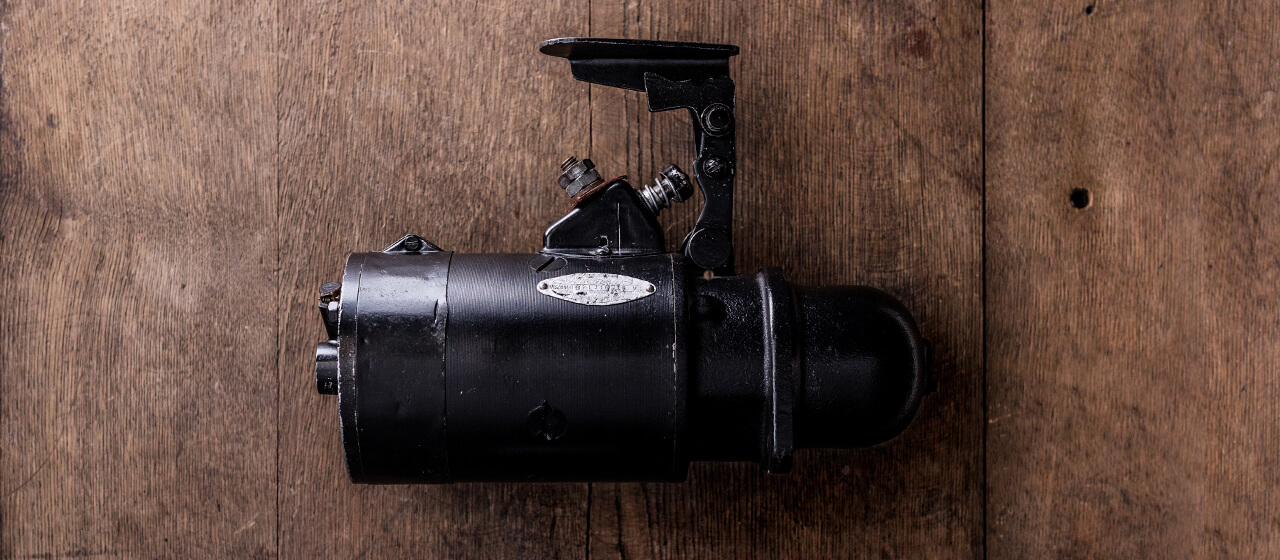 Introducing DENSO history, from our establishment until today.
1949
Nippon Electrical Equipments Co., Ltd, later changed its name to NIPPONDENSO CO., LTD., split from Toyota Motor Co., Ltd., and was established as a separate entity.
1953
Started technical cooperation with Robert Bosch GmbH of Germany.
This agreement allowed us to expand our technical expertise using knowledge from outside the company, to achieve world-class engineering.
1954
Started the Assigned Service Station System by establishing regional service plants.
Today, a global service network is in place to improve services for our end users in different regions around the world.
Established the Technical Training Center.
The principles of "Monozukuri is Hitozukuri (our performance relies on our people)" and "engineering and technique, hand in hand" are still being practiced today.
1955
Established the Injection Pump Preparation Section.
We began to expand our business beyond the company's original field of development and production of electrical components. Today, we operate in various product areas such as powertrains, thermal systems, electronics and driving control & safety systems. Being able to deliver entire systems instead of single products gives us a competitive edge.
1956
Created the mission statement on which DENSO is founded.
It was established in order to maintain and further develop the spirit of our founding.
1961
Received the Deming Prize, one of the most prestigious awards for quality control.
The efforts made by all of our employees to win the prize laid the foundations for our culture based on the concept of "Quality First."
1965
Started operations at Ikeda Plant (in Aichi Prefecture) and Hiroshima Plant.
This was our first production base established separately from our headquarters. Currently, we manufacture our products all over the world.
1966
Established a sales office in Chicago and branch offices in Los Angeles, USA.
The first sales office outside of Japan was established in anticipation of global trends such as trade liberalization.
1968
Established the IC Research Center.
In-house R&D of integrated circuits (IC) was launched at an early stage, in anticipation of electronic control for automotive components. Today, electronic components are some of the main products that we sell.
1971
Established NIPPONDENSO OF LOS ANGELES, INC., our first overseas sales company.
Operations outside of Japan helped us enhance our engineering capabilities and increase the commercial value of our products.
1972
Established NIPPONDENSO (AUSTRALIA) PTY. LTD., and NIPPONDENSO THAILAND CO., LTD., our first manufacturing companies located outside of Japan.
We decided to manufacture products near to our customers, in order to better meet their needs.
1977
Received our first WorldSkills Competition gold medal.
Since our founding we have continually invested resources into skills training, and it has produced great results. DENSO has earned more than 60 WorldSkills medals since 1977, and the recipients of these medals work together with engineers to develop technologies, and bring our products from prototype to production.
1979
Received our first Okochi Memorial Production Prize (Production Engineering Section), a prestigious award in Japan.
Production lines and equipment are manufactured in-house to attain the precision and quality we require from our products.
1984
Opened Nukata Testing Center.
We opened a test course at a comparatively early stage for a parts manufacturer. We have evaluation facilities equivalent to those of automakers, to help us ensure product performance and quality that exceeds our customers' expectations.
1991
Opened DENSO Research Laboratories.
We carry out R&D on new technologies that may emerge in the next five to 20 years. Our research covers a range of topics, from semiconductor materials to microalgae that produce oil.
1994
Adopted the DENSO Philosophy.
We adopted a philosophy that meets the needs of the modern world, based on our original mission statement (our corporate philosophy since our founding). It reminds us of our corporate philosophy of contributing to the world through our technologies and products.
Developed QR code technology.
QR codes make high-speed reading possible, which is particularly helpful as production sites increasingly shift toward producing a wider range of products.
1996
Adopted our new corporate name, DENSO CORPORATION.
The company name was changed from NIPPONDENSO to DENSO. Removing "Nippon," the Japanese word for Japan, reflects our aims of being a truly global company.
2004
Established the DENSO Spirit.
Our values and principles are known as the DENSO Spirit. It is a set of guiding principles for all employees around the world.
2005
Established DENSO Training Academy Thailand, our first overseas regional training center.
A system was established to provide education for engineers and technicians at a regional level, rather than just at the global head office.
2016
Created DENSO ECO VISION 2025.
This action plan aims to tackle issues such as the environment and energy usage.
2017
Established "Crafting the Core" as our Brand Slogan.
This brand slogan is based on the DENSO Philosophy, and expresses our visions and aims for the future.
Created the DENSO Group Long-term Policy 2030.
The slogan of this plan is "Bringing hope for the future for our planet, society and all people."