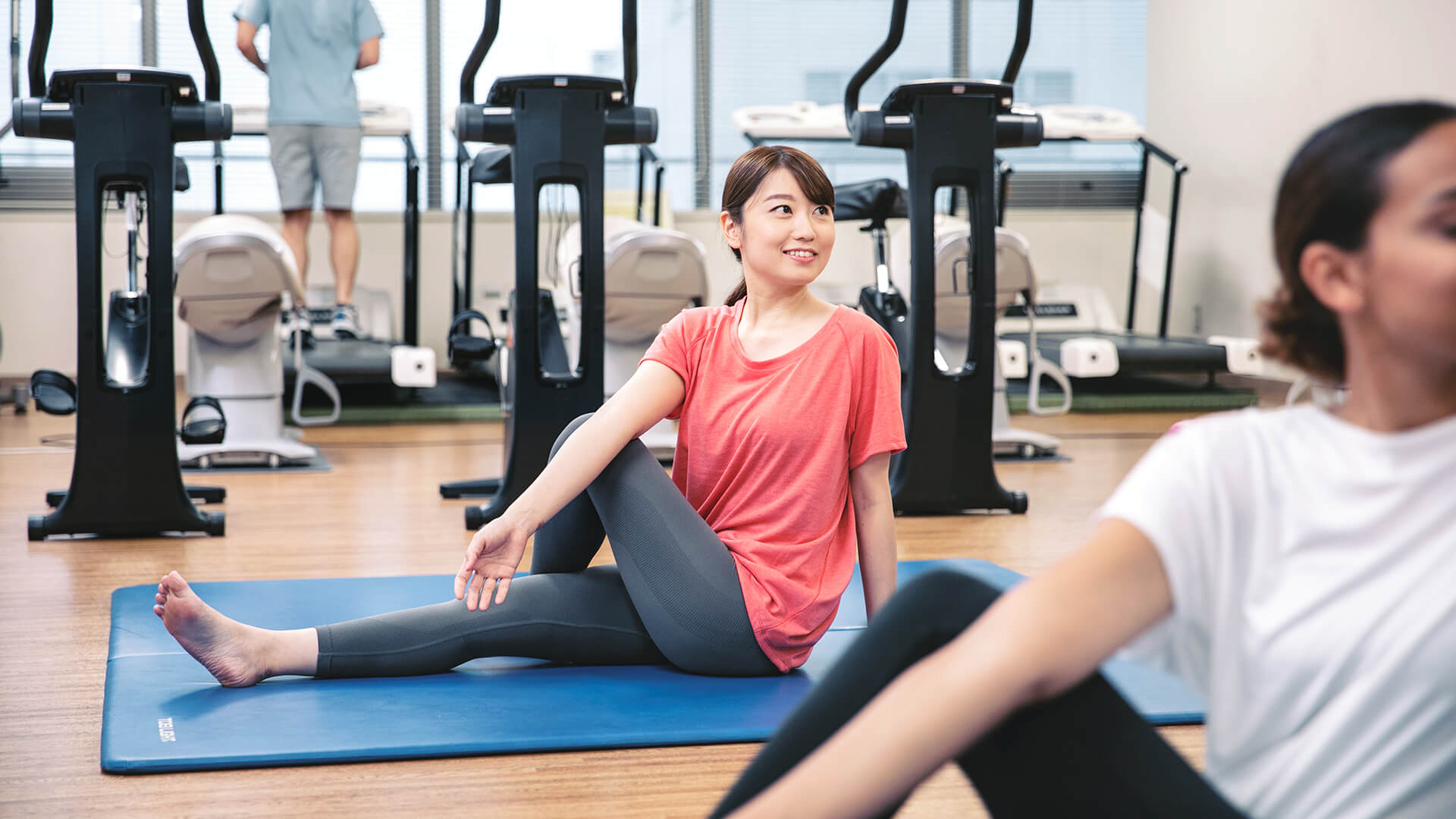 Promoting Employee Health
Basic Stance
Good physical and mental health provides the source for working in a lively and energetic manner and is essential for ensuring the happiness of our employees and their families. DENSO positions promoting the health of its employees as an important management task and is therefore moving forward with "health and productivity management."* DENSO announced its Health Declaration in September 2016. At the same time, to encourage activities that promote employee health and raise the level of health awareness in the workplace, DENSO is working to enhance its health-related initiatives from the perspective of both physical and mental.
DENSO Health Declaration
DENSO believes that good physical and mental health allows its employees to fully demonstrate their individual capabilities and personalities, which in turn further invigorates the Company as a whole. DENSO also believes that the happiness and passion that stem from being in good physical and mental health provide the driving force for energizing the Company and helping it attract new talent. In addition to enhancing the health-related initiatives we have thus far promoted, we hereby declare our intention to create a company in which employees can maintain good health and work in an energetic fashion. In doing so, we will realize our management principle of "corporate vitality and respect for individuality."
Koji Arima
President & CEO
DENSO Corporation
September 23, 2016
In addition, to promote health management at all DENSO Group companies, we formulated the "DENSO Group Health and Productivity Management Basic Principle" (February 2019). DENSO Group companies will share this basic principle, and implement activities suited to the current conditions in each country and region. Accordingly, we will strive to improve each associate's health awareness (Health Literacy) and create more comfortable working environments.
Denso Group Health and Productivity Management Basic Principle
The DENSO Group believes that good physical and mental health allows our associates to fully demonstrate their individual capabilities and personalities, which in turn further invigorates the company as a whole. We also believe that the happiness and passion that stem from being in good physical and mental health will attract people and provide the driving force for energizing the company. To realize the DENSO basic principle of "corporate vitality and respect for individuality" we aim to become a company where every associates can work in a healthy and energetic working environment.
1. Improving the health of each associates
We strive to provide information and opportunities for increasing our associates' health awareness(health literacy) so that all associates can take control of their own health and develop healthy behavior (appropriate diet and fitness habits, non-smoking, etc.).
2. Establishing a more associate-friendly work environment
We strive to establish a comfortable working environment that is friendly to every associates and enables diverse talent working at the DENSO Group to play an active role. Create a corporate culture that enables all associates to care about each other's health by encouraging communication through workplace management.
3. Promoting group-wide activities
We believe that continuing to pursue activities placing health as an important business challenge provides a driving force for building a company that continues to create new values and inspiring to society. The DENSO Group will share this basic principle, and implement activities suited to current conditions in each country and region.
Promotion Structure
The Healthcare Promotion Div. and related divisions have organized "Health Care Committee" to promote health promotion measures in DENSO.
We assign a "health leader" in each division, formulate an annual plan for health promotion (Health Action plan), work on health promotion with colleagues, work to improve personal health awareness (Health Literacy) and activate the organization.
In addition, we support the group companies in and outside Japan appropriately, based on the hygiene situation and medical environment in each region and country, thereby promoting mental and physical health of our associates.
Specific Initiatives
The Company views the ability of its employees to perform at their best in a sound mental and physical condition as a management issue that it must aim to resolve through health and productivity management. To this end, we are working to achieve the ultimate goal of reducing absences from work due to illness (absenteeism) and controlling any potential decline in employees' ability to perform due to poor health (presenteeism).
From fiscal 2023, we will focus on mental health and lifestyle disease countermeasures as priority initiatives, and promote health and productivity management by setting indicators related to employee awareness and behavioral change, such as our original "Employee Lifestyle Score," rate of metabolic syndrome improvement, rate of thorough health examinations taken and medical institution visits, cancer screening rate, and ratio of employees with high stress levels.
Health and Productivity Management Certifications
1. Superior Health & Productivity Companies *2 (40 companies)
Large-scale companies, White 500
DENSO CORPORATION
DENSO Health Insurance Association
DENSO Pension Fund

Kyosan Denki Co., Ltd.

SOKEN, INC.

DENSO FA YAMAGATA CO., LTD.

DENSO ELECTRONICS CORPORATION

DENSO Kyushu Corporation

DENSO SOLUTION JAPAN Corporation

DENSO TEN LTD.

DENSO FACILITIES Corporation
Large-scale companies
DENSO AIRCOOL Corporation

Jeco Co., Ltd.

SHIMIZU INDUSTRY Co., Ltd.

HAMANAKODENSO CO., LTD.

TD Mobile Corporation

DENSO WAVE INCORPORATED

DENSO AIR SYSTEMS CORPORATION

DENSO Katsuyama Co., Ltd.

DENSO SANKYO CO., LTD.

DENSO DAISHIN CORPORATION

DENSO TECHNO CO., LTD.

DENSO TRIM CORPORATION

DENSO FUKUSHIMA CORPORATION

DENSO HOKKAIDO CORPORATION

NIPPA Corporation

DENSO YAMAGATA CO., LTD.

DENSO WISETECH CORPORATION

DENSO WIPER SYSTEMS, INC.
Small and medium-sized companies, Bright 500
DENSO MTEC Corporation

DENSO POWERTRAIN TECHNOLOGIES Corporation

DENSO MIYAZAKI, INC.
Small and medium-sized companies
DENSO IT LABORATORY

IPICS CORPORATION

3D Incorporated

DENSO EMC ENGINEERING SERVICE CORPORATION

DENSO SI CORPORATION

DENSO CREATE INC.

DENSO PRESSTECH CO., LTD

DENSO SERVICE OKINAWA CO., LTD.

DENSO REMANI CORPORATION

DENSO LOGITEM CORPORATION
Initiatives of DENSO CORPORATION
Mental Health Countermeasures
We are promoting a wide range of initiatives to promptly identify employees dealing with mental health issues and provide them with the care that they need.
(1) Establishment of Mental Health Consultation Offices
We have in place a structure that allows employees to receive consultation from expert medical staff on a 24-hour basis. Through this structure, we provide mental health support that is closely connected to the workplace.
(2) Implementation of Stress Checks and Follow-up Care
Since fiscal 2014, we have been implementing mental health checks, thereby establishing an environment where employees can check their stress levels in advance of the revisions to the Industrial Safety and Health Act. In addition to reporting the results of these checks to each individual employee, we relay the results of our workplace stress analysis to each company office in an effort to provide further support for the mental health of our employees. Additionally, we hold one-on-one meetings with employees who are under particularly high levels of stress in order to promptly provide them with care.
In 2020, we added questions to these mental health checks that help determine the sleeping patterns of employees in an effort to focus our attention on sleep, which is believed to have a great impact on mental or physical health.
Status of Mental Health Check Implementation

| | | | |
| --- | --- | --- | --- |
| Fiscal year | 2019 | 2020 | 2022 |
| Number of employees receiving checks (percentage) | 49,976(96.5%) | 50,816(97.1%) | 49,169(97.0%) |
Implementation Status of Sleeping Pattern Checks
Implemented sleeping pattern checks for 30,687 employees. Checks were conducted via email in fiscal 2022.

Approximately 96% of employees had no sleep-related problems (below threshold).
(3) Establishment of Support Systems for Returning to Work (Introduced in Fiscal 2007)
To ensure that employees who have taken long leaves of absences due to physical or mental illness can make a smooth return to the workplace, we have established a support structure for returning to work under which occupational physicians and expert medical staff coordinate closely with the supervisors of such employees.
(4) Mental Health Training
We hold training based on case studies for our managerial personnel, which is provided by occupational physicians. We have also incorporated a mental health-related curriculum in our training for new hires.
Training Results in Fiscal 2022

· Results of Case Study-Based Training for Managerial Personnel
Participants
489
Number of sessions held
Total of two times
(September 9 and September 16)
Training time
1 hour 50 minutes
· Education for Newly Appointed Team Leaders
Participants
274
Number of sessions held
Total of 9 times
(between June and July)
Training time
1 hour 30 minutes
Promoting Measures to Alleviate Metabolic Syndrome
As ameliorative measures for those suffering from metabolic syndrome, a lifestyle-related disease, we have established a system for receiving specific health guidance from in-house experts during work hours.
(1) Promoting "Health Day" Training
To improve the health awareness of our employees, it is important to have them understand and thoroughly reflect on the conditions of their physical and mental health.
For employees who are approaching 39 years of age, we conduct a one-day training session called "Health Day." In this training, employees undergo a health examination, measure their physical strength, receive instruction on health maintenance and healthy eating habits, and participate in educational activities. Employees also set health-related goals for their 40s.
(2) Nutrition education activities that make use of the employee cafeteria
By implementing nutrition education activities that make use of the employee cafeteria, we are creating opportunities for employees to raise their awareness toward health and balanced nutrition and improve their own dietary habits.
We are promoting education on healthy diets in a delicious and fun manner by offering healthy lunch sets that are well-balanced in terms of nutrients, devising ways to increase our employees' intake of dietary fiber and vegetables, and preparing desserts that contain nutrients which women in particular tend to lack.
(3) Activities to Decrease Smoking Rates
To reduce the health-related risks from smoking and prevent secondhand smoke, we have been engaging in a Companywide project since fiscal 2012 that promotes efforts to discourage smoking. As part of our environmental efforts, we put in place a total indoor smoking ban (completed in fiscal 2019) and strictly enforce a no-smoking policy during work hours in an effort to reduce health risks. We also hold seminars on how to stop smoking and have introduced outpatient treatment for employees trying to quit. In these ways, we are implementing a variety of activities aimed at improving the rate of non-smokers.
Furthermore, in an effort to prevent secondhand smoke, we started gradually promoting a ban on cigarette smoking in fiscal 2021, and completed a Companywide ban on cigarette smoking in April 2021.
Trend in Non-Smoking Rates

Poster announcing the ban on cigarettes

Poster announcing the ban on cigarettes
(4) Efforts to prevent and treat cancer
The sooner that cancer is detected and treated, the better the chances of recovery are for the patient. Accordingly, to ensure that employees are able to realize changes in their bodies at an early stage, we conduct various cancer examinations in-house. Going forward, we will promote efforts to help reduce the health risks caused by cancer.
1966~ Chest X-ray: Lung cancer; Barium swallow test: Stomach and esophagus cancer, etc.
1985~ Abdominal echo: Liver and kidney cancer, etc.
1995~ Fecal occult blood test: Large intestine cancer
2017~ Examination bus: Breast and cervical cancer
(5) Health Festival (collaborative project with DENSO WORKERS' UNION)
As a collaborative effort with the DENSO WORKERS' UNION, we provide opportunities for employees to give consideration to their health by holding health-related events in which employees and their families can easily participate. Additionally, we made these events open to the public with the aim of promoting the health of local community members.
The major health check items offered at these events include: (1) simple physical strength test, (2) body balance test, (3) measurement of the sole of the foot, (4) measurement of visceral fat, (5) measurement of blood vessel age, (6) measurement of bone density, (7) measurement of skin age, (8) measurement of brain age, (9) measurement of lung age, (10) intraoral camera examination, etc.
Number of participants in main activities

| | | | |
| --- | --- | --- | --- |
| Activity | Walking | Lectures | Health check (14 items) |
| Number of participants | 867 | 320 | 6,000 (cumulative total) |
(6) Holding of Month-long Session for Promoting Employee Health (January 2022)
To encourage proper exercise habits and raise health awareness among employees during winter, when people are less active and have more opportunities to eat and drink, we held a month-long session for promoting employee health. In fiscal 2022, we made preparations to enable online participation in this event, in light of the ongoing COVID-19 pandemic, and implemented it accordingly.
Health seminars on exercise and mental health

Online fitness classes during lunch breaks (for internal staff)

Health quiz
Number of Main Participants

| | | | | |
| --- | --- | --- | --- | --- |
| Content | Health seminars on exercise | Online fitness classes during lunch breaks | Seminars on mental health | Health quiz |
| Number of participants | 663 | 436 | 809 | 543 |
Measures to Prevent Infectious Diseases
As an effort to prepare for an outbreak of a pandemic, relevant divisions of the Company have formulated a basic policy and response manual from the perspective of preventing infection. In the event that such a pandemic occurs, we will promote the necessary infection prevention measures.
In addition, as a Company with many overseas bases, we recognize the importance of responding to global health issues, such as tuberculosis, malaria, and HIV/AIDS —the world's three major infectious diseases—and are proactively implementing response measures. For employees on overseas assignments and their families, we provide information on infectious diseases as well as vaccinations and local medical support.
TOPICS: Response to COVID-19 Pandemic
In an effort to prevent the spread of COVID-19, we rigorously enforced essential measures, including having employees take their temperature and confirm their health condition before work as well as wash their hands regularly and practice proper etiquette when coughing. We also emphasized the importance of avoiding crowding in locations such as conference rooms and employee cafeterias. Furthermore, we clarified the necessary response measures in case an employee became infected or was suspected of being infected. In addition, we set up telephone hotlines via public health nurses to promptly respond to inquiries from the workplace. We also introduced disinfecting kits at in-house clinics and other locations. In these ways, we established a system that enables our employees to work with greater peace of mind.
Moreover, we are promoting Groupwide efforts to prevent the spread of the virus through such means as offering manuals and health check sheets at Group companies both in Japan and overseas. We also offered workplace COVID-19 vaccinations at 10 different venues in response to requests from the Japanese government.
The situation regarding the COVID-19 pandemic is changing on a daily basis. Going forward, we will examine and implement measures to prevent its spread in a timely fashion in accordance with the current situation.
Main efforts for preventing the spread of COVID-19 (As of June 2022)
Work

Encouraged staggered working hours through the use of flextime systems
Encouraged working from home

Business trips, conferences, and events Business trips within Japan

« Business trips within Japan »
Decide with careful consideration after measures have been taken to prevent infection

« Overseas Business Trips »
Business trips to countries and regions with a Ministry of Foreign Affairs infectious hazard Risk Level of two or lower are permitted.
However, we will make efforts to minimize the number of business trips and number of employees attending such trips through online meetings and other measures.
When on business trips, we will take precautionary measures to prevent infection.

« Conferences and events »
Select the most appropriate method of conducting meetings after considering the advantages and disadvantages of meeting in person and online
When conducting in-person meetings or training sessions, implement infection control measures, such as masks, disinfection, and ventilation, and adhere to the guidelines of two-meter social distancing and keeping sessions to 30 minutes or less
Participation in outside events is to be carefully determined based on necessity, and after infection prevention measures have been taken.

Rigorous enforcement of measures to prevent spread

Had employees take their temperature before reporting to work
Had supervisors confirm the health status of their team members every day
Thoroughly enforced handwashing and other measures (after entering the office, after returning from outside, and before meals)
Encouraged employees to avoid crowded areas and promoted proper coughing etiquette (masking and other measures to prevent becoming infected and spreading infection) Avoided the creation of crowded environments in the workplace and ensured proper ventilation
Establishment of the Health Management Indicator "Lifestyle Score"
The Company has established its original "Employee Lifestyle Score, *4 an indicator based on data from individual employees' checkups, which corresponds to the health behavior and health data targets set in Healthy Japan 21, *3 and has set the Companywide average value as a management target.
Furthermore, we make office health leaders aware of the lifestyle scores for their respective workplace, thereby enabling them to formulate effective health action plans.
Based on their lifestyle scores, we distribute written notifications to employees that contain advice on their strengths and weaknesses as well as information on how they compare to employees of the same age and what kinds of efforts they should make in the future. By raising the percentage of employees with healthy lifestyle habits, these activities aim to increase our Companywide average Lifestyle Score by 10% compared with fiscal 2018.
In addition, Denso Kenko Station (DKS), developed in-house, is a health application that allows users to register not only Lifestyle Scores but also health checkup data, dietary data such as calories and salt content of food consumed at the Company cafeteria, weight, step counts, blood pressure, and other data. Employees can utilize the application in their day-to-day health management.
Employee Lifestyle Score

| Fiscal year | 2020 | 2021 | 2022 |
| --- | --- | --- | --- |
| Target | 73.0 points | 74.5 points | 76.0 points |
| Results | 71.4 points | 72.5 points | 74.0 points |
Denso Kenko Station (DKS)
Contributions to Local Communities and Affiliated Companies
We implement the following activities to contribute to health-related initiatives aimed at local communities and affiliated companies.
(1) Blood donation activities
Since 1966, we have supported the blood donation activities of the Japanese Red Cross Society to contribute to the treatment of patients who need blood due to illness or injury. We also encourage our employees to volunteer to give blood at mobile blood donation stations.
(2) Health lectures, panel exhibits, and opportunities for health-related measurements (at General Meeting of Suppliers)
For our suppliers, who represent important business partners, we offer health lectures and panel exhibits via our industrial physicians and introduce the health-related activities of various offices. We also provide opportunities for our suppliers to receive health-related measurements such as body composition measurements. In these ways, we strive to make our health-related efforts well known and help support the health of our suppliers.
Future Initiatives
With the aim of fostering a corporate climate where employees can continue to work in a healthy and energetic manner, the DENSO Group continues to support the creation of healthy lifestyles and is making strides in creating work environments that are safe, secure, and fulfilling. In addition, we will share policies with Group companies in Japan and overseas and undertake initiatives with the aim of strengthening our Groupwide health management. At the same time, we will create a corporate culture based on health-related themes to promote optimal health policies and encourage healthy lifestyles.