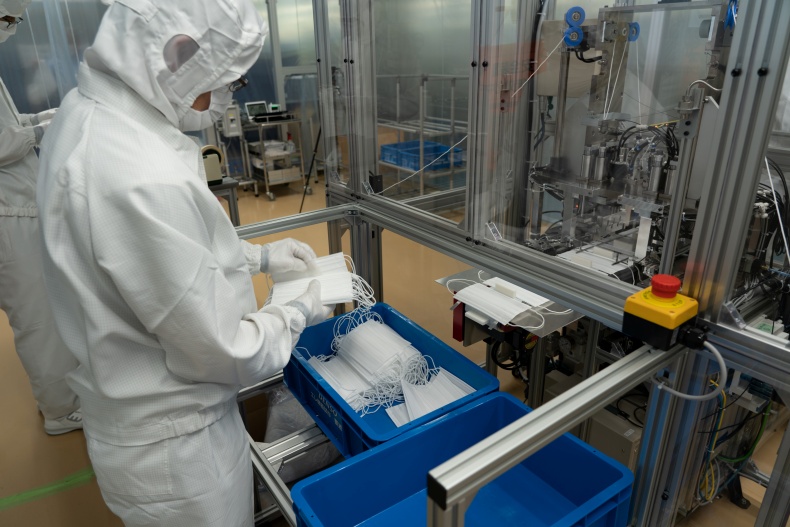 DENSO begins in-house mask production for DENSO Group employees to ease supply and demand for masks
We would like to express our deepest condolences to those affected by the spread of the COVID-19 all over the world, and to express our heartfelt sympathy to those still fighting the illness. We would also like to express our deepest gratitude and respect to everyone around the globe making efforts every day to prevent the spread of infectious diseases.

To help do our part, DENSO CORPORATION began producing masks in its own facilities on April 27 for DENSO Group employees. We took this step to protect our employees while conducting production activities in countries and regions facing mask shortages due to increased demand. As a result, DENSO is able to safeguard employees and become self-reliant in mask procurement, helping alleviate mask shortages for those most in need.

While this is the first time in DENSO's history we have produced masks, we are using the experience and technologies we have cultivated from over 70 years of automotive manufacturing to inform our mask producing process, from design to assembly. We have also created clean booths in-house to make the masks in an environment that ensures top cleanliness and quality. We will aim for mass production of 100,000 sheets per day from May onward, while gradually increasing productivity. Currently, masks are intended for DENSO employees, but we will consider making donations to local communities when production stabilizes.

DENSO will continue its efforts to prevent the spread of the COVID-19infectious diseases, placing the highest priority on ensuring the health and safety of local residents, customers, employees, and their families.