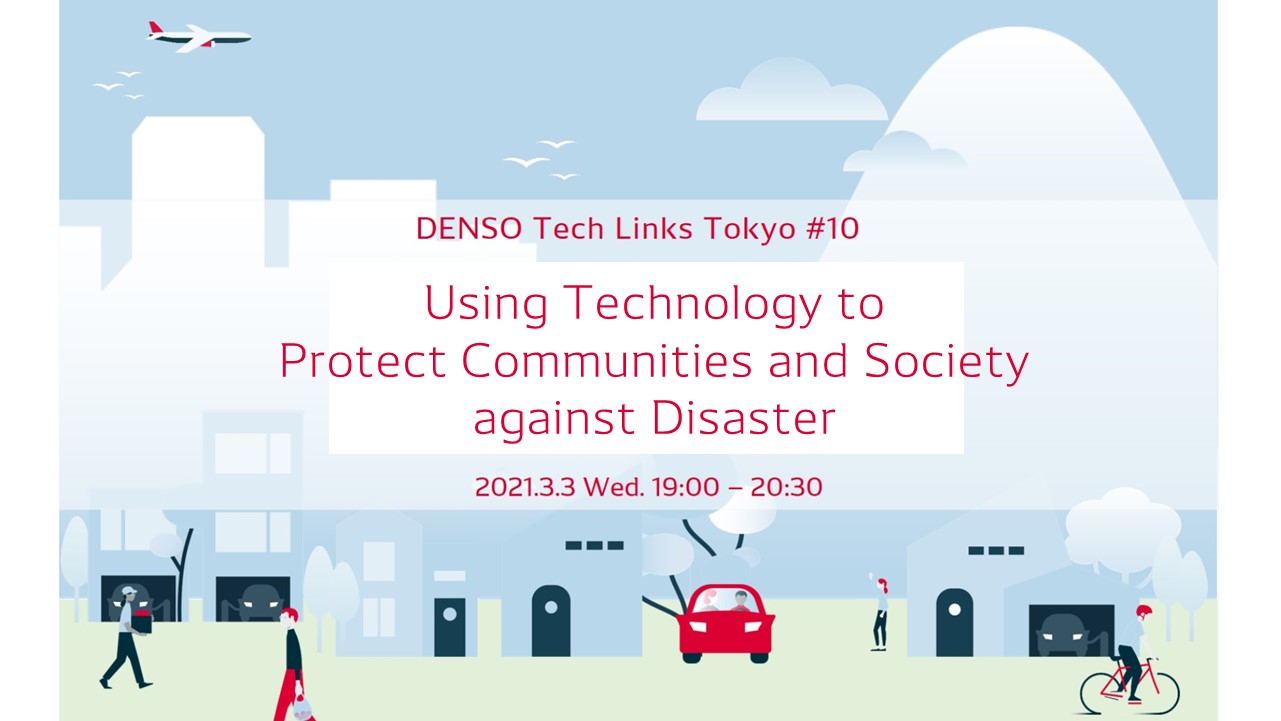 "Lifevision" "V2H Charging-Discharging Systems" "Bridge Inspection Using Drones" DENSO's Other Mission in Addition to Automotive Components
On March 3, 2021, DENSO Tech Links Tokyo #10, an event organized by DENSO Corporation, was held as a webinar. The theme was "Using Technology to Protect Communities and Society against Disaster." Yasutake Hirai of the Automotive & Life Solution Div. talked about technologies for achieving DENSO's mission "Contributing to a better world by creating value together with a vision for the future."

【Speaker】
Yasutake Hirai
Residential & Commercial Equipment Marketing Dept.
Automotive & Life Solution Div.
DENSO Corporation
DENSO's Goal

Yasutake Hirai: Today, I will talk about part of DENSO's resilience activities based on the theme of "Providing Peace of Mind and Safety of Communities in Normal Times and Emergencies."

First, I will explain why DENSO is working on ensuring the peace of mind and safety of communities. DENSO is widely known as an automotive components manufacturer. But our corporate mission is "Contributing to a better world by creating value together with a vision for the future."

Our goal has two aspects: "green" and "peace of mind." In terms of "green," we are committed to achieving "lasting vitality for the environment." On December 2020, President Arima announced to the media our initiative toward carbon neutrality. This will be explained on another occasion.

I will focus on the goal in terms of peace of mind: "providing a sense of well-being."
To achieve a society free from traffic accidents, we have been developing and manufacturing automotive components to ensure peace of mind and safety during driving. To achieve a society where people can live with peace of mind even after leaving their vehicles, we will expand the scope of our business to houses, commercial facilities, communities, and society as a whole.

This slide shows the three key points of my presentation. The first point is "peace of mind and safety solutions by using the disaster management and government information distribution system." The second point is "enhancement of resilience by using electric vehicles (EVs)/plug-in hybrid vehicles (PHVs) and V2H charging-discharging systems." The third point is "bridge inspection service using UAVs."
Disaster Management and Government Information Distribution System: "Lifevision"

Let's start with the first point. This is our app called "Lifevision." It is already used by more than 40 local governments across Japan. In normal times, users can check community information and public relations information on their tablets, mobile phones, and smartphones.

In an emergency, information released by local governments is distributed by using an interface design that is accessible even for elderly persons. The app ensures access to information for people without IT literacy, or "the information poor."
Detailed explanations will be given later because this is the main topic of our presentation today.
"V2H Charging-Discharging Systems," the Key to Resilience

Let's move on to the next point: enhancement of resilience by using EVs/PHVs and V2H charging-discharging systems. I will explain "V2H charging-discharging systems," which are the key to resilience. EVs serve as chargers. V2H stands for Vehicle to Home, which refers to equipment capable of supplying electricity stored in EVs to houses and facilities. DENSO's V2H system can charge EVs/PHVs with the maximum output of 5.9 kW. This is almost double the speed of an ordinary charger.

The system can discharge electricity from EVs/PHVs with the maximum output of 5.9 kW, which can mostly cover the electricity consumption of an ordinary household.

In terms of management, the timing of charging and discharging can be scheduled by setting the timer. EVs/PHVs are originally designed exclusively for mobility. However, vehicles are parked 95% of the time, unused. We aim to use EVs as driving storage batteries to store electricity in normal times and enhance resilience in the event of an outage.

Next, I will give specific examples of using the V2H system for resilience.

First, EVs/PHVs can be used as storage batteries. Recently, sheltering at home has become an important option. The V2H system makes it possible to supply electricity from a vehicle to a well-built house as a shelter. People whose houses are damaged must go to evacuation shelters and support centers for disaster victims, where the lack of electricity becomes a problem. At evacuation facilities, electricity must be available to charge smartphones and operate lighting and air-conditioning equipment. EVs/PHVs can be used to transport and supply electricity.

Second, EVs/PHVs can be used as a means of mobility. When we conducted interviews in affected areas, we found that there was a serious shortage of relief supplies and gasoline. EVs can be used as a means of mobility to transport electricity and as storage batteries.

PHVs can recharge the battery by running the engine until they run out of gasoline. Multiple BEVs or PHVs are used in rotation to increase comfort in the affected area, even if only a little.
DENSO has set up a V2H system at the head office. We have been making preparations so that public facilities can be used as community disaster management stations by using EVs/PHVs and V2H charging/discharging systems in the event of an emergency.

Bridge Inspection Service Using UAVs

The final point is the bridge inspection service using UAVs, which are commonly known as "drones." DENSO develops drones as well, which have advantages in positioning performance, weatherability, and proximity performance.

The positioning performance is ensured by this flight controller. The system enables accurate flight control using propellers. In terms of weatherability, the system ensures stable flight even at the wind speed of 10 m/s by using the flight controller. The proximity performance makes it possible to capture images properly at distances of 1.5 m to 3.9 m from objects.

We develop UAVs that can capture clear images thanks to their stable flight. I am not talking about selling drones. We offer a bridge inspection solution using drones. We are shifting part of our business from offering products to offering solutions.
Our bridge inspection solution has three characteristics as shown in the slide. Drones capable of stable flight are used to perform "automatic flight and image capturing." The environment under a bridge is severe when the wind blows between pillars across the bridge. Our drones can fly stably close to bridge pillars and capture images for analyzing damage.

After images are captured, damage is analyzed by using our deep learning technology. Damage is color-coded by green and red, and the data is used for future maintenance.

We are developing new technologies to meet the needs for preventive maintenance promoted by the Japanese government. We are contributing to peace of mind and safety of bridge infrastructure by offering integrated solutions of drones, image capturing, and analysis.

Our bridge inspection solution aims to ensure that 720,000 bridges across Japan can be used with peace of mind in normal times and in the event of a disaster.
Providing a sense of well-being

Finally, this slide summarizes the key points of my presentation. As I stated at the outset, we are reinforcing our efforts in the field of resilience to achieve our goal of "Providing a sense of well-being " Thank you very much.