Information
Yoshimura SERT Motul consecutively won 24 Heures Motos of FIM EWC at Le Mans 2022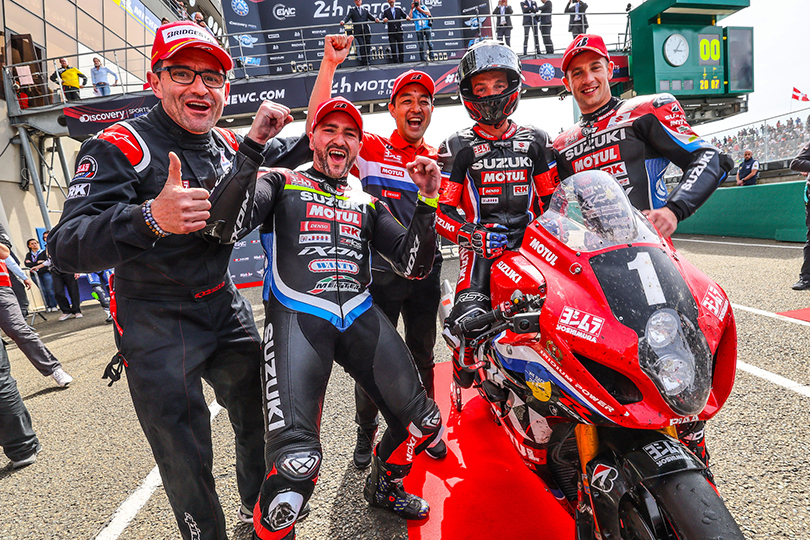 April 18, 2022
The Yoshimura SERT Motul team, supported by DENSO IRIDIUM POWER, won its second championship at the 24 Heures Motos of Le Mans, Round 1 of the FIM Endurance World Championship (EWC), held on April 16 and 17th.

While the team started the final in the second position, the pole-position team suddenly experienced trouble during the first lap and dropped out of the battle. An intense battle unfolded with the new leader, TSR Honda. After three hours, Yoshimura SERT Motul entered the pit after nearly running out of gas. The team closed in on first place TSR Honda from half a lap back and was in the lead after eight hours. Successive mechanical issues and dropouts by rival teams led the safety car to enter the track eight times, and trouble unfolded for the teams in third place and lower. Yoshimura SERT Motul drove steadily while maintaining first place. The team won back-to-back championships of the legendary 24 Heures Motos of Le Mans through the excellent condition of its machine, the teamwork to maintain it, and the skills of its outstanding riders.

DENSO has supported Yoshimura's challenges for 40 years through its spark plugs. The team's victories prove the high performance and durability of our products. DENSO will continue to strongly support Yoshimura SERT Motul. We hope for everyone's continued support! Congratulations!
<Results from the 24 Hours of Le Mans motorcycle race on April 16 and 17th>
Qualifying round: 2nd
Final: 1st
Riders: Sylvain Guintoli
Gregg Black
Xavier Siméon

Kazuki Watanabe (Reserve Rider)

The Facebook page "DENSO aftermarket" also covers the current activities of the DENSO support motor sports team.
https://www.facebook.com/denso.shihan
YOSHIMURA JAPAN Co., Ltd. website
https://www.yoshimura-jp.com/