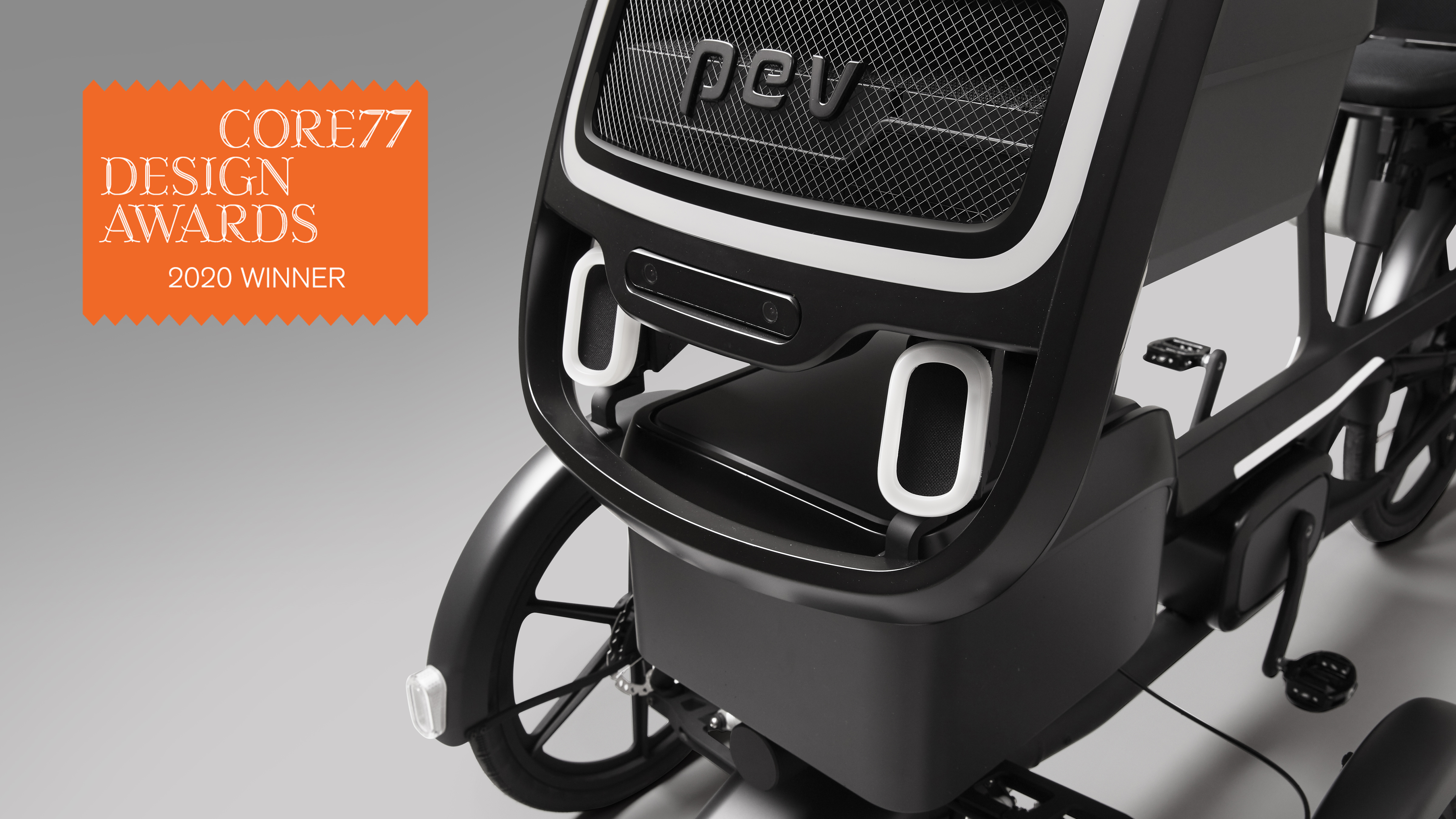 DENSO's Persuasive Electric Vehicle Wins Core77 Award for Excellence in Design
–DENSO recognized in Transportation category for innovative design of last-mile mobility vehicle–
SOUTHFIELD, Mich., (Sept. 24, 2020) – DENSO, a leading mobility supplier, has been named a winner of the 2020 Core77 Design Awards in the Transportation category for its work on the Persuasive Electric Vehicle (PEV). The PEV, collaboratively designed by DENSO's Cockpit System R&D Division, DENSO Creative Design and the MIT Media Lab Science Group, is a tricycle-based, last-mile mobility concept that is currently in the testing phase.
The Core77 Design Awards – hosted by Core77, a magazine and resource for industrial design – annually recognize the richness of the design profession, as well as the insight and perseverance of its practitioners. In its ninth year of competition, the award program prides itself on maintaining excellence and inclusivity by offering both students and professionals the opportunity promote their best work on a global scale through 18 design disciplines. The Transportation discipline looks at vehicles, systems or modes of transportation used to get people or objects from one place to another, for private, public, commercial or industrial purposes.
"Core77 has been a resource for the industrial design community for more than two decades," said Michael Lozano, Chief Creative Designer of DENSO Creative Design. "Since the award's inception it has grown to be a symbol of excellence for businesses and brands who are truly using innovative designs to transform their respective industries. For DENSO's work to be recognized in the Transportation discipline, it is not only an honor but a testament to the company's commitment to producing creative mobility solutions that are safe, efficient and more intuitive for all."
As part of DENSO's Second Founding and Long-term Policy 2030, the company strives to enrich society with new offerings that enhance mobility and increase sustainability. In that effort, DENSO has worked closely with MIT Media Lab since 2017 to create solutions for last-mile mobility, a term used to describe the final movements of people or products before arriving at a destination. Using an approach that combines design, technology and public policy, DENSO and MIT Media Lab developed the PEV, a versatile transportation tool for challenge-filled urban environments.
To address the dynamic elements of city travel, the PEV combines the agility of a bicycle with the capability and comfort of an electric vehicle. It can run on manual-pedal propulsion or fully-motorized autonomous drive. Some of its other most impressive features include:
Vehicle-to-pedestrian communication: The PEV communicates with pedestrians in proximity, using directed driver eye movement, via full spectrum LED lights, projector and directional speakers.

Remote ride hailing: A ride is just a click away, via a smartphone app. The user can also customize comfort and ride settings before the PEV arrives.

Face ID: For security, the PEV uses facial recognition to confirm the user, and access their individual driver profile.

Follow mode: The PEV can safely follow the user if they would rather walk or carry goods for the user.

Air Curtain: DENSO's HVAC paired to small turbo nozzles create an air curtain around the driver. This curtain will surround the driver to create the ideal comfort environment.

HVAC seating: The rear HVAC unit helps pump heating and cooling into the driver's seat back and bottom.

HVAC storage: The HVAC in the rear allows users to keep their packages at optimal temperatures during travel.
"The PEV is unique in that it puts public interest at the forefront," said Lozano. "It considers the needs of users, transportation companies and society as a whole. That's why the 'P' in 'PEV' stands for 'persuasive.' Our goal with this vehicle is to communicate to cities and its inhabitants that when vehicles are connected, electrified and can run autonomously, it creates smarter and more efficient transportation."
To learn more about the PEV and what made it stand out for a Core77 Design Award, visit: https://designawards.core77.com/Transportation/94620/Persuasive-Electric-Vehicle-PEV
About DENSO
DENSO is a $47.6 billion global mobility supplier that develops advanced technology and components for nearly every vehicle make and model on the road today. With manufacturing at its core, DENSO invests in its 221 facilities in 35 countries to produce thermal, powertrain, mobility, electrification, & electronic systems, to create jobs that directly change how the world moves. The company's 170,000+ employees are paving the way to a mobility future that improves lives, eliminates traffic accidents, and preserves the environment. Globally headquartered in Kariya, Japan, DENSO spent 9.9 percent of its global consolidated sales on research and development in the fiscal year ending March 31, 2020. For more information about global DENSO, visit https://www.denso.com/global.
In North America, DENSO is headquartered in Southfield, Michigan, and employs 27,000+ engineers, researchers and skilled workers across 51 sites in the U.S, Canada and Mexico. In the United States alone, DENSO employs 17,700+ employees across 14 states (and the District of Columbia) and 41 sites. In fiscal year ending March 31, 2020, DENSO in North America generated $10.9 billion in consolidated sales. DENSO is committed to advancing diversity and inclusion inside the company and beyond – a principle that brings unique perspectives together, bolsters innovation and pushes DENSO forward. Join us, and craft not only how the world moves, but also your career: www.densocareers.com. For more information, go to https://www.denso.com/us-ca/en/.