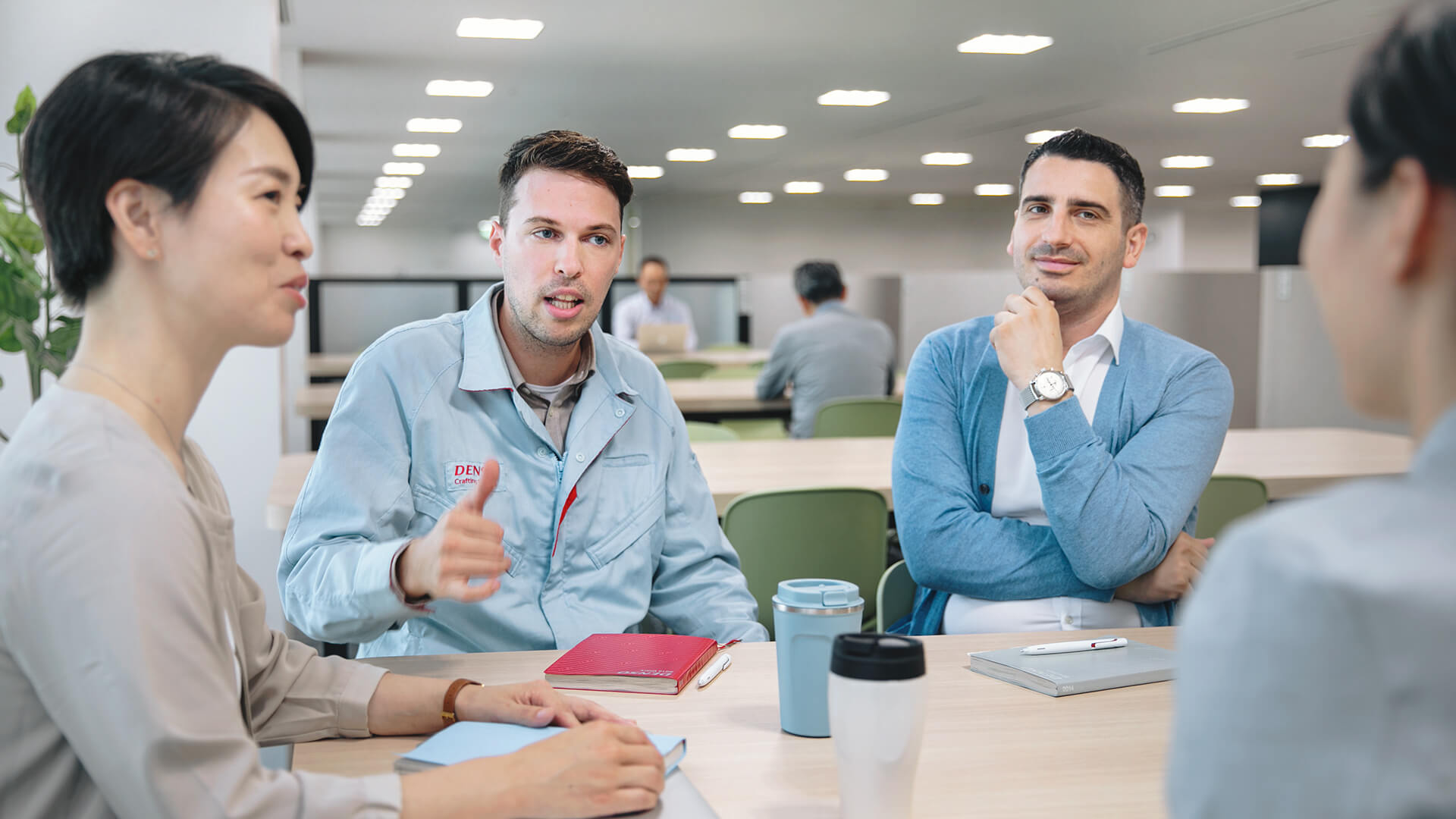 DENSO Careers
We believe that better manufacturing is the result of better human resource development.
Human Resources Philosophy
Promoting Individual Potential and Team Collaboration
DENSO provides a working environment where ambitious individuals grow and teamwork drives success. We invest in our people because our success depends on their personal and professional development. We are committed to growing each employee while nurturing both individual and team capabilities. We seek to put people first, encourage participative decision making by all members, foster collaborative teamwork and support career development.
Evaluating system that Values People
DENSO values people and believes in the fair treatment of all individuals across the globe. We believe diverse people and opinions help ensure our long-term success. We are committed to ensuring job stability, even during difficult times, and fostering long-term employment across our workforce.
Participative Management by All Members
We share company and organizational policies and goals with all employees to help them understand their roles.
Support for Career Development
No matter where employees are in their career, we provide challenging experiences, group training and rotation opportunities to help them advance as a leader or expert in their field.
Teamwork
We encourage activities in which we can speak openly and freely inside and outside the company in a variety of venues.
Human Resources Development at DENSO
Brighten your professional future
We believe that monozukuri is hitozukuri. We are capable of greater things when we focus on the development of our employees. To ensure continuous improvement and technological breakthroughs, we listen and learn from our people, aspire towards greater success, and take on new challenges to grow.
The foundation of DENSO's human resource development is growth through work. We believe taking on challenges at work is the best opportunity for growth, and we encourage long-term growth by providing development opportunities to motivated individuals. We also believe continuous feedback and coaching is critical to growth.
We also have a number of extensive training programs designed to provide employees with knowledge, skills, and experience that cannot be learned through work alone.
DENSO Development Programs
Global Opportunities
DENSO is a global company and employer. We offer the opportunity to work on diverse projects across our international network, which includes more than 200 group companies and technical centers in 35 countries and regions.
Leadership Development Program
We offer professional development sessions focused on organizational innovation, business missions, and global business strategies by world-class instructors.
Human Resources Development Program
We provide opportunities to acquire knowledge and skills no matter where you are in your career.