Starting up a business from hackathon.
Pleasure of utilizing your interests for your job
Take a step forward to doing what you really want to do, and you can change yourself and society
Software Career Development Dept and is head of the Fure-AI Project.Tatsuyoshi Kano

Tatsuyoshi Kano works for the Software Career Development Dept. and is head of the Fure-AI Project. As a fresh graduate, he joined DENSO in 2005 and started out in design and development for radiators, electronic control units (ECUs) used in automated driving, and other automotive components and equipment. Upon winning first prize in 2018 at the Nagoya Hackathon hosted by Nagoya City, he launched the Fure-AI Project which he has been pursuing alongside his usual work, and after winning the DENSO President Award for this project he transferred to the Connected Systems Business Development Div. to work on business development. Kano started the D-SPRINGs (DENSO Sustainable Project – Research and INnovation Groups) in-house community, which has already given more than 2,700 DENSO associates opportunities to pursue new goals and passions. In July 2022, he transferred to the department that supports software engineers' career advancement, where he is engaged in personnel and organizational development. He also serves as the project leader for efforts related to the 2025 World Exposition in Osaka, and is involved in DENSO's plans for the future of mobility-oriented societies.
Tatsuyoshi Kano works energetically day-to-day to "do what he wants to do now." He has won numerous awards at external hackathons and business contests and has even taken on the challenge of starting side jobs. In recognition of his activities, he is in charge of business creation at his main job. What path has he taken so far, and what is his valued outlook on life?"
Contents of this article
Growth through working hard on things I care about: enjoying life in an era of one-hundred-year lifespans
My view of life is that we should pursue the things we like and be excited about what I do. Some people choose to work just for the money and robotically process the tasks they're assigned, but I'm not sure that's the best way to live.
It's said we can live 100 years. The retirement age keeps getting raised, so I'd like to be excited and to work doing what I love and feeling energetic throughout my long career.
Some of the people who make good money through work still feel unsatisfied with life. I think it's more enjoyable to have a happy life filled with smiles and laughter than focusing on wealth alone.
With the spread of telecommuting and side jobs, people are increasingly able to do what they love whenever they want to do it. Furthermore, as market conditions continue to shift, people are no longer following an extension of the conventional way, but instead combining their work with what they want to do and integrating new ideas and approaches to create new value.
It's difficult to successfully balance what I have to do and what I love. However, I try to be honest with myself and do what I love. I think that this makes life more enjoyable, and also makes my work more useful to the world.
Impetus to do what I love right now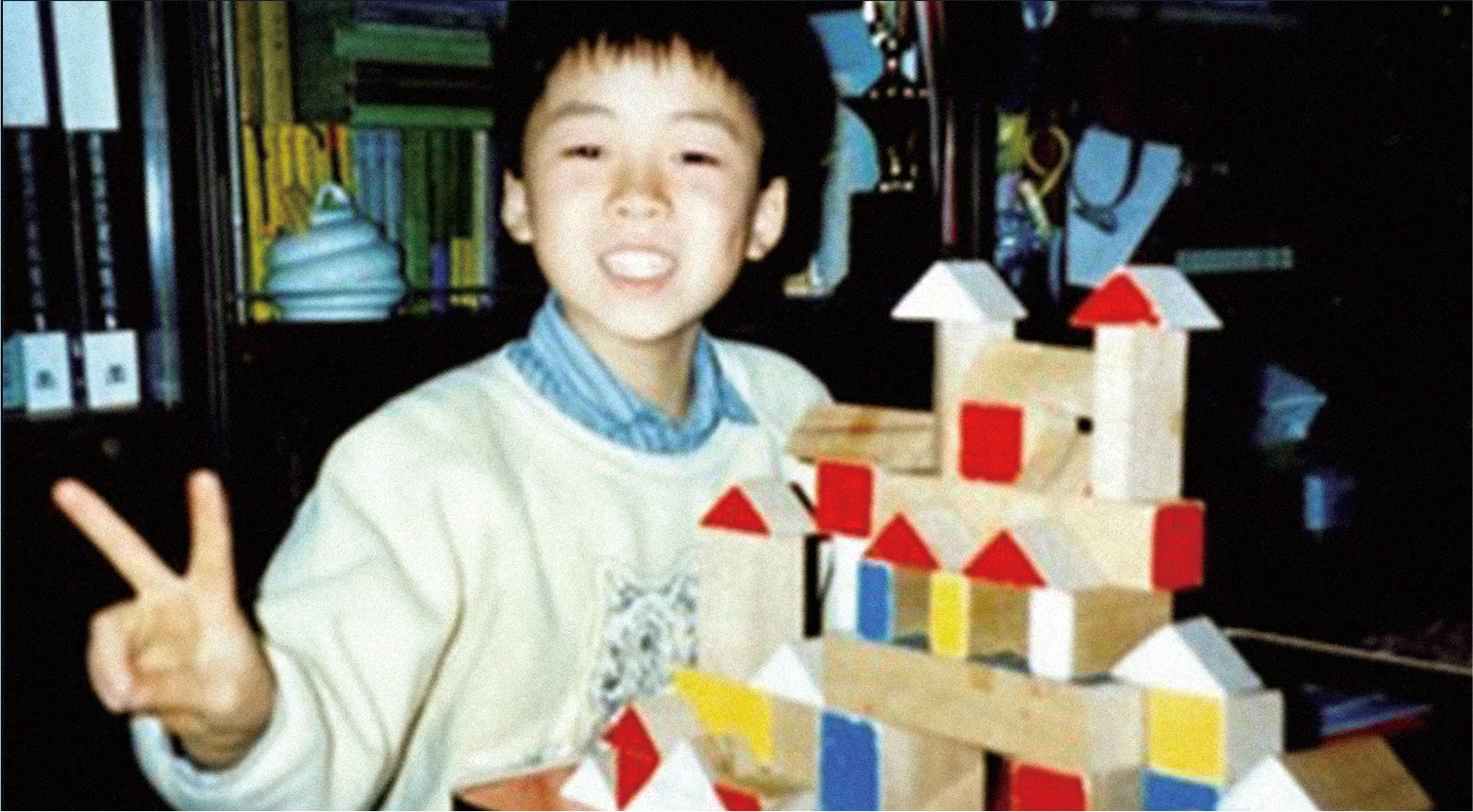 I've loved making things, such as drawing pictures, building handicrafts or anything else, since I was a kid. I still remember that my teacher of the preschool praised me for my robot with parts of plastic car models cut up and reassembled, and I dreamed of making robots useful for people when I was a primary school student.
And eventually this inspired me to study mechanical engineering at university. After getting into the university, however, I began to realize the fun of getting to know different types of people, so I got involved in art-related activities rather than joining the robot club, joined the committee for the culture festival, and traveled to dozens of countries to expand my horizons. It was a really rewarding time in my life, but I also felt that I was starting to lose my childhood dream of building robots.
During the summer break of my junior year, I decided to devote myself into studying robotics. I was motivated to pursue this new direction because the September 11 attacks occurred just three days after I returned to Japan from a language school in New York.
The catastrophe taught me that the things taken for granted can disappear in an instant. I realized that if you have a dream, you should pursue it right now.
So I joined the robot laboratory of the university to study mechanical engineering from scratch, and entered the graduate school. I was enthusiastically devoted myself to the development of massage chairs and walking robots there.
I joined DENSO after finishing my graduate degree, and it was because I was attracted by the company's world-leading technologies and its fun and creative corporate atmosphere. The in-house "Muran" ideas contest, during which DENSO employees enjoy coming up with their own unique technologies and ideas, was hugely appealing to me.
However, I found myself drifting away from robotics-related work because I was swamped by many tasks for six years after I joined DENSO.
I wanted to do it again, but I could not have the impetus to begin it because I was fulfilling the assigned work at that time.
Then, at an in-house lecture, I met an inventor who had created a marine-animal robot. It was designed to resemble a dolphin, and the way it moved and acted made it seem truly alive. Seeing it reignited my passion for this type of work and technology. And I decided to make that kind of robot myself.
I have pursued robotics ever since. I asked the inventor to teach me how to make it, and I devoted myself into making it after work and on my days off.
And I presented the world's first robot of "Dolphin robot giving birth" at Muran. I was very moved to see people smiling and weeping to see my robot. It felt rewarding that our creation made such a strong impression on people, and this made us very proud.
Expanding ambitions by working with others
Over the following decade, I made many types of robots. Throughout that time, I realized it was much more fun to work with others than simply pursuing projects by myself.
Then, in 2017, I experienced my first hackathon—a 24-hour invention contest in which teams compete to create new ideas based on contest themes, aimed at solving issues faced by society. At first I was only an observer, but soon I could not help participating it to see participants from various specialties create things and have fun doing it.
I have tried more than 20 hackathons together with members of monozukuri circles and the gold medalists of the World Skills Olympics in DENSO.
It's important to utilize what you love and what you are good at for the hackathons. In addition to our own team, we sometimes exchanged information with other teams to help each other solve problems and reach our respective goals. Although hackathons are competitions in which teams strive to outdo each other, I find that you can create very good things there when you enjoy yourself, involve and collaborate with others in good atmosphere.
While my teammates and I enjoyed to create new things in hackathons, we eventually won the first prize at the hackathon sponsored by Nagoya city. Our winning invention was the Fure-AI Robot, which was designed to prevent the social problem of postpartum depression by assisting communication during child-rearing.
After that we received administrative support to commercialize it, and we won the DENSO President's Awards, which prompted the vice president and various directors to approach us. They said "Your motivation to do what you can do for people will change not only yourself but also society." and "Explore the knowledge by your dream, and match it with the company's assets and technologies to realize your dream."
This is how I moved to the New Business Creation Dept., where I would be able to pursue the things I loved doing as my main job at the company. DENSO had given me the opportunity to transform what I loved into a business project.
Currently, I work out of an entrepreneur-support office hosted by Aichi Prefecture. I often share ideas about in-development products and services with other entrepreneurs working on the same floor, and we also help each other out when necessary. These opportunities to connect with other people are really rewarding.
Simply bringing a current idea to fruition will not expand any more. Sharing ideas with various people and providing mutual support can lead to more diverse ideas and self-improvement that ultimately results in better final products. Today, I am greatly enjoying that process while working on things that fascinate me.
The first step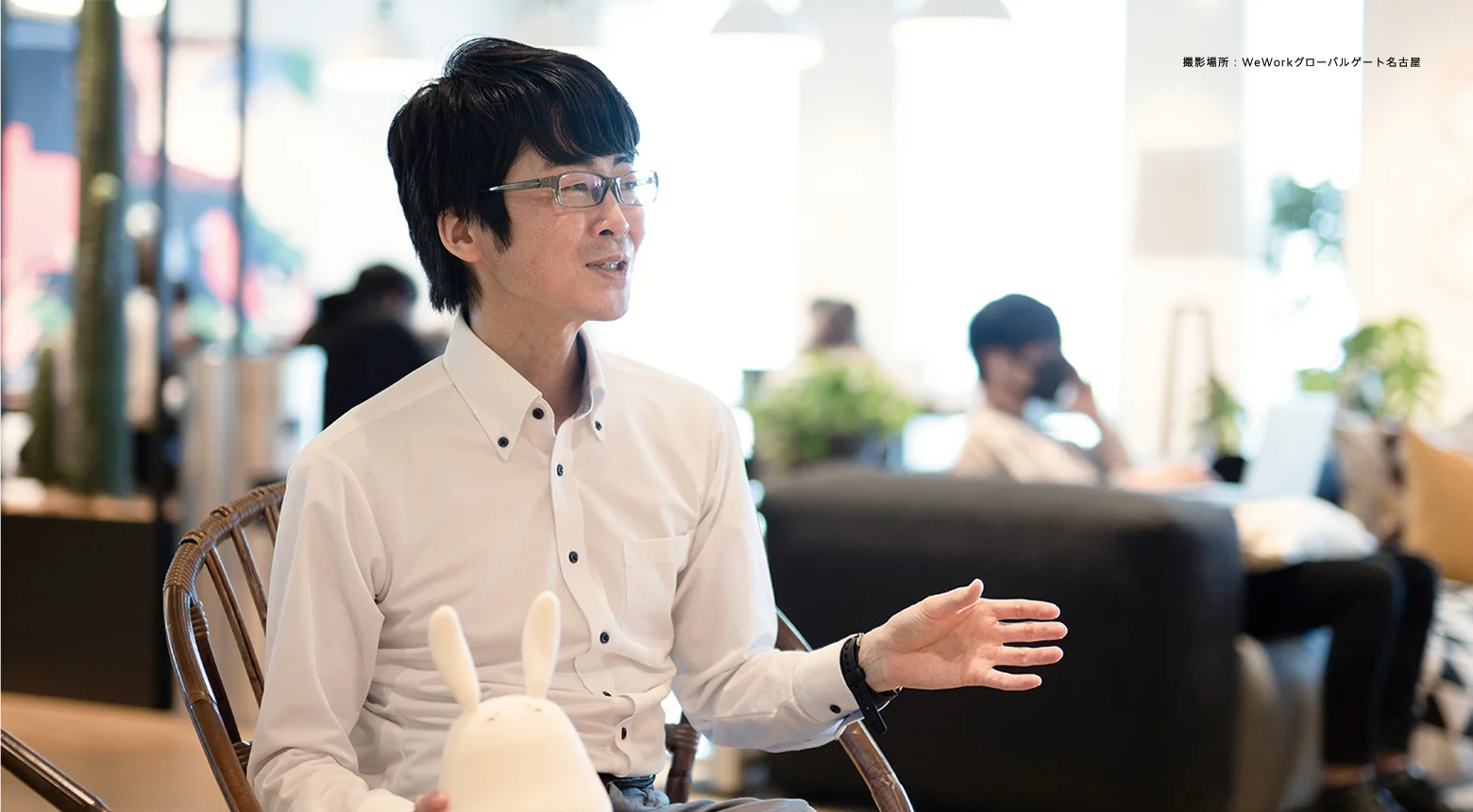 If you want to pursue your personal passions but hesitate to take that first step, I suggest talking openly with others about your feeling.
It's common to feel that, unless you first find many people to help you and learn specialized field knowledge, you can't start something new. But if you stick to your convictions and communicate them to others, then you will slowly come across others who share your ideas and passion, and who are keen to work together toward the same goals. This will help you work toward your goal.
There have been times when I hesitated to take the plunge. As a university student, I wanted to travel the world but doubted I had what it took. When I shared these doubts with others, they recommended some useful books and even introduced me to some experienced backpackers. As a result, I developed confidence in myself and eventually went out and saw the world.
Even today, there are times I hesitate to take action. For example, before organizing hackathons or new-business-idea sessions, I worry whether people will show up, or whether we can come up with new ideas and get things moving. When that happens, I discuss it with friends or attend seminars that interest me, and thus get advice and clues about what to do next.
By making these proactive efforts and communicating one's ideas and feelings to others, we can discover ways to start pursuing our dreams.
Personally, I try to remain open and honest with myself while continuing to pursue my interests. If you too want to live in this way but are hesitating to make progress or feeling dissatisfied, try following my advice and just take that important first step toward your true passions.
That's my advice.
【Afterword】
Since last year, Tatsuyoshi Kano has been running online seminars, exchange events and the like at DENSO based on his personal ideas and approaches. He has connected with more than 1,700 individuals who also want to take that important first step toward their dreams. Seeing their smiling faces makes Kano feel happy himself.
It's important in every activities to strive to improve our company and society while also enjoying ourselves. DENSO understands the potential of this approach and therefore supports such efforts.
Kano uses enjoyment as a central source of energy in his life. His approach can give us all hope and motivate us to pursue meaningful things.
Changing your "Can'ts" into "Cans"
Where Knowledge and People Gather.