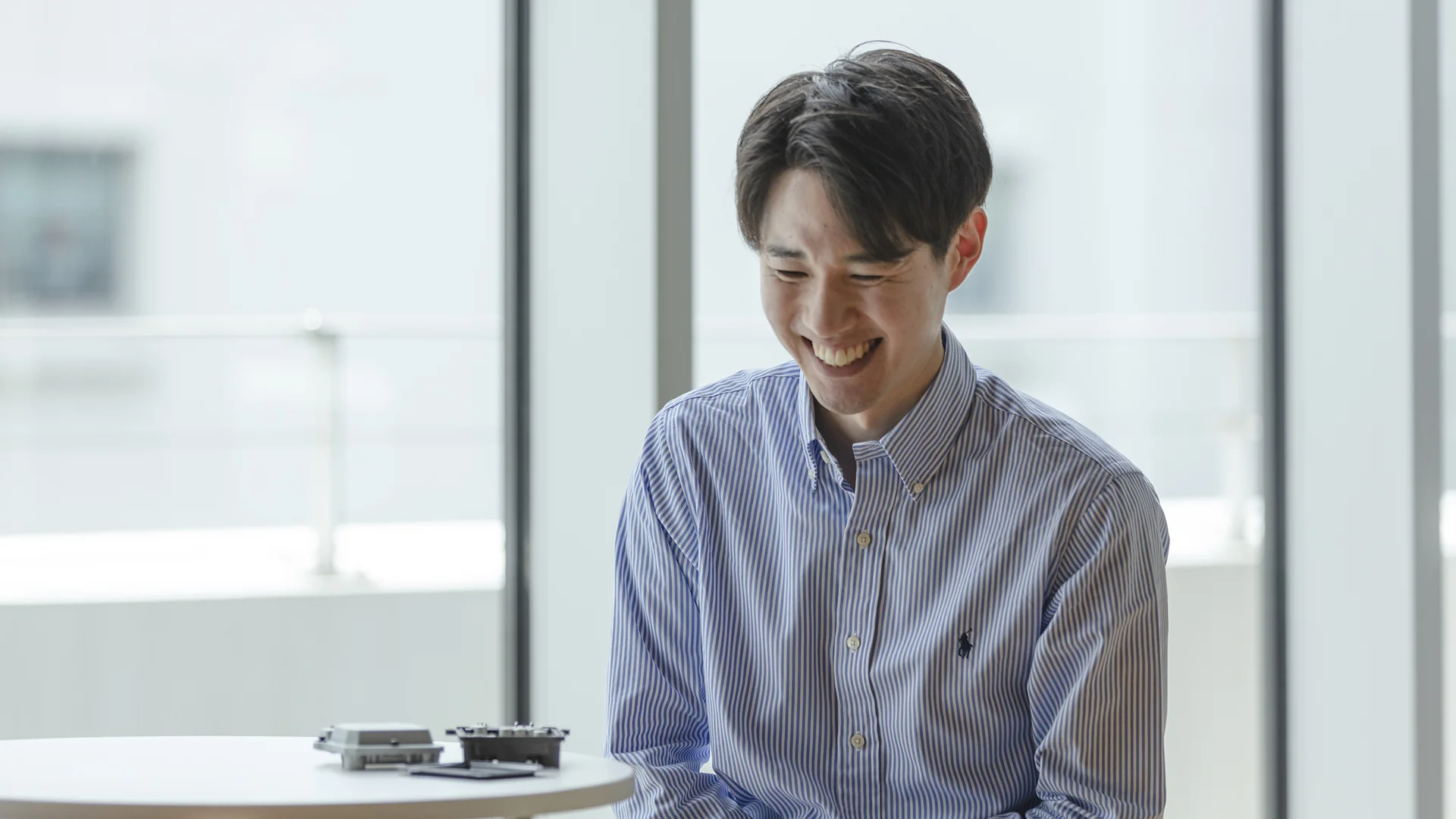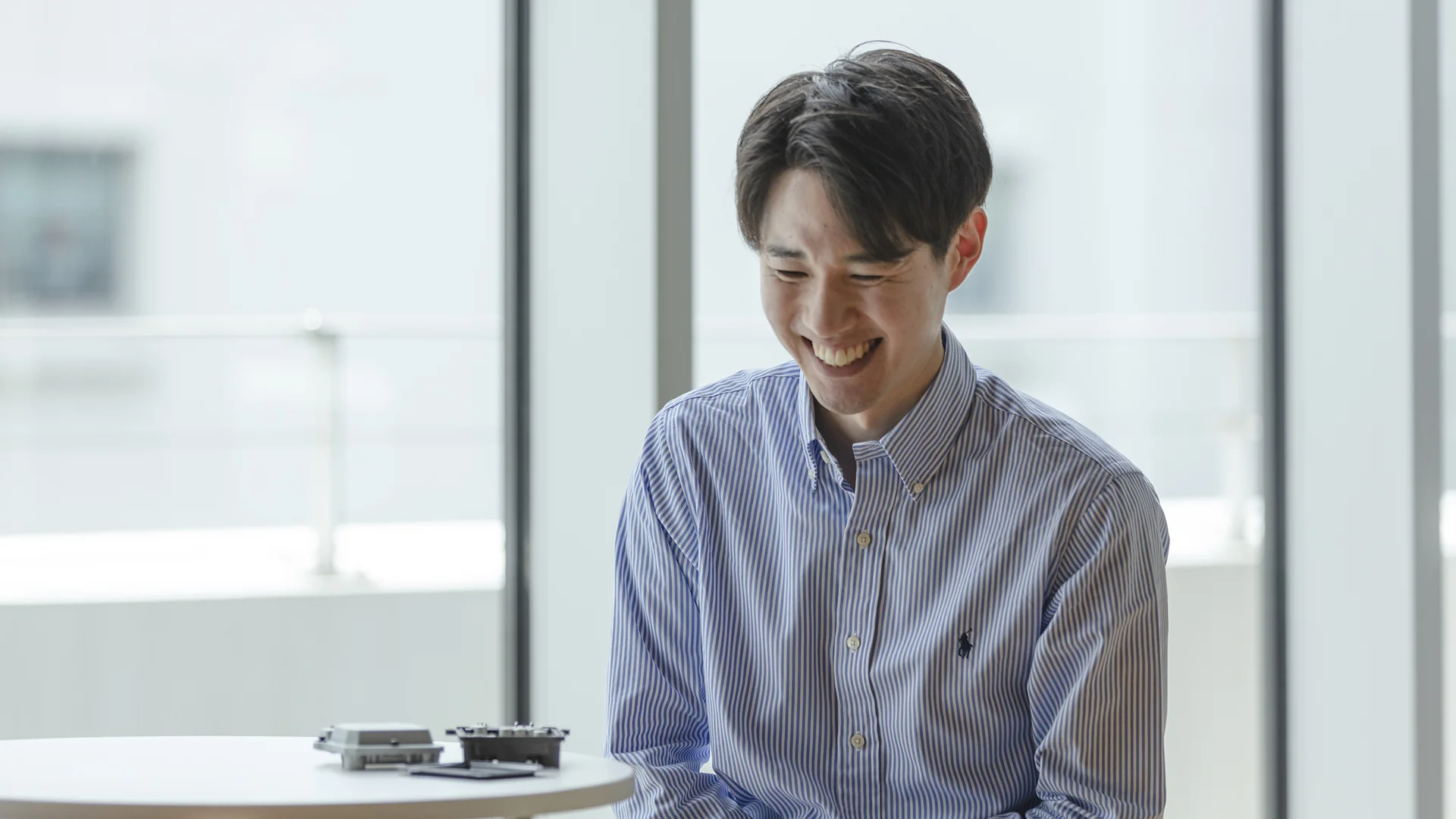 Enjoying work with a positive mindset.
Aiming high as an engineer with such an attitude
Encounters with precious people who taught me something important
Yuya Shibata

Shibata works for DENSO in the electronics business, and also takes part in the Business of Recycling Abandoned Ships And Shipwrecks (BRASAS) volunteer project which reuses satellites and abandoned marine vessels in mobile aquaculture facilities.
Yuya Shibata is involved in hardware design at DENSO Corporation, inspired by words from one of his supervisors: "Keep a positive mindset and enjoy your work." After studying chemistry at university, he set out on his current, ambitious career (as of September 2022) as an engineer. Reflecting on his journey thus far, Shibata talks about the support and kindness he received from people around him, as well as things he learned through his experiences.
Contents of this article
Overcoming self-doubt through research laboratory experience and embarking on a career in manufacturing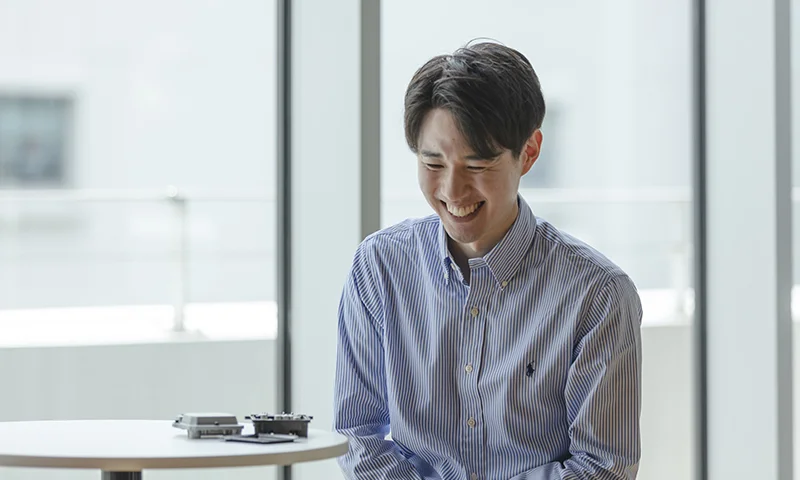 Thinking back on my university days, it's hard to believe I ended up becoming an engineer. Back then, I majored in chemistry and researched the electrode materials used in lithium-ion batteries, sodium-ion batteries and similar. I chose to study chemistry and those materials because I felt they were large fields with lots of possibilities.
However, it turned out that chemistry often requires a good knowledge of physics, which I had always struggled with in high school. Looking back, I remember having a tough time as a result, and started to think I was not cut out to be an engineer or work in any other technical job. I felt I had already reached the limits of my capabilities, and my heart just wasn't in it anymore.
But then my experience working in a research lab changed everything. I was assigned to a professor who was passionate about his work, and thanks to his meticulous teaching and support I became fascinated by manufacturing processes. It was so interesting that I often found myself staying late and sometimes sleeping the night in the lab.
I don't think I was a very good student, but my professor saw potential in me and taught me a lot. The other lab members, who had more experience, taught me everything starting from the basics, and through it all we joked around and had a lot of fun together. I enjoyed that time in the lab, and also learned through my research there just how interesting manufacturing could be.
As a result of my work there, I was eventually able to present my findings before an academic society and even earned an award. This made me feel like my hard work was being recognized and gave me new confidence. As I continued working in the lab, I began to develop a general understanding of what it would be like to work as an engineer, and so as graduation approached I looked for a job with a manufacturer which makes things that people use in daily life—things that can be seen and touched.
The auto industry, which is very large, seemed like a rewarding place to work, although I didn't know many students who had studied chemistry and then gone to work in the industry, and wondered whether there was much demand for someone like me. I learned about DENSO during a job fair, which made me think that chemistry knowledge might prove useful at that kind of parts manufacturing company.
So I applied for and took part in an internship at DENSO, which led to me joining the company. When I first moved from my home in Hyogo to Aichi, I was nervous about the change, but everyone at DENSO gave me a warm welcome. My on-the-job training instructor often took me out to eat after work and did a lot to dispel my worries, and many other coworkers gave me encouragement and support. That experience made me realize how kind everyone at DENSO is.
A rewarding environment where members are positive and help each other grow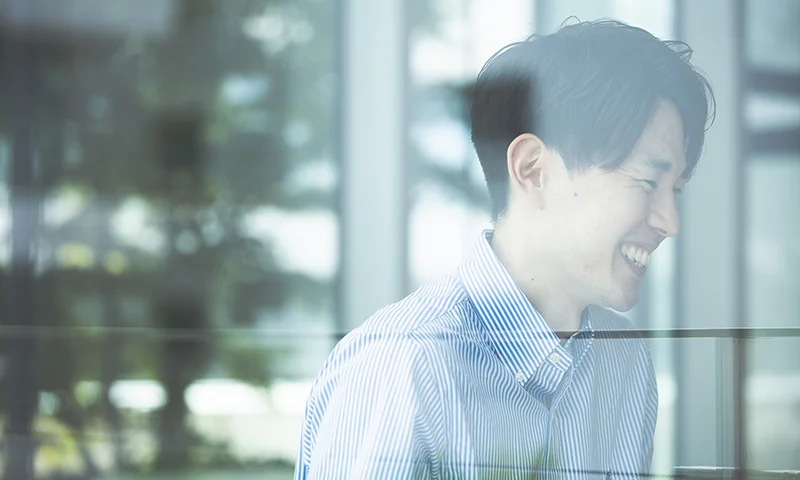 As of September 2022, I am involved in the hardware design of brushless fuel pump controllers (FPC) in Electronics Eng. Div. 1 of the Mobility Electronics Business Group. A brushless FPC is a small component, and designers handle a wide variety of work: usually just one or two staff handle all of the control, circuitry and casing design. As a result, the person sitting next to me in the team may be involved in something completely different, which gives everyone the opportunity to experience a wide range of technologies in one place, which I find to be enjoyable.
Currently, I am assigned to casing design. This requires the skillful use of materials such as plastics and metals, and so I'm surprised sometimes to find myself using what I studied back in college.
My supervisor once gave me some good advice: "Keep a positive mindset and enjoy your work." This means that one should take responsibility at all times and motivate oneself to work, rather than blaming things on others or thinking that someone is forcing you to do things all the time. For example, if you encounter something you don't understand and nobody teaches you how to do it, you need to find ways of asking others for help and guidance. Although I don't apply this advice all the time, it's an important maxim and I always remain optimistic in my work.
Taking action can change you and those around you: lessons learned through a business contest
Seven years have passed since I joined DENSO as a fresh graduate, and due to failures to win orders, development delays and other such problems I have never actually seen a product through to mass production. It has been disappointing that the products I work on never see the light of day, and hearing what coworkers who joined DENSO at the same time as me are doing makes me feel insecure.
But then I stumbled across the opportunity to participate in the S-Booster business contest. I had been working mainly in design, so I didn't have much chance to think about the true value of products. The contest offered a way for everyone to improve their skills while also forming connections with people in different departments and strengthening our division as a whole. I talked with other members of my section and they felt the same, so we decided to enter the contest.
Despite feeling nervous at the start, we worked with many other people and managed to pass the primary and secondary screenings, advancing all the way to the final round of selections. Thinking back on that experience, I'm deeply grateful to all the people who took the time to help our team, as we knew little about the field we were tackling for the contest. I'm also grateful to all of my superiors at DENSO who were optimistic about our BRASAS efforts and cheered us on.
Thanks to the ideas and contributions of everyone involved, as well as all those who supported and encouraged our team, we were able to come up with a good business idea and see it through to the final round of presentations for the award-winner selections. Although we didn't win an award, our initial goal had been to just give it our best shot regardless of the outcome.
I was able to experience firsthand changes in the people and environment around me, while also receiving direct feedback from potential business customers, making it a truly valuable experience. Above all, the team's discussions when trying to reach an agreement or decide on something were a very rewarding experience for me, and I still continue doing similar efforts with those same team members.
Enjoying yourself: the driving force in manufacturing work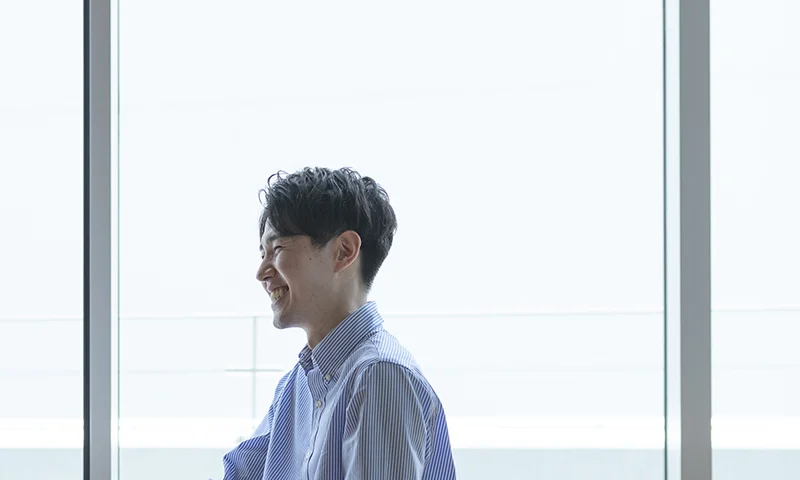 Throughout my career thus far, I have been lucky enough to meet a lot of good people who have helped me along the way. However, when you face a tough challenge or hard times, it's ultimately up to you alone to overcome the problem.
Thinking too much about what lies ahead can lead to fear and self-doubt. Personally, I feel that if I do my best on the task I'm currently facing, that will help me tackle the next thing, and then the next. More than anything, DENSO provides an environment where I can always give my best.
Be positive and enjoy your work. That's what my supervisor, who has helped me throughout my career at DENSO, once told me. That enjoyment comes from just completing a component or product that you've worked hard on. Even now, when I look at an initial prototype of some product, I think back to where it all started.
Enjoying one's job means enjoying yourself, and so I intend to continue enjoying my work in the manufacturing field while challenging myself to accomplish new things.
Changing your "Can'ts" into "Cans"
Where Knowledge and People Gather.