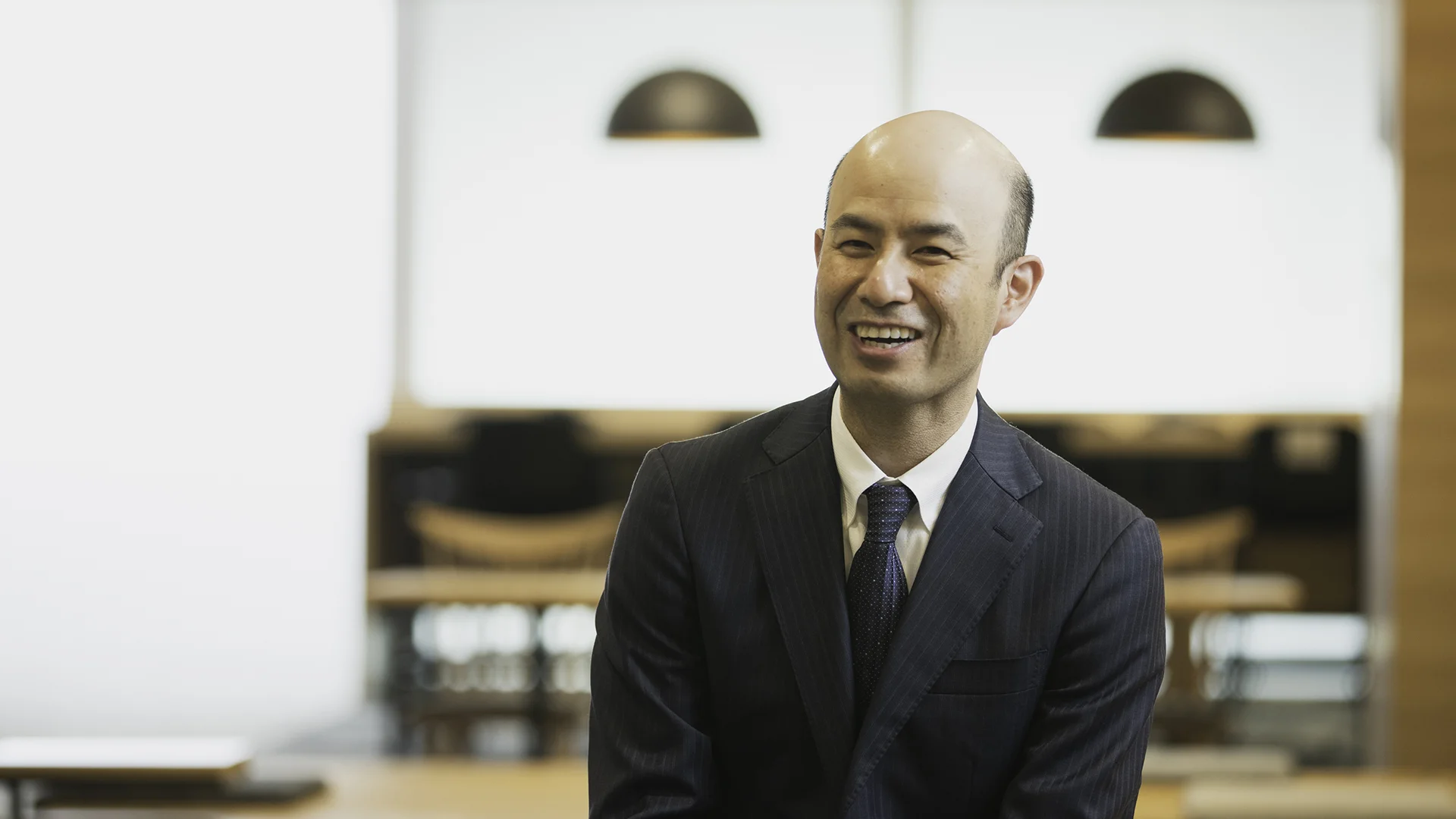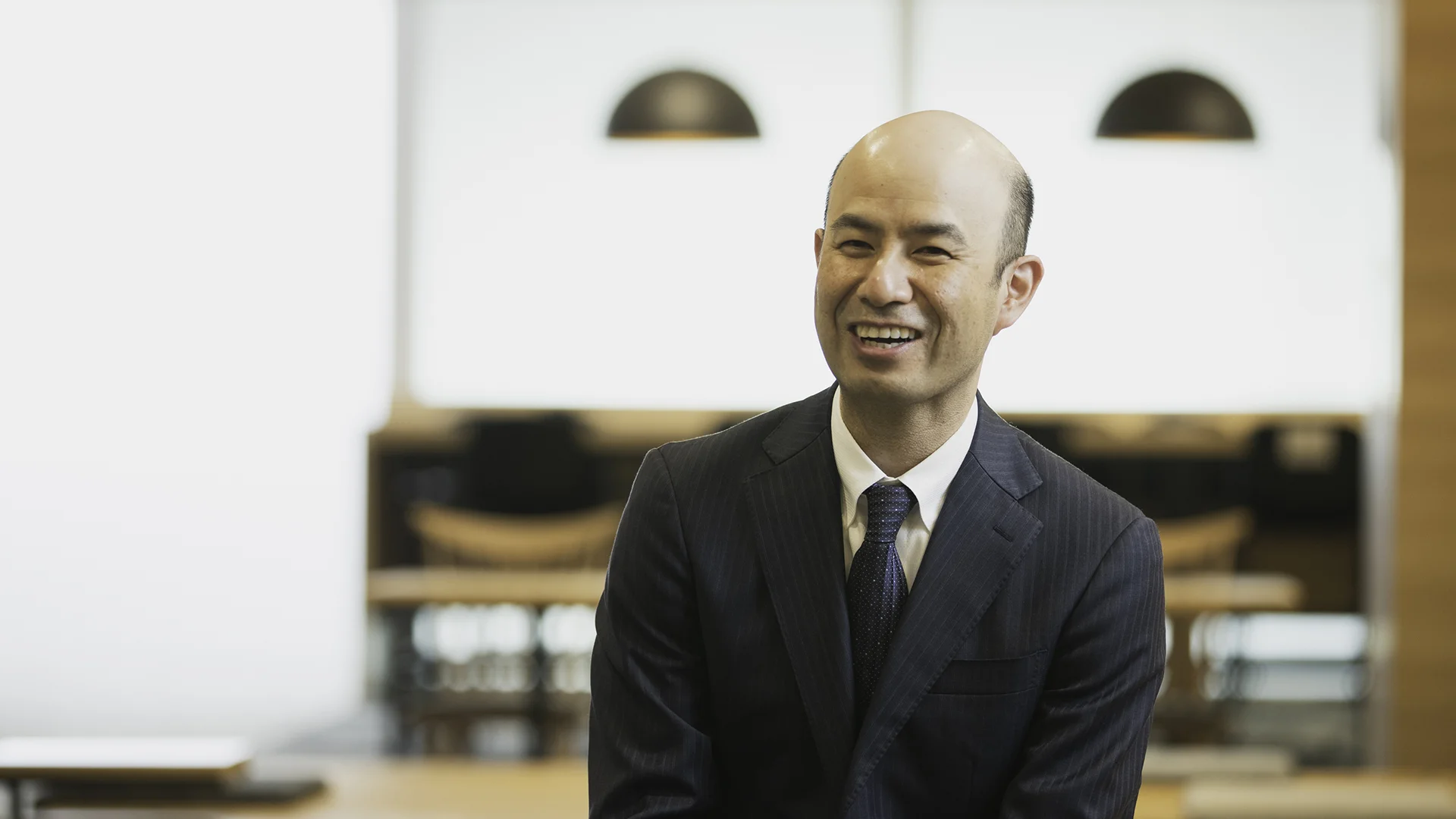 Toward the spread of eco-friendly technologies
A proactive approach to promoting carbon neutrality: the surprisingly fascinating world of legal liaison work
Tomoya Tonai undertakes legal liaison work at DENSO Corporation in environment-related areas such as CO2 emissions, fuel efficiency, exhaust gases and automobile electrification. In order to help the company roll out their products that contribute toward the larger goal of carbon neutrality, he is in charge of plain but important work entailing investigating, researching and disseminating information throughout the company related to legal and regulatory trends. Tonai explained that his goal is to become better at predicting future trends in order to negotiate more successfully.
Contents of this article
Legal liaison work that truly helps the environment
— Thanks for meeting with me today, Mr. Tonai.
Tonai: It's my pleasure. Actually, I'm a little nervous, because this is the first time to be interviewed, and I'm not sure that you've picked the right person to talk about these things. However, I do enjoy talking a lot! [laughs]
— You like to talk? That's good to hear! [laughs] Actually, hearing that you're nervous too puts me at ease. To start with, can you tell me what's involved in legal liaison related to environmental laws and regulations?
Tonai: Well, people generally struggle to understand laws and regulations, but I can put it simply: to enable DENSO to provide many environmental-related products, I research legal and regulatory trends in the countries where we operate, then share this information with designers and developers in each department to help them with their product development.
― In other words, you gather and share information on the laws and regulations that must be followed during product development?
Tonai: Yes, that's it. In addition to product development, I also help out with devising their business strategies. Currently, I'm focusing on negotiations related to legal changes, introducing new systems, and so forth with government offices and industry organizations in various countries.
— It seems like you're actively involved in regal liaison. What types of negotiations have you been involved in so far?
Tonai: I've negotiated to introduce CO2 credit systems in Europe, China and so forth, and also to adopt the high-efficiency air conditioning technologies as CO2 reduction ones for credit systems.
— That sounds fascinating! Could you explain it in more depth?
Tonai: OK. This type of CO2 credit system helps to spread technologies that reduce automobiles' CO2 emissions. Each technology is evaluated by the relevant credit system authorities, who determine whether or not each one is applicable under the system.
I have been negotiating to adopt DENSO's high-efficiency air-conditioning technologies as CO2 reduction ones for the credit system in countries that plan to introduce such credit systems as well as in countries that have already introduced them.
— How interesting! You have been involved in many negotiations in order to improve the environment, haven't you? Automakers are likely to adopt the CO2 reduction technologies if they are adopted in the credit systems.
Tonai: Yes, and it will also encourage them to choose technologies that reduce more CO2 emissions. That means DENSO's air-conditioning systems are likely to be adopted because they are highly efficient and eco-friendly.
— And as a result, low-CO2-emission vehicles will increase in number and we'll see real progress toward carbon neutrality.
Tonai: That's what we hope for. Aside from air-conditioning systems, DENSO also has other technologies that improve CO2-related performance, and we will continue to negotiate to adopt them to the credit systems.
When the future looked bleak, connections with other people provided a way forward
— It seems like you negotiate proactively on legal and regulatory change now. However, I hear that you didn't do it before. Would you tell me what made you change?
Tonai: Japanese component manufacturers have a reputation for being relatively passive and behind-the-scenes in their industry activities. Compared with component manufacturers in other countries, who often proactively negotiate toward legal and regulatory change in order to expand their business, we had tended to focus on adhering to existing laws and regulations, and didn't actively try to change them.
— Negotiating changes of laws and regulations is a good way to stay ahead of the competition. I guess that simply operating from behind the scenes without taking more active steps limits the company's growth.
Tonai: Exactly. I realized that unless we became more involved in such negotiations, DENSO's eco-friendly technologies would never become widespread. I was really worried about our future if we kept doing things the same way, without making any changes. Unfortunately, we had no real past examples of good negotiation approaches and tactics to refer to, and we also lacked the necessary connections with the government and industry organizations.
— That must have been a really tough place to start from. How did you overcome those obstacles?
Tonai: I figured that I should create some good examples, even if they were just small successes to begin with. I also strove to communicate with other divisions in charge more closely and effectively than I had before. Back then, I only communicate information on laws and regulations in the relationship with design and development departments. In order to change this, I studied their development policies, compared them with trends of laws and regulations, and worked together with department members to come up with ways to get our technologies certified. And we regularly shared this information with overseas group companies and began working more closely with them, too. Thanks to the cooperation and hard work of a large number of associates, I was able to forge connections with government officials, and I could establish new CO2 credit systems, and ensure certification for DENSO's air-conditioning systems and other technologies within those systems with the associates.
— In other words, you worked in close harmony with divisions and overseas group companies in charge in order to move forward one step at a time.
Tonai: That's right. It is very rare for our issues to be legislated as soon as we start our legal liaison activities for them, and it sometimes takes about 10 years. We all patiently kept tackling our works in front of us during those years, and thus I think that it is more common now to do our legal liaison activities than 10 years ago.
— It seems quite challenging to coordinate and reach agreements with automakers.
Tonai: Yes, but automakers are the ones who use DENSO's products and thus make our business possible. Therefore, we carry out legal liaison taking into consideration not only DENSO, but also automakers and society as a whole. Rather than doing just what will make our company happy, I want to do what's good for everyone. Pursuing new systems and relationships in this way is so important.
— Doing what's good for everyone is surely very important, but it must take a lot of hard work. Is there anything you focus on regarding communication?
Tonai: Regarding good communication, I think that it is important to think about our partners feelings and to listen carefully to what they say. I always try to think about what would ultimately make my partners happy. Your relationships with others greatly affect how well your work goes, and that's why I cherish my connections and relationships with other people more than anything else.
— You're highly considerate of your partners, aren't you?
Tonai: I try to be. However, even though I talk big about this topic, I sometimes think so hard about how to make my partners happy that I don't know what to do. [chuckles].
Plain but fascinating work: motivated by a drive to help others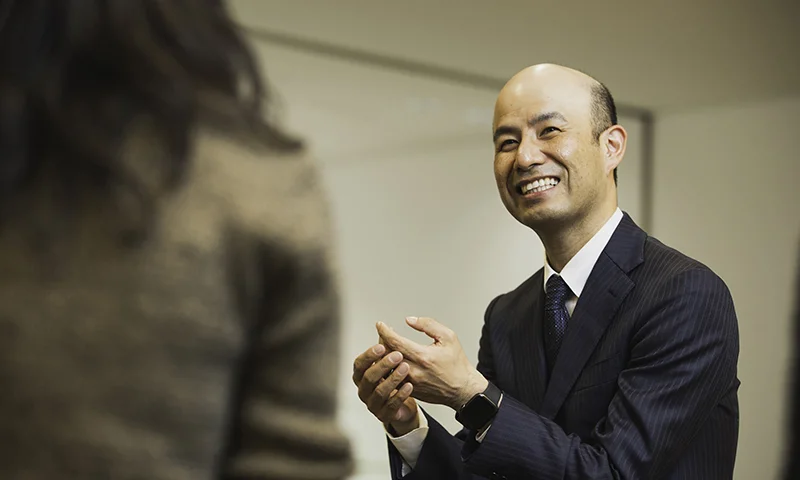 — I've always thought that legal liaison work requires a lot of highly specialized knowledge. Were you already a specialist in this field before joining DENSO?
Tonai: Not at all! I majored in electrical engineering, and I started leaning the legal liaison from scratch after I joined DENSO and was assigned to the department involved in legal and regulatory certification.
— You're kidding! In other words, you started out with absolutely no experience and have persisted and come this far without ever transferred to other departments?
Tonai: That's right [laughs]. I've been in this line of work ever since joining DENSO.
— It's impressive to see you stick with the same field of work for decades the way you have. How do you stay motivated?
Tonai: That's a tough one to answer. Simply put, it's because I find the work interesting. I also had a chance to be seconded to an affiliate company in US.
— Nothing's better than doing a job that you love! Would you let me know in detail what makes you feel so rewarding about your job?
Tonai: Laws and regulations are related to politics, government policies and other such fields, and they are constantly changing. Therefore, I have to read up on these subjects every day in order to keep myself informed, and that takes a lot of time. In reality, my job is rather plain, but it enables me to learn more about the social situations and to understand the overall policies of DENSO as a company. And it is really interesting that I get to know many associates of other departments.
— You overlook the society at large, and also are aware of trends of laws in charge. I think the information you acquire by your steady activity is very important for us.
Tonai: That's what I hope, at least! Legal and regulatory information is absolutely necessary when producing new products, and designers and developers throughout the company often ask me to look up information for them. I always use various methods to come up with the best possible answers, and when associates thank me or say I really helped them out, it makes my day. When I succeeded in getting DENSO's technologies recognized under the CO2 credit systems I mentioned earlier, my fellow associates' words of thanks filled me with joy and a strong sense of accomplishment. That feeling becomes addictive in my line of work [chuckles].
— It's great to hear that helping other departments in charge make progress in their work is rewarding for you.
Tonai: I want to be useful to them. Because my associates see me as a professional in legal liaison, I try to do more than they expect me. This is something I always strive for, and it enables me to earn the trust of others.
— What a great personal philosophy! Your associates must be happy to know that they can rely on you to provide the answers when they need help.
Predicting future trends and being of greater use on a global scale
— Do you have any future goals at the moment?
Tonai: Yes, I do. I want to increase the presence of DENSO both domestically and overseas so much that we will be invited naturally when new laws or regulations are made.
— I think your associates in DENSO have already seen you as a trustworthy and helpful member. You would like to be dependable for not only them but also governments and industry organizations all over the world, wouldn't you?
Tonai: Yes, and I must develop my ability to predict upcoming trends and changes in the world for that. DENSO is currently working on a lot of new technologies and solutions toward carbon neutrality. To spread them throughout society, we must predict not only laws and regulations but also future trends in government policies, standardization and so forth, and then utilize this knowledge in planning and proposal activities. However, I still need to strengthen my abilities in this area, which is why I'm constantly working to hone them by trial and error every day.
— Regardless of how valuable a new technology may be, it cannot spread unless it complies with legal regulations, government policies and the like. I hope that you will be able to lay the necessary legal and regulatory groundwork in advance so that DENSO would spread its products all around the world in order to realize carbon neutrality.
Tonai: Yes, that would be amazing. That goal has motivated me in my work over the years.
— Mr. Tonai, I thoroughly enjoyed talking with you today. You've reminded me that it's associates like you who make it possible for DENSO to spread its products throughout society. I hope you'll keep up your hard work toward the goal of carbon neutrality.
Changing your "Can'ts" into "Cans"
Where Knowledge and People Gather.