Software innovation by DENSO in the era of CASE
Toward a mobility services Tier1 from an auto industry Tier1
What is the software innovation being carried out by DENSO to realize a new mobility-centered society? At DENSO Tech Links Tokyo #13 organized by DENSO Corporation, Kenzo Yano of the Software Innovation Dept. explained efforts being made to achieve DENSO's goal through software innovation.
*This article is a report about "DENSO Tech Links Tokyo #13" held by DENSO Corporation on December 3, 2021.
Senior Advisor, Software Innovation Dept., Mobility Electronics Business Group,DENSO Corporation.Kenzo Yano
Contents of this article
I will explain how we are working to attain DENSO's goal through software innovation. My presentation will focus on business aspects, but other presentations will be more entertaining. Please relax and enjoy to the end of my presentations.
This is the agenda of my talk. The first topic is the trend of CASE (Connected, Autonomous, Shared & Services, and Electric) in the auto industry. I will talk about our view of the business environment. The second topic is DENSO's role in the era of CASE. The third topic is the overall vision of our software innovation.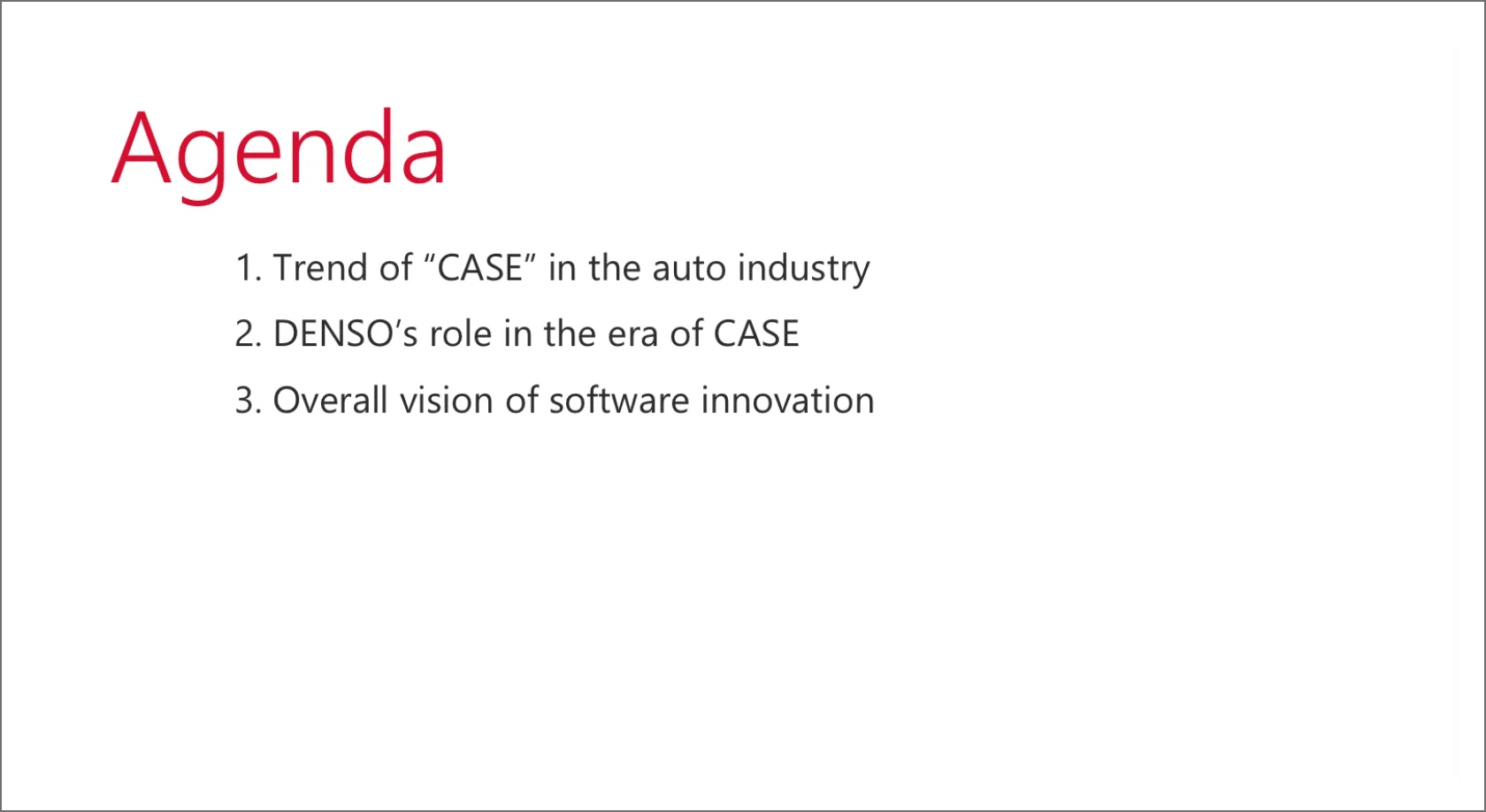 Trend in the Auto Industry
This slide shows four quadrants of our view of the business environment. The upper left quadrant indicates long-established OEMs, and the lower left quadrant indicates Tier 1 suppliers. The slide shows the example of Bosch, which is our competitor.
The upper right quadrant indicates the new trend of vehicles. Notably, there are many news reports about Tesla, whose value has increased rapidly. The lower right quadrant indicates the IT industry. IT giants and global IT players have been entering the auto industry.
Regarding the second point "collaboration with OEMs," a new scheme may emerge where IT players develop software for services while Tier 1 suppliers and OEMs manufacture and supply vehicles as Tier 1 supplier.
Due to changes brought about by CASE, it is now easy for IT players to enter such fields as EVs and automated driving. These new players will accelerate the shift in various ways by taking advantage of their strengths in data and services fields.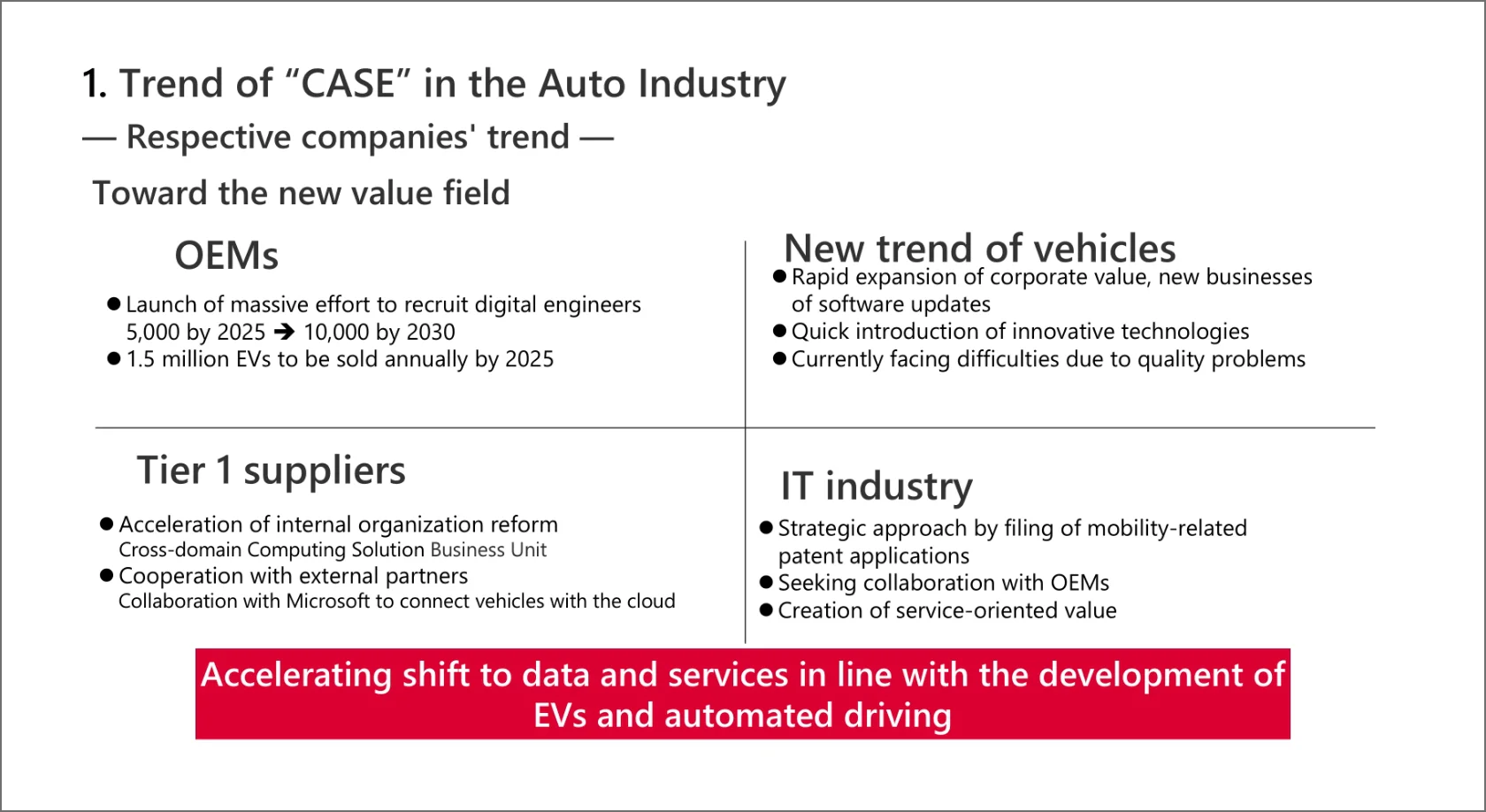 Let's focus on EVs, which correspond to "E" in CASE. EVs have significantly fewer parts and components than vehicles with conventional internal combustion engines. That means the hurdle of vehicle production has become much lower.
Various countries have introduced incentives and subsidies to accelerate the spread of EVs. In Japan, it was reported that subsidies for EVs would double from April 2022.
These developments will have a significant impact and completely change the industrial structure and social infrastructure. Although these changes will not occur immediately, the industrial structure is invisibly and steadily changing, and there could soon be a radical change.
We must define our role properly and be prepared for the future.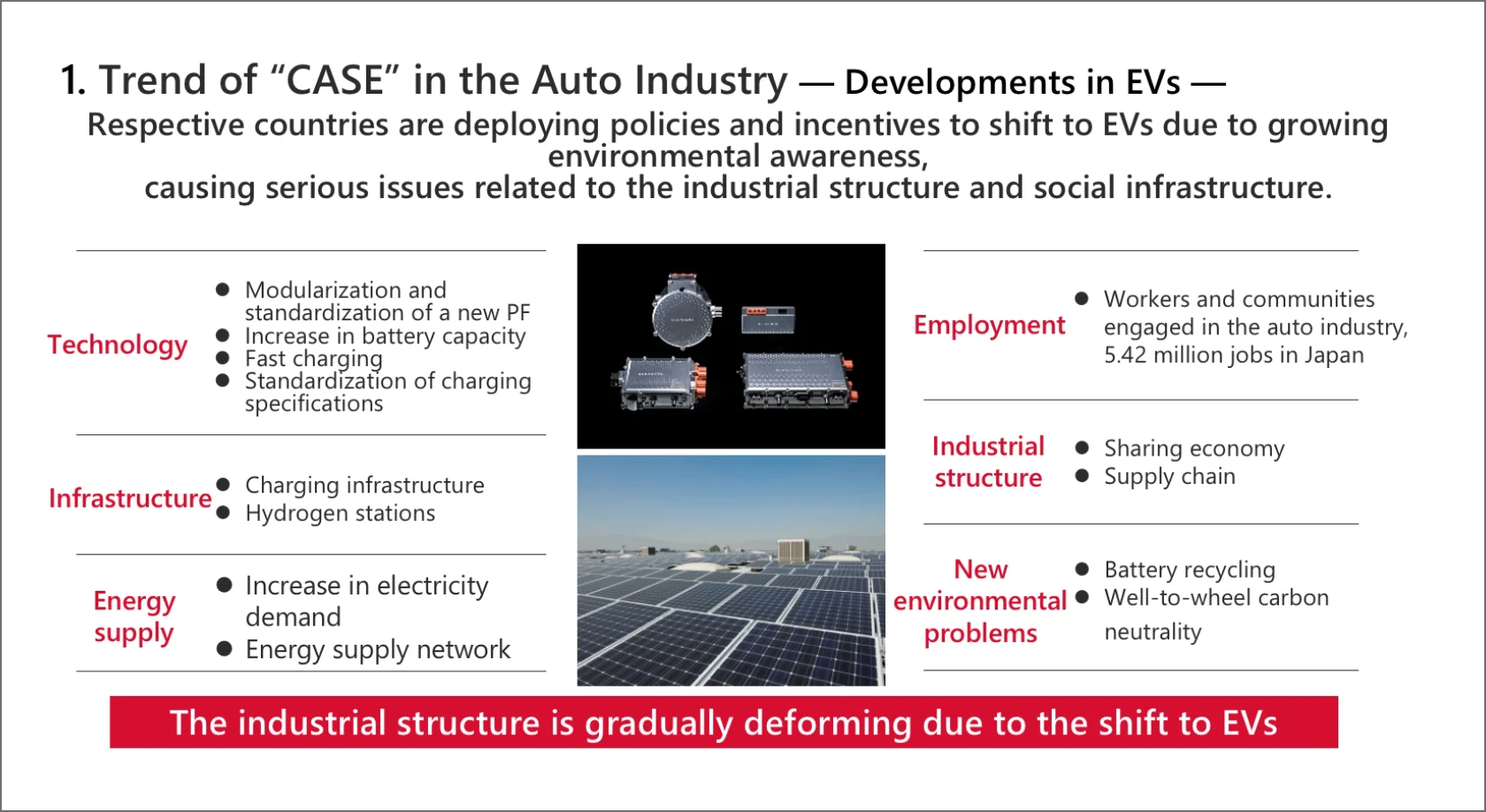 (Pointing to the slide) We will shift "from provision of products" to "provision of services." The horizontal axis in this figure starts with the auto industry, which is the value provider, and expands to the IT industry, service industry, and public sector and infrastructure. The source of value will shift from hardware and physical products to "services," which include software and cyberspace.
Our scope of business will expand from the pink box, namely, delivering the value of privately owned vehicles which we have cultivated for 70 years in the auto industry since our founding, to the pale blue box.
Mobility by vehicles will develop into services, as described by the term "MaaS," which will create new value. My presentation is based on this view of the changing business environment.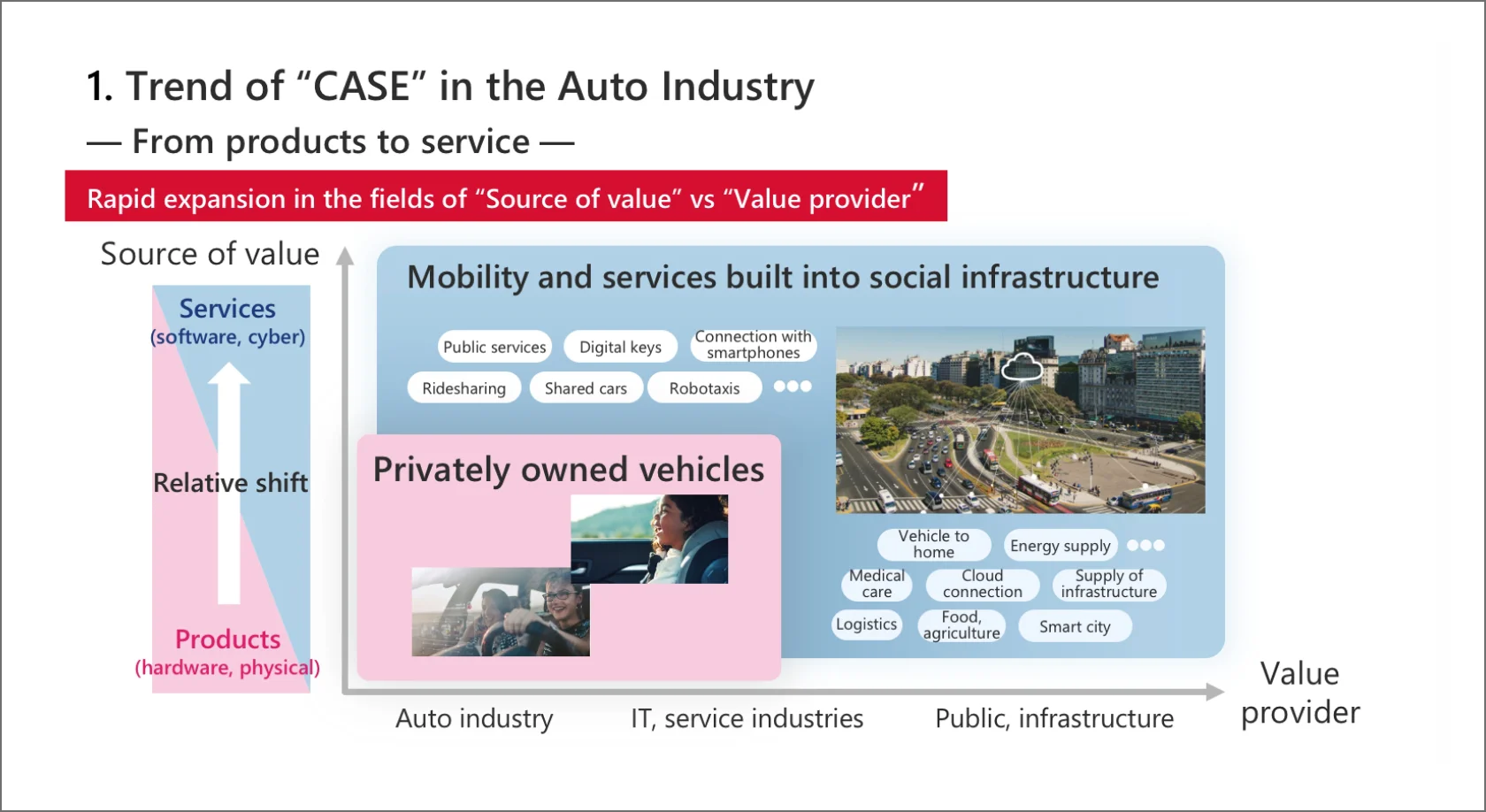 DENSO's Role in the Era of CASE
DENSO's purpose is to contribute to happiness for everyone in the fields of "green" and "peace of mind." (Pointing to the slide) This figure shows various user values in different scenes, which were explained in the video.
DENSO has been working steadily on the items indicated in this figure. Vehicles, which play a key role, will continue to evolve and become more intelligent. They will also be increasingly connected with infrastructure. This corresponds to "C" in CASE.
Each vehicle will serve as a node equipped with sensors and actuators. Based on this vision, we aim to transform ourselves from a Tier 1 supplier in the auto industry to a Tier 1 supplier in the mobility-centered society.
Let me explain the roles we hope to play as a Tier 1 supplier in the mobility-centered society.
We will build social infrastructure based on reliable technologies and a commitment to quality, which have been acquired through operations in the auto industry, to offer "peace of mind." We will make the in-vehicle environment more intelligent to ensure that it works properly under any circumstances.
We will also connect vehicles and connect OEMs, which are our customers. We will ensure "constant connection" to give a sense of security.
By "universal connection," we will connect vehicles with infrastructure and enable borderless connection among various people. Connection will be ensured through "orchestration." We will build the foundation based on reliable technologies and quality as a Tier 1 supplier in the mobility-centered society. This is our goal.
Flow of DENSO's Software Innovation
In the final part of my presentation, I will explain the overall vision of innovation to attain the goal.
It may sound like I'm blowing our own horn, but DENSO has a 70-year history in mechanical vehicle systems, and a 50-year history in electronics. Electronics started to be increasingly used in vehicles when I was a new employee.
I joined DENSO when microcomputers came into use, and worked on software development.
Embedded software for microcomputers has underpinned the evolution of electronics for 40 years.
Software has become increasingly large-scale and complicated. (Pointing to the slide) The development of "Vehicles × Cloud connectivity systems" on the right is in full swing. Let me explain some of our efforts to develop the necessary human resources, as shown at the bottom of this slide.
As explained in the video, we have overcome challenges with global customers and gained trust. This constitutes part of our assets. We will make further efforts to expand our network.
(Pointing to the slide) This slide shows the evolution of vehicles in three phases. The figure on the left represents the single domain, which underpinned the computerization of vehicles in various domains after the introduction of electronics. Today, we are shifting from the figure in the middle to the figure on the right.
Cooperative control and cross-domain computers have also been introduced to integrated brain ECUs, AD/ADAS, and automated driving.
In the figure on the right, the scope of our business will expand to infrastructure and the public sector to connect vehicles with infrastructure. In this domain, it is important to strengthen our networks with various industries in the fields to be expanded, in addition to deepening our expertise in vehicles and IT and our relationships with OEMs.
(Pointing to the slide) This slide presents our goal, together with our strengths and challenges. It is essential to correctly and deeply understand the value and convenience that should be attained with customers, including OEMs and end users. Note that each of us is also one of the end users in this context.
Employees are expected to develop various values as a team of professional engineers. They will continue to improve their capabilities and drive the entire DENSO Group forward. This is the goal that we aim to attain.
There are various social issues to be resolved. In addition to developing our own technologies, we will acquire a wide range of problem-solving capabilities through partnerships with various players.
We will fully understand respective social issues and commit ourselves to resolving them. This will be made possible by a well-defined vision of innovation in five aspects of the DENSO Group: business, organization, technology, human resources, and culture. We are stepping up our efforts to achieve the goal.
That's all for my presentation. Thank you very much.
Changing your "Can'ts" into "Cans"
Where Knowledge and People Gather.