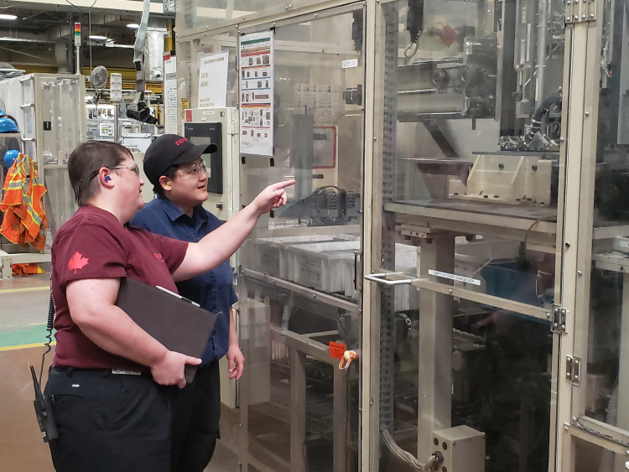 Employee Spotlight: Pauline Fell – a Pioneer and Fixer on DENSO's Guelph, Canada, Facility Production Line
As the first female machine technician at DENSO's Guelph, Canada, facility, Pauline Fell is a trailblazer at the company. But this "DENSO first" isn't her only achievement. During her 20-year career she has accomplished much more and is regarded as a role model for women in manufacturing.
Using her DENSO Spirit and expertise, Pauline, now a machine tech sub leader, identifies an area for improvement and takes the initiative to fix it. For example, after seeing the nearly 100 pages of preventative maintenance checksheets printed by the machine tech department every month, Pauline adopted the computerized maintenance management system used by the maintenance department. With the electronic system, previous time-consuming tasks are now done more efficiently and effectively, maintenance checks are easily updated and alerts are sent if a check is missed. Additionally, she is working on creating work instructions on how to complete each task.
"It's a work in progress, we're continuing to identify additional machines within the plant where work instructions can be implemented," she said.
Her talent and problem-solving skills have also come into play during internal Quality Circle competitions and at the 2015 Honda Fall CAN Conference, where her team finished in first place. How does she do it? With a calm and analytical approach to problem solving: "Getting riled up doesn't serve any purpose, so there's no point in stressing yourself out."
Utilizing all this experience, Pauline takes a special interest in mentoring other female machine techs, helping them develop mechanical skills, improve their understanding of maintenance systems and apply for full-time positions. Her career success and dedication to mentoring current and future female manufacturing professionals were reasons for her nomination to the Manufacturing Institute's 2020 STEP (Science, Technology, Engineering and Production) Ahead Awards, which recognize women in these career areas who exemplify leadership within their companies.
Know someone like Pauline? Is it you? Then we want to talk. See similar roles available at densocareers.com and get in touch.