Innovations in Cold Chain Technology that Enhances Diverse Life Experiences
Making Food and Medicine Transportation and Storage Safer and Smarter
Whether purchasing fresh produce from your local grocery store or receiving top-notch medical care at a healthcare facility, our lives are made secure and convenient through systems working behind the scenes. For instance an advanced logistics network that ensures the timely delivery of our desired items and a solution for temperature control during transit.
In the absence of such systems, we encounter numerous challenges. Perishable food items can lose their quality and freshness during transportation, while pharmaceuticals, requiring precise temperature management, may fail to maintain product reliability.
Accordingly, there is a strong demand for technology that links the production and consumption areas while maintaining appropriate environmental conditions, especially temperature. This logistics system, known as the cold chain, keeps temperature-sensitive products at consistently low temperatures. The logistics industry has made significant strides in its implementation, revolutionizing how we transport and store goods.
Contents of this article
Navigating Logistics Challenges: Rising Expectations for Secure and Efficient Chains
In recent years, the importance of temperature control has surged in the transportation of semiconductors and precision machinery. The cold chain has evolved into an indispensable logistics system, pivotal for advancing the infrastructure that sustains our daily lives. Projections for the global cold chain market indicate substantial growth as it climbs from $242.39 billion in 2021 to an estimated $647.47 billion by 2028.
Yet, a closer examination of the cold chain reveals significant hurdles. There are substantial capital investments and workflow implementations required to achieve precise temperature control for diverse products. The transportation and temperature control processes consume considerable energy and pose environmental challenges. Furthermore, the availability of temperature-controlled trucks and manpower necessary for transporting products remains limited, creating a shortfall in both resources.
Addressing these issues is the key to enhancing accessibility. In the realm of food, it opens doors to acquiring higher-quality domestic and international food products while significantly curbing the risk of food waste in the logistics chain, thereby contributing to the global issue of food loss.
In light of these challenges, DENSO has leveraged its expertise gained through mobility development to create a Cold Chain Solution that integrates both hardware and software. We've persisted in tackling the obstacles of refrigerated transportation, all to shape a future where we can reduce the environmental impact of transportation.
The Key to the Solution Lies in the Compact Mobile Refrigeration.
Why did DENSO embark on the journey of cold chain development? Yamazaki, from Commercial Vehicle Thermal Systems Business Unit, is a driving force behind our cold chain endeavors and sheds light on its inception.
From its inception nearly half a century ago, DENSO has been engaged in the production and distribution of truck freezer, drawing upon its expertise in car air conditioning technology. To extend the application of these technologies beyond automotive settings, we unveiled a visionary goal in 2011: 'Forging a cold chain that links production sites to end consumers.' This pivotal moment marked the commencement of our journey toward pioneering fresh realms of value.

"Specifically, we directed our efforts towards developing freshness preservation technologies, addressing the concerns of food wastage at both production and consumption stages. Additionally, we responded to the last-mile demands driven by the rapid growth of e-commerce. In our unwavering commitment to understanding and resolving our customers' challenges, we stand by their side, continually engaging in practical trials as we persevere in our ongoing pursuit." explains Yamazaki.
DENSO began developing the D-mobico® compact mobile refrigerator in 2018 as a solution for last-mile needs.
The main feature of D-mobico® is that it is installable in any vehicle. D-mobico® is a compact, lightweight, portable refrigerator with an insulated box. The shape and dimensions of the combined insulated box can be adjusted according to the intended use and cargo volume, allowing for flexible delivery of any type of product.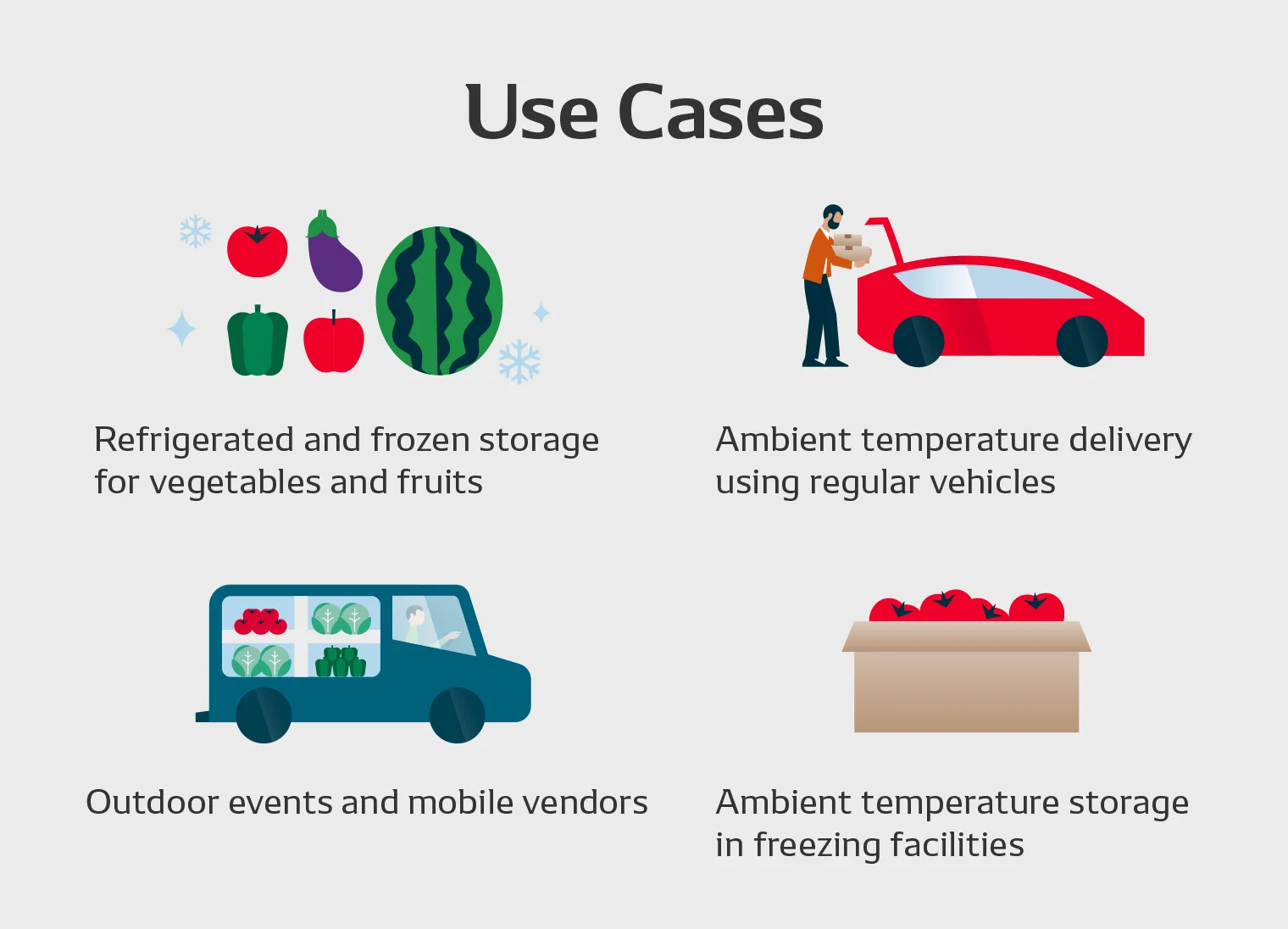 The D-mobico® system is intended for various everyday situations, such as storing fresh fruits and veggies for farmers, delivering fresh groceries via regular cars, buses, and taxis, and keeping food safe in mobile kitchens and outdoor event stalls.
Moreover, D-mobico® is part of DENSO's commitment to a carbon-neutral future by 2035. It runs on a mobile battery, reducing the strain on vehicle engines and minimizing CO₂ emissions by avoiding the use of dry ice for cooling.
Combining Hardware and Software for Individually Optimized Logistics
DENSO is dedicated to offering software solutions that enhance the advancement of the cold chain industry field.
One notable solution is D-FAMS®, a refrigeration monitoring service that offers real-time updates on the performance of refrigeration units. This service eliminates the need for drivers to worry about the proper functioning of vehicle refrigeration units, as remote monitoring and management are now possible. As a result, drivers can concentrate solely on driving without any distractions.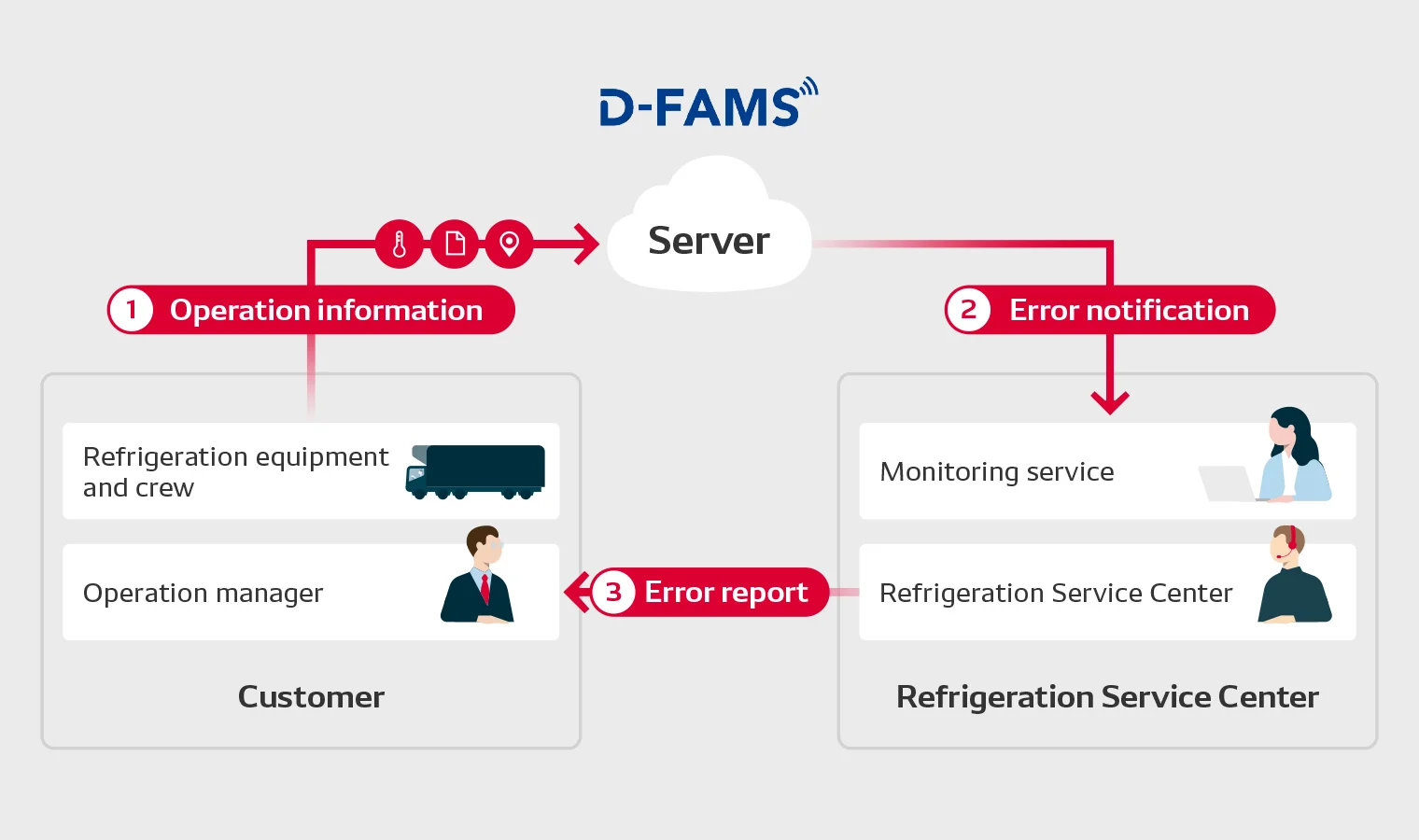 Furthermore, DENSO is introducing a traceability service that combines the QR code, originally developed by DENSO, with blockchain technology. This combination allows us to track and verify the origins, transportation details, and responsible parties for goods and products transported using refrigeration equipment. This enhanced transparency builds trust and security within cold chain transportation.
"One of DENSO's strengths is its ability to consider and expand the services it should provide in terms of both hardware and software to realize its ideal future. We strive to implement new value into society by leveraging our strengths while maintaining close relationships with our customers and consumers." (Yamazaki).
Nishida from the FVC Business Development Division, currently leading the business development efforts in the cold chain sector, shares his vision for the future:
"As times change, we are witnessing a shift towards individually tailored logistics practices, where people prefer personalized options like e-commerce over mass transportation of identical products. There is a growing desire for convenience, such as receiving items when needed, leading to an increased demand for services like immediate delivery.

In response to these changes, DENSO is actively working on creating new cold chain solutions that fit seamlessly into people's lives. Our goal is to achieve 'sustainable transportation' that minimizes harm to all participants in the supply chain and the global environment."
Supporting the Global Cold Chain
Cold chain solutions extend far beyond Japan. DENSO is currently extending its reach into emerging markets worldwide, including ASEAN (Association of Southeast Asian Nations) and China.
In ASEAN, the demand for online food delivery and e-commerce is rapidly growing, driven by economic development and the impact of COVID-19. However, the region faces ongoing challenges with traffic congestion, resulting in increasing dissatisfaction with transportation services. Users frequently express concerns about delayed deliveries and compromised product quality caused by extended transportation times. Additionally, some cities have imposed restrictions on large truck access due to greenhouse gas and PM2.5 emissions, which hampers the establishment of a stable supply chain.
Taguchi, currently on assignment at DENSO International Asia (Thailand) to drive local cold chain development in the ASEAN region, expressed DENSO's commitment to introducing cold chain solutions in these areas.
"DENSO is actively developing cold chain solutions tailored to address specific regional challenges. One such solution is implementing D-mobico® in smaller vehicles, which are not subject to the regulations imposed on large vehicles. Currently, we are conducting a series of demonstration tests in collaboration with an online supermarket and a high-end food delivery service in Thailand. These tests have yielded remarkable results, significantly reducing service complaints. Our ultimate goal is to introduce and expand this service across ASEAN and beyond." Taguchi stated.
Ando, leading the project in the FVC Business Development Division, discusses the future potential of our cold chain solution and its expansion worldwide.
"We're looking to develop solutions that support the global cold chain, taking into account a future where electric vehicles are prevalent, and the era of unmanned delivery. We plan to achieve this by further honing DENSO's core expertise in mobility development through the synergy of technologies like D-mobico® for personalized temperature-controlled logistics and digital tools such as D-FAMS® and QR codes."

Ando emphasized that one of DENSO's missions is to adapt to societal changes and evolving needs while ensuring safe and reliable transportation in all circumstances. "Our goal is to create a future where everyone can easily access fresh food and receive advanced medical care. We are committed to addressing the challenges in the cold chain and making significant contributions towards their resolution." Ando concluded.
DENSO recognizes that addressing global cold chain challenges requires collaboration beyond our company's efforts alone. We are committed to working with various partners, going beyond logistics and distribution, creating innovative logistics systems that enhance people's everyday lives.
Changing your "Can'ts" into "Cans"
Where Knowledge and People Gather.