DENSO's Core Technology Created
by the Collaboration of Its Experts
— How DENSO develops inverters, which hold the largest share in the world.
DENSO Tech Links #16 focused on the theme of "Automotive components change the future of vehicle electrification!" and discussed the electrification of vehicles from DENSO's unique perspective as an automotive components supplier. Sho Hashimoto from the Electrification Components Eng. Div. 1 stands on the podium to talk about DENSO's inverter development.
Electrification Components Eng. Div. 1, DENSO CorporationSho Hashimoto
Contents of this article
Developing Inverters Since Joining DENSO
Sho Hashimoto: I will talk about how DENSO develops inverters.
Before I begin, I would like to introduce myself. My name is Sho Hashimoto, and I joined DENSO in 2010. Ever since then, I have been involved in the development and mass production of inverters, including the development of software for inverter control. Since 2017, I have been developing inverter hardware.
As an engineer, I've spent my whole career with inverters. I would like to explain a little about DENSO's inverters and how its engineers develop them.
Inverters Are Essential to Electric Vehicles
Let me start by describing what an inverter is. All hybrid and electric vehicles use these three devices shown on this slide. First, a battery to store electricity, second, an inverter, which is shown in the middle of the slide, and third, a motor to drive the wheels.
These types of motors typically run on alternating current. Therefore, direct current from the battery needs to be converted into alternating current with the help of an inverter.
For this conversion, inverters have a component called a power module with a semiconductor switching device that turns on and off to change the direction of current to generate an alternating current. Inverters are essential to electric vehicles.
DENSO's Inverters Are Used In Electric Vehicles Worldwide
DENSO's inverters are used worldwide. Here, I will talk about their history. DENSO began to mass-produce inverters in 1997. Annual production reached a high of 1.2 million units in 2020.
DENSO's inverters are used by a wide range of automakers around the world including Toyota, Nissan, and Hino for its commercial vehicles, as well as foreign customers such as Ford and China FAW Group. In 2018, DENSO led the world with the largest share of 32% in the global inverter market. Our inverters are equipped in electric vehicles used worldwide.
Increasing Number of Electric Vehicles Used Worldwide Because of Stricter CO2 Emission Controls
Now I will move on to discussing the environment surrounding inverters.As Kudo explained,most countries around the world have strengthened their CO2 emission regulations with the goal of global carbon neutrality. Automakers are also reducing CO2 emissions under their targets.
As a result, as the figure on the right shows, electric vehicles are becoming increasingly popular in the global vehicle market. This figure breaks down the actual and expected sales of engine-powered and electric vehicles in 2020, 2025, and 2030. The number of electric vehicles is projected to increase around the world.
Demand for Low-loss, High-current Inverters
So, what type of inverters should be developed, especially for battery electric vehicles?
All energy used in battery electric vehicles is provided by their batteries, but this feature also causes concern about their driving range.
They can travel until they use up the power of their fully charged batteries. However, in practice, they need to be charged at a charging station before they run out of power. As it takes at least 30 minutes to recharge an almost depleted battery even with a rapid charger, this may frustrate people who are used to gasoline-powered vehicles. Therefore, saving battery power will make electric vehicles more attractive.
Let's look at the breakdown of losses in an electric vehicle. These losses are the amount of power that is not used at all, such as for vehicle propulsion and climate control, and thus ends up being wasted.
Of the total vehicle power losses, the inverter losses account for a significant portion, and therefore must be reduced.
Let me explain more about inverters in terms of powertrains. In hybrid electric vehicles, the engine is the main power source and is supported by electric motors. Battery electric vehicles use their motors to produce all the power needed.
The force to rotate the wheels is called torque. The stronger the magnet of a motor, the more torque is generated. Moreover, the greater the current in a motor, the more torque is generated. This means that a large amount of current is required to get battery electric vehicles moving. Electric vehicles need low-loss, high-current inverters.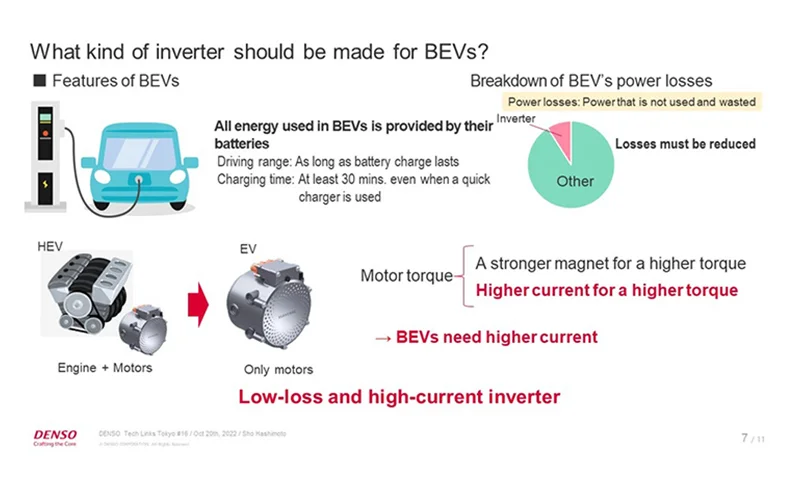 Reducing Power Module Losses, Which Account for 90% of Inverter Losses
Let me explain power modules. These are the most critical components to develop low-loss inverters.
Reducing power module losses, which account for about 90% of the inverter losses, is the biggest challenge. DENSO's power modules are called "Power Cards" because of their shape. Please remember this name.
Quite a few other inverter manufacturers purchase commonly available power modules to integrate them into their inverters. But DENSO develops and produces even semiconductor devices instead of purchasing them from other companies.
As part of its great efforts to develop and produce power modules, DENSO has recently establishedMIRISE Technologies,a semiconductor development company, jointly with Toyota and started to produce semiconductor components at its Hirose Plant, which was transferred from Toyota.
Let me talk about DENSO's power modules. Recently, silicon carbide (SiC) power semiconductors have become widespread around the world. As they help considerably reduce the losses in power modules compared with conventional silicon (Si) semiconductors, a growing number of electric vehicles are adopting them. DENSO also uses SiC power semiconductors. They can reduce electric power losses by as much as 7%, and are expected to reduce them significantly.
High-current Power Module Enabled by DENSO's Own Cooling Technology
Next, I will explain DENSO's technology that has enabled a high-current power module. A major issue of power modules which operate with high current is that the greater the current that flows in them, the more losses occur. Power modules are heated by these losses and may fail in some cases.
To deal with these challenges, DENSO has used its own cooling technology: a Power Card, the card-type power module I mentioned earlier, is tightly placed between two cooling devices designed to release heat from both sides of the Power Card. DENSO's cooling technology achieves 1.5 times the performance of those developed by other companies.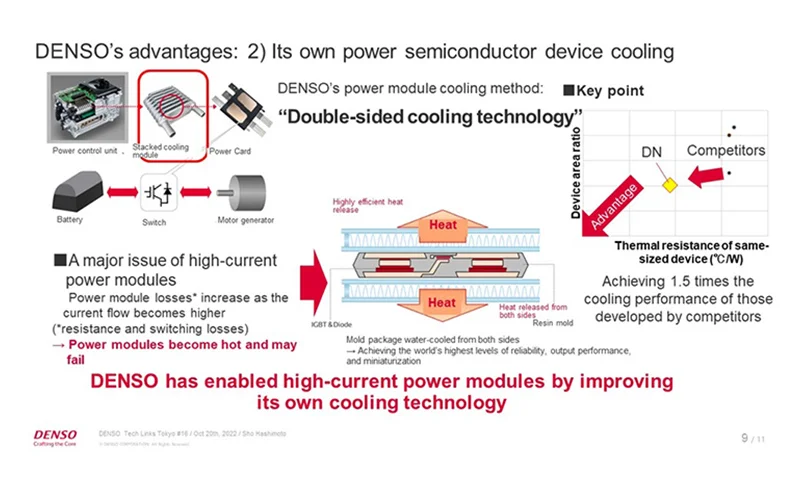 Creating DENSO's Own Inverters That Incorporate Crucial Devices and Technologies Developed In-house
Now, I would like to explain our other technologies. The device shown in the middle of the slide is a self-developed electric control unit. DENSO's ECUs have a circuit called a drive IC to switch power semiconductor devices on and off.
Drive ICs have the important functions of enabling power semiconductor devices to deliver the required performance and protecting them in the event of a failure. DENSO develops drive ICs in-house. They are designed to work with power semiconductor devices to enable them to deliver maximum performance.
Moreover, DENSO develops motor control technology in-house to ensure that inverters and motors function properly depending on vehicle operating conditions.
The slide also shows DENSO's brand slogan: "Crafting the Core," and we develop inverters accordingly. DENSO develops key devices and technologies in-house to continue to create unique inverters.
Leading the world with DENSO's unmatched inverters
Before closing, let me list the technologies required to develop inverters. The technologies I have talked about today are only part of those used in inverters, and I'm sure you know that inverters require many technologies. No one can develop any inverter alone. Experts in different fields need to collaborate with each other to develop them.
DENSO aims to keep leading the world with its unmatched inverters.
Changing your "Can'ts" into "Cans"
Where Knowledge and People Gather.