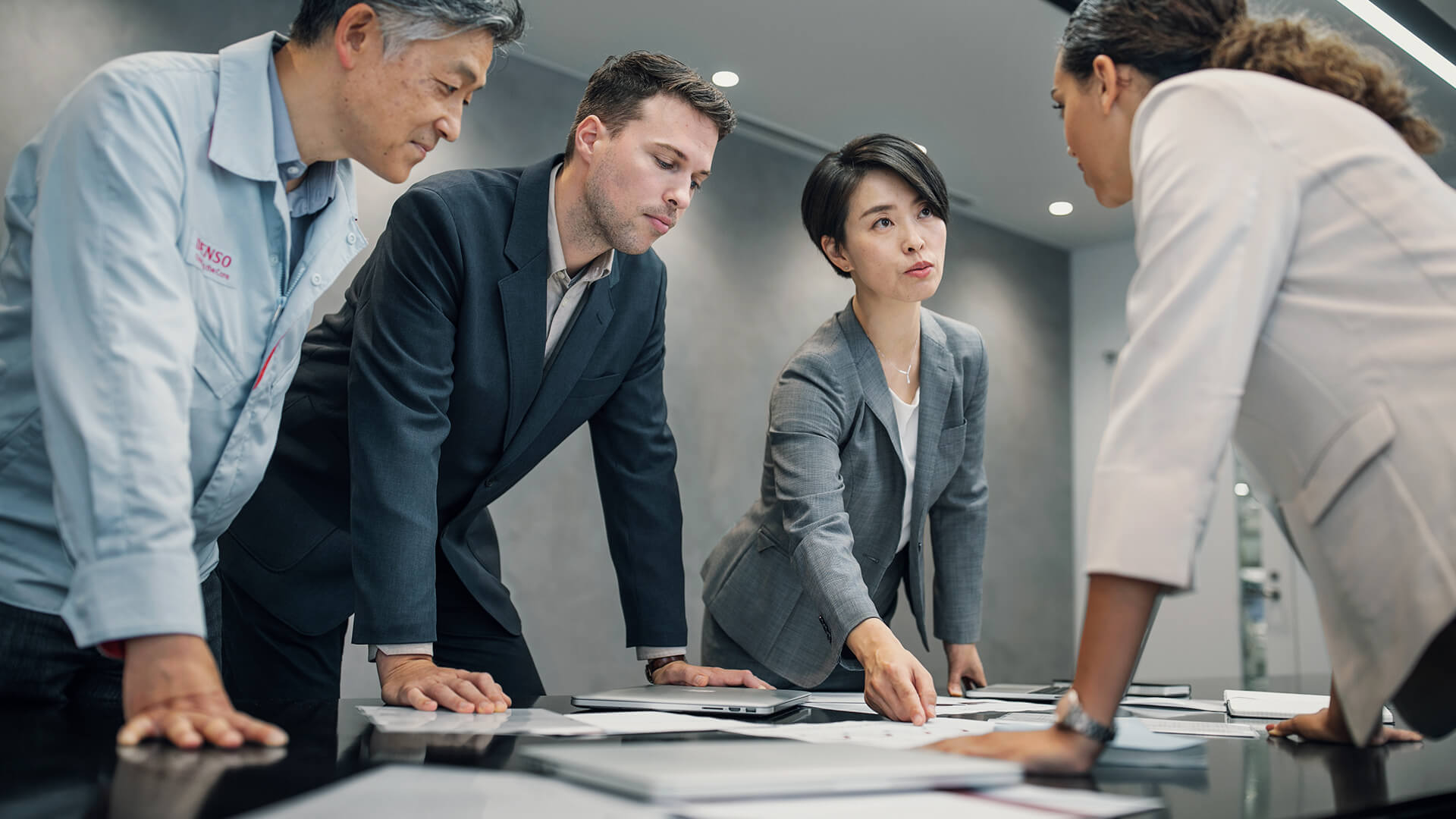 Basic Stance
In keeping with the global expansion of business, the DENSO Group is striving to strengthen risk management as part of its internal control system to help minimize risk.
Specifically, the emergence of circumstances with the potential to cause damage to corporate management are classified as risks (situations in which risks have not yet been realized) and crises (emergency situations in which risks have already been realized). For the former, efforts focus on thwarting risks before they have the chance to manifest themselves; for the latter, DENSO strives to make an initial response as well as a response for restoring business operations in a prompt and appropriate manner.
Promotion Structure
DENSO regularly confirms the improvements made to its risk management structure and framework via the Risk Management Meeting. Taking into consideration the conditions of the Company and trends in the external environment, DENSO discusses and determines the direction of important activities to comprehensively manage Groupwide risks and crises. In addition, DENSO has created the Crisis Communication Manual in order to respond promptly and accurately in the event of a crisis to clarify standards for situational judgment, reporting criteria, reporting routes, and internal/external responses.
Furthermore, specialized contingency organizations are formed depending on the extent of the situation and degree of urgency, which facilitates agile responses to minimize damage.
Moreover, at domestic and overseas companies subject to our managerial consolidation rules as well as Group companies in which DENSO CORPORATION is the largest shareholder, CSR leaders of each company work to upgrade our risk management based on support from key functional departments and regional headquarters.
Risk Management Structure (Normal Operations)
Crises countermeasures structure
Specific Initiatives
Ascertaining Risks and Clarifying Response
DENSO makes efforts to constantly ascertain the risks it faces and manage these risks from the perspectives of damage mitigation and business continuity. The Company has selected 42 risk items related to life, credit, business activities, and property based on frequency of occurrence and level of impact. The Company designates responsible departments for each risk item and clarifies various factors pertaining to these items, including level of impact, reason for occurrence, preventive measures, initial response, and recovery efforts. The Company also strives to enhance its preventive measures, initial response, and recovery efforts. DENSO revises its risk items appropriately, giving consideration to the issues currently facing society as well as the frequency of risks occurring at DENSO and the level of impact they have on the Company.
Risk Management Items (Excerpts)
Reason
Risk Items
Internal factors
(Accidents and mistakes)
Environmental pollution and abnormalities, disasters (work-related accidents, fires, and explosions), recalls, production obstacles (difficulties with energy supply, etc.), information security-related accidents, personnel and work-related incidents (human rights issues, labor issues, and overseas offices), mental health issues, traffic accidents, errors in internal management of information, etc.
Internal reasons
(Legal violations)
Violations of the Antimonopoly Act, tax evasion, inappropriate employee dispatch or use of contract work, violation of product laws and regulations, violation of anti-bribery laws, etc.
External factors
(Natural disasters)
Earthquakes, typhoons, concentrated heavy rains, lightning strikes, etc.
External factors
(Political and social)
Product liability litigation, fluctuating exchange rates, supplier-related issues, incidents or other emergencies (wars, terrorist attacks, abductions, epidemics), etc.
Initiatives in Japan
(1) Expanding activities to raise and spread awareness among employees
To prevent risks before they occur and minimize damage when a crisis arises, it is important that employees maintain a daily awareness of risks and take appropriate actions when a crisis occurs. A variety of awareness activities aimed at promoting employee understanding and enhanced awareness of risks are conducted at DENSO CORPORATION and domestic Group companies.
Specific Permeation and Awareness Activities [DENSO CORPORATION]
Fiscal
2005~
Risk Management Handbook
Clarification of actions to be taken in the event of an earthquake, fire, or traffic accident.
All employees are required to carry the handbook on a daily basis.
Fiscal
2007~
Risk management training for management-level employees at DENSO CORPORATION
Conducted risk management training for newly appointed department managers as well as factory managers and section managers of business groups.
(2) Strengthening earthquake disaster risk response (formulation of business continuity plans)
In the near future, a massive earthquake is expected to strike Japan. Also, with the progression of global warming, there is concern that climate change will lead to an increase in the frequency of natural disasters. In the event of a natural disaster, it is of the utmost importance that we protect the lives of our employees. At the same time, in the event a disaster were to disrupt our production and supply activities, it is imperative that we work to swiftly restore operations and minimize the damage to our businesses. At DENSO CORPORATION and domestic Group companies, we have commenced the strengthening of Groupwide earthquake disaster risk countermeasures focused on business continuity management (the formulation of business continuity plans [BCPs]). We are engaged in the creation of an emergency situation manual and disaster reduction countermeasures from the perspective of visualizing actions, ranging from initial actions to the restoration of operations in the event of an emergency, and countermeasures for reducing disasters (countermeasures for key infrastructure and countermeasures for high-risk components in terms of procurement from the perspectives of substitutability and plant locations).
We are also developing permeation and awareness activities (initial response and safety confirmation system drills) that incorporate employees and their families based on the concept of placing top priority on human life.
Going forward, we will strengthen our response to risks from earthquakes and other natural disasters on a Groupwide basis.
BCP: Business continuity plan. In the event that operations are interrupted by an earthquake or other large-scale natural disaster, BCPs are designed to minimize damage to the Company's business by aiming to restore operations within a targeted timeframe.
Future Initiatives
To prevent risks from materializing and minimize the damage from risks that do materialize, we hold information liaison meetings and workshops at departments that have risk management functions, striving to enhance risk prevention measures (prevention and initial response).