In a global environment of continued severe competition, DENSO has further strengthened its R&D development in order to create new value and produce new technologies. In conjunction with this, we have instituted roadmaps to track the progress for each development span from the short term (up to 5 years) through the medium term (up to 10 years) to the long term (11 years or more). These roadmaps are updated every year, incorporating changes in society and regulations, and shared between each division and the Engineering Research & Development Center so that decisions can be made about which projects to start and which to alter or terminate. Roadmaps are used throughout the Group, including proposals for unique kinds of value and technologies in each region. Presently, the Company's R&D Division makes decisions about new technology proposals, but in the future we aim to build a global R&D structure centered on European and North American sites.
* DENSO projects: accelerated development limited to 2 years at business groups or the Engineering Research & Development Center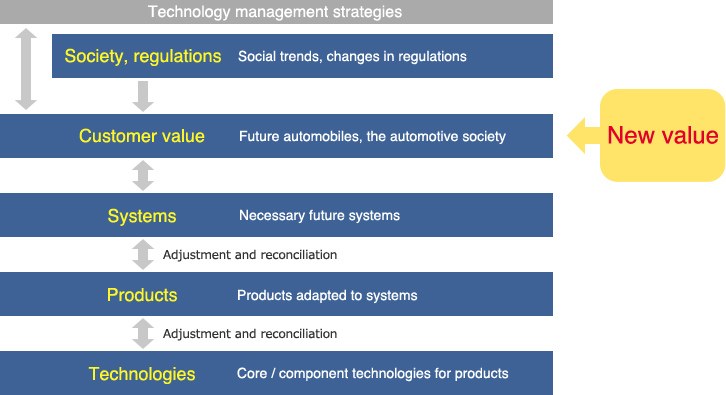 In order to develop products that are optimized to meet the conditions and needs in each of the world's regions, the DENSO Group maintains seven technical centers and is strengthening its global development network. In fiscal 2015, the year ended March 31, 2015, we relocated, upgraded, and expanded our technical center in Shanghai in order to address market expansion in China and to reinforce our product development systems with the aim of better matching market needs. Operations at these facilities are now online. In addition to constructing new premises that include an integral testing facility, this technical center has also installed such evaluation equipment as an environmental wind tunnel. Building on its activities in Japan, the DENSO Group engages in the development of advanced technologies in North America and Europe. At our Silicon Valley office, which was expanded this year, we are engaging in the research and development of new cyber security, the use of big data, and automated driving systems.
In fiscal 2015, the year ended March 31, 2015, R&D expenditure came to ¥396.4 billion. Looking ahead, R&D expenditure is projected to reach around the same level at ¥400.0 billion in fiscal 2016. While placing priority on strengthening the development of fuel saving and active safety products, we will continue to conduct research and development that will help drive further growth. We consider R&D expenditure at 8%-9% of revenue to be an appropriate level and will work proactively on advancing the power shift to priority fields, enhancing our integrated development and production network, and raising operational efficiency by the promotion of standardized procedures.


Since fiscal 2014, figures are based on IFRS. (Figures for fiscal 2013 and earlier are based on Japanese accounting standards.)