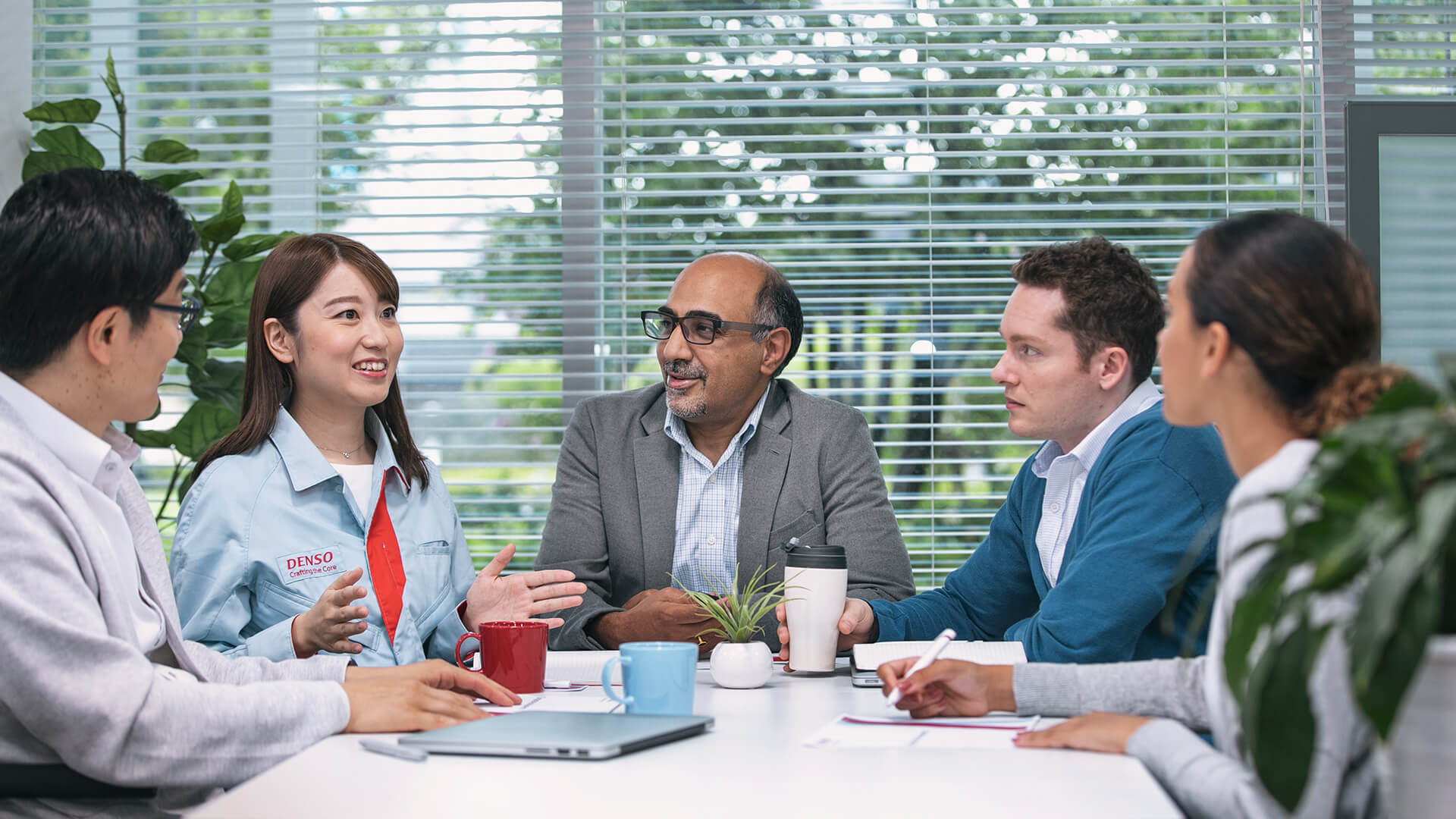 DENSO offers global growth opporunities
Researchers and developers at DENSO's global R&D focus their collaborative R&D efforts on environment, security and safety. Outside of Japan, they work in six technical/design centers (in Europe, the U.S, China, India, Asia and South America).
They design and develop diverse products ranging from automobile components (powertrains, thermal systems, system components for ECUs, IT security) to medical and agricultural products through the application of cutting-edge technology. These efforts include the development and refinement of underlying and related technologies, as well as mass-production technology. DENSO engineers and designers work in wide-ranging fields such as mechanics, electronics, IT, chemistry, physics and semiconductors etc. and this accumulated expertise empowers them to develop breakthrough innovations.
DENSO researchers and developers engage in advanced product development from the early planning phase to meet the needs of global customers, and go beyond their expectations. They develop the latest technologies from each region to meet the needs of our global customers.
Our engineers incorporate the latest technologies from Silicon Valley so they can create advanced highly competitive technologies and products that are stringently tested and evaluated under actual vehicle usage conditions (temperature etc.). In anticipation of coming advances in our globally connected society, product development must continuously advance. Committed to taking on new challenges, DENSO engineers work with global partners to conduct research and develop breakthrough products that inspire the world.
Production engineering specialists apply cutting-edge production, processing and application engineering to bring a unique, competitive edge to our monozukuri efforts. With an eye toward future needs, they pursue efficient, cost-effective management of production processes from the initial phases of design.
DENSO production engineers engage in building an innovative production system and also have opportunities to gain management skills and a global mindset through collaborative projects with car manufacturers worldwide. Proofs of their successful efforts are the quality components produced through their efforts featured in cars around the world.
Our sales specialists work closely with customers and present the latest technology and innovations to offer solutions that surpass customers' expectations. They analyze and anticipate customer needs and develop strategies to out-perform competitors and achieve sales goals.
Sales staff members are challenged to represent DENSO directly to our customers, accomplishing sales objectives while earning the trust of customers worldwide.
The sales division operates independently of other divisions and has offices around the world that are attuned to local customer needs and perspectives. The division seeks solutions for customers and addresses societal issues beyond immediate and short-term needs in order to enhance our business partnerships.
Production control specialists are active in supply chain management (SCM) through collaboration with suppliers, manufacturers and customers. They work closely with other teams at DENSO and employ the same control system as our other group companies worldwide — a major advantage over competitors — to achieve our business goals.
From the start, all employees have opportunities to work on projects with employees in the same field around the world. They gain valuable hands-on, on-site experience with DENSO's advanced global supply system.
Quality control colleagues develop and implement quality control policies and procedures for the entire DENSO group. They evaluate and improve all quality control processes (when, who, what, how), plan and adopt quality improvement measures within the manufacturing process, employ advanced technology to raise inspection quality, and test products in actual usage conditions prior to delivery.
DENSO is passionately committed to achieving world-leading quality in collaboration with partners around the world. All DENSO group companies share a commitment to "customer first" and "quality first" that has won the trust of our global customers. We will continue working as a team, using cutting-edge quality control technology, to achieve absolute quality assurance that contributes to environmental protection, security and the prevention of traffic accidents.
Purchasing professionals maintain the quality of required stocked material and ensure that sufficient production material is sourced and purchased from selected, ethical suppliers at reasonable cost and in a timely manner. To ensure the best possible suppliers, they employ a mixed strategy of global sourcing (in which collaborating DENSO group companies negotiate with suppliers) and local sourcing that builds community relationships in more than 30 countries around the world.
Our purchasing personnel are responsible for procuring high-quality materials in a cost-effective manner; a balancing act that is both challenging and rewarding. Toward this end, they build cooperative relationships between suppliers and DENSO group companies that improve cost performance while benefiting all parties. Purchasing colleagues take the lead among all DENSO employees and suppliers to create the best partnerships for sustainable progress.
Business Planning specialists lead the development and management of business strategies for products, profit and new business abroad. They establish and implement strategies to improve contribution margins and ensure that costs are effectively managed throughout the entire product life cycle.
As a 'control tower' of the business, they are active in the planning of optimal business strategies while coordinating the related efforts of both top management and frontline personnel. They also have opportunities to work with other divisions, group companies and business partners around the world.
In DENSO, they can enjoy an interesting and dynamic experience in which they are in charge of leading million-dollar-scale projects in continuously changing circumstances. In addition, they can gain business management experience and develop the entrepreneurship necessary to develop new business strategies.
F&A (Finance & Accounting) at DENSO focuses on ensuring the accuracy of financial records and optimizing account processing throughout all operations from purchasing and R&D to production and sales. F&A enhances DENSO Group competitiveness by leading professional F&A practices such as tax planning, cash management, foreign exchange risk management, investment strategy, corporate governance and investor relations. F&A advises top management regarding these issues and supports the strategic decision making of the company.
DENSO F&A operates globally, requiring both domestic and international collaboration. DENSO F&A specialists work with F&A members from around the world to develop the global F&A strategy and to manage challenging international projects. Through these activities, F&A specialists can develop worldwide relationships, improve their business capabilities and establish a strong foundation for future success and growth in DENSO.
Employees are the key to our growth. We value our people and strive to create an environment in which each individual feels inspired and fulfilled.
HR designs and implements measures that ensure ethical and effective recruitment and selection, training and development, performance management and compensation and benefits processes with the aim of providing stable labour relations and satisfying working conditions with the support of our next-generation leaders. In order to realize both innovation for the future and the delivery of appropriate levels of service to daily operations, HR specialists continuously pursue each employees' development through challenges and teamwork.
As an HR professional at DENSO, you can take pride in working for the HR division of a large organization. While promoting global HR strategies and taking the diverse values of employees and societal changes into account, you'll collaborate with specialists from different countries and cultures and develop a broader perspective. All these valuable experiences will support your career advancement.