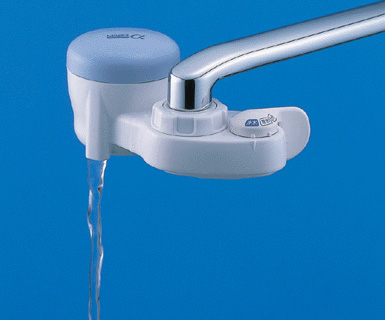 About DENSO Home Electric Appliances which supply parts is finished a long time ago.
Dear customers,
Thank you for using DENSO products.
Long-term use of house equipments and home electric appliances might be causing a fume and eventually become accidents, because internal parts including power supply cable might deteriorate under the circumstance of high/low temperature, moisture, and dust.
It has passed more than 15 years since the production ceased, and the parts (supply parts) which are necessary for repair have already finished supply as a manufacturer for DENSO products shown below(see table 1).
If supply parts are not available, repair may become impossible.
It is recommended to cancel the use of these products and to discard them .
Refrain from transfer or resale these old products and parts.
In particular, water-related spare filters such as filters for Alkaline ion water conditioner, 24 hours bath system(water heating/cleaning unit) and Water purifier,there is a concern of the health hazard caused by the breeding of various germs because filter supply has been ended more than 7 years ago for its storage period of guarantee.
We strongly suggest customers to cancel their use.
Household water purifier (Ms Junko II, Ms Junko III, Ms Junko mini, Ms Junko alpha)

24 hours bath system (CBU Clean Bath Unit), Joutou-sanka II , Joutou-sanka III)

Home alkaline ion conditioner (Ms Junko alkali, Ms Junko alkali pico)

Home garbage processing machine (NAISU-MAMA)

Home far infrared rays heater (ENSEKI,Skinny Ceramic Heater)
Thank you
Table 1 Products which parts supply is finished long time ago
Products (Brands)
Pictures
Prod. ceased
Parts supply finished
Water purifier
(Ms Junko Ⅱ)
(Ms Junko Ⅲ)
(Ms Junko mini)
(Ms Junko alpha)


Ms Junko Ⅲ

Ms Junko mini

Ms Junko alpha

Dec./1999
Apr./2008
24hours bath system
(CBU:clean bath unit)
(Joutou-sanka Ⅲ)
Mar./2003
May/2011
Alkaline ion conditioner
(Ms Junko Alkali)
(Ms Junko Alkali-pico)

Filter

(Alkali)

Filter

(Alkali-pico)

Main body

(faucet connecting part)

Oct./2003
Aug./2011
Home garbage processing machine
(NAISU-MAMA)
Mar./2002
Feb./2012
Home far infrared rays heater
(ENSEKI)
(Skinny Ceramic Heater)
Oct./1997
Jan./2014