DENSO Develops Large-screen Head-up Display
- World's largest projection size and plans to introduce into the market around 2015 -
KARIYA (Japan) - As DENSO is focused on developing technologies that help keep a driver's eyes on the road and hands on the wheel, it has developed the world's largest projection size TFT LCD Head-up Display (HUD). HUD technology projects important information such as vehicle speed, onto the windshield so drivers can obtain critical information while keeping their eyes on the road. DENSO plans to introduce the new larger-display HUD to the global market in the 2015 timeframe.
"Since DENSO's new HUD can show lane guidance and inform presence of pedestrians overlaid on the actual scenery, drivers can obtain information more quickly and naturally," said Hiroyuki Wakabayashi, executive director responsible for DENSO's Information & Safety Systems Business Group. "DENSO is committed to providing the right information, in the right place, and at the right time to prevent driver distraction and improve safety worldwide."
Larger-Display TFT HUD:
DENSO's new HUD can coordinate with sensor-based technologies to inform drivers the presence of pedestrians ahead. The new HUD also can coordinate with vehicle navigation and can project virtual directions and lane guidance on the windshield to provide information to the driver more quickly and naturally. DENSO designed the positions, colors, and other indication factors of HUD to make for a more natural driving experience. DENSO also has raised display brightness by a factor of two to provide a clearer and brighter image even in direct sunlight.
Measuring Human Machine Interface:
HUD is among one of the Human Machine Interface (HMI) solutions that DENSO is researching and developing to help reduce driver workload. Currently the company is researching how to quantify driver workload to create a better system solution for its customers.
DENSO AND HUD:
Earlier this year, the company launched its 7.5 inches full-color TFT HUD and currently is working on other vehicle programs in the Asian, North American and Europeans markets.
DENSO has researched and developed HUD since the late 1980s and first manufactured the technology in 1991. DENSO's focus is to safely provide the right information at the right time and in the right location. As HUD technology is expected to help reduce traffic accidents by minimizing the driver's eye movement, DENSO aims to expand HUD business to automakers around the world.
DENSO will exhibit the new HUD in its booth at the 19th Intelligent Transport Systems World Congress 2012 in Vienna, Austria, Oct. 22-26, 2012.
HUD is embedded in the dashboard behind the steering wheel. The image on a LCD panel is reflected by a mirror, then reflected again by a concave mirror to magnify it, and then reflected by the windshield so that the driver can see an image. The HUD technology is expected to help reduce traffic accidents by minimizing the driver's eye movement, and is expected to further diffuse in the market.
* As of October 2012, based on a survey conducted by DENSO. Display size is approx. 10 inches with two meters distance from the driver.
DENSO Corporation, headquartered in Kariya, Aichi prefecture, Japan, is a leading global automotive supplier of advanced technology, systems and components in the areas of thermal, powertrain control, electric, electronics and information and safety. Its customers include all the world's major carmakers. Worldwide, the company has more than 200 subsidiaries and affiliates in 35 countries and regions (including Japan) and employs more than 120,000 people. Consolidated global sales for the fiscal year ending March 31, 2012, totaled US$38.4 billion. Last fiscal year, DENSO spent 9.5 percent of its global consolidated sales on research and development. DENSO common stock is traded on the Tokyo and Nagoya stock exchanges.

Pedestrian detection display (image)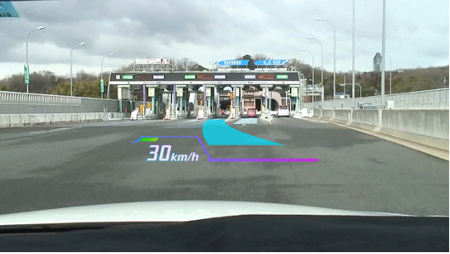 Lane guidance display (image)