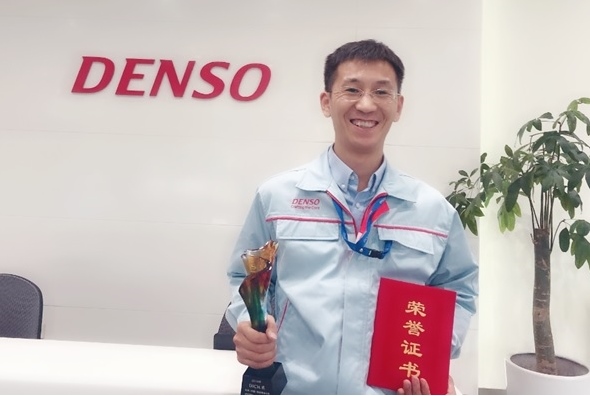 D-person Vol. 02 Involving his surroundings and transform Monozukuri in the China region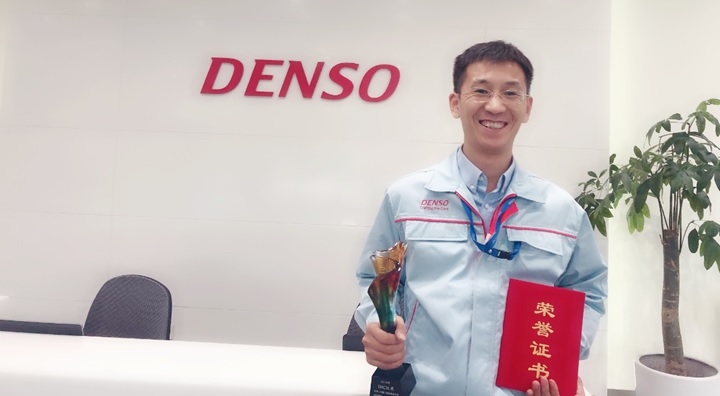 "D-person" is  a series that introduces energetic DENSO associates from around the world.
The second issue of D-person features Wu Xiaoguang from the Production Promotion Div. of DENSO (China) Investment Co., Ltd. ("DICH").
Profile
Since joining the company in 2013, Wu has played a key role in this division of DICH in promoting automation and introduction of F-IoT* at manufacturing sites in China, thus improving DENSO's competitiveness in manufacturing in the region.
* Factories where large amounts of data on personnel, goods, and equipment are converted into useful information such as signs of equipment failure and know-how of skilled workers, and where kaizen is carried out continuously based on the information
Strengthening manufacturing in China to lead the DENSO Group
China leads the world by car sales, and is a key market for DENSO's growth. At DICH, we have been improving productivity by automating plants, strengthening manufacturing in China, and raising profitability in order to drive the expansion of DENSO.
Previously, the conventional way of automating plants in China was to ask Japanese-affiliated partner companies that had developed the same lines in Japan, but I was skeptical about this approach. Such partner companies that have worked with the same lines may be able to ensure quality because the changes are minimal, but I believed we could raise productivity by leveraging the strengths of Chinese partner companies in terms of cost and speed, and that this would improve their engineering capabilities and promote localization. When discussing the company's policy, I told stakeholders that we should work with Chinese partners to develop advanced automation lines.
However, both Japanese and DICH associates were nervous: "Can we achieve the same or higher quality? Even if we build automation lines quickly, we won't be able to meet delivery deadlines if they fail frequently." Although problems were likely to occur in this unique project, I thought progress would be impossible if we were afraid of making mistakes. But I understood their concerns. We had to avoid inconveniencing customers due to frequent line failures.
To alleviate such anxiety, we had to create an organization for giving appropriate, practical guidance quickly to Chinese partner companies. I persuaded directors of relevant divisions in Japan and presidents of DENSO Group's production companies in China to set up a special organization of outstanding equipment engineers in China.
Collaboration between Japanese and Chinese partner companies was the key to achieving the goal
Obviously, this was not enough to launch an advanced automation line by Chinese partner companies. To overcome the lack of experience, I asked Chinese and Japanese-affiliated partner companies to study the possibility of collaboration. At first, the Japanese-affiliated partner companies were reluctant, but I took their personnel to Chinese partner companies to look at the actual equipment and worksites. I explained the track record in equipment production and future potential of these companies as well as the advantages of collaboration, and finally managed to arrange the collaboration.
We used the new inverter production line, which was to be established, as a model line and worked on fabricating demonstration equipment for halving the equipment costs through the collaboration. And, there is a high probability to succed, which made the stakeholders surprised. As expected, the project greatly improved the level of manufacturing of the Chinese partner companies, which will be involved in launching advanced automation lines in future to improve fundamental production engineering capabilities in China.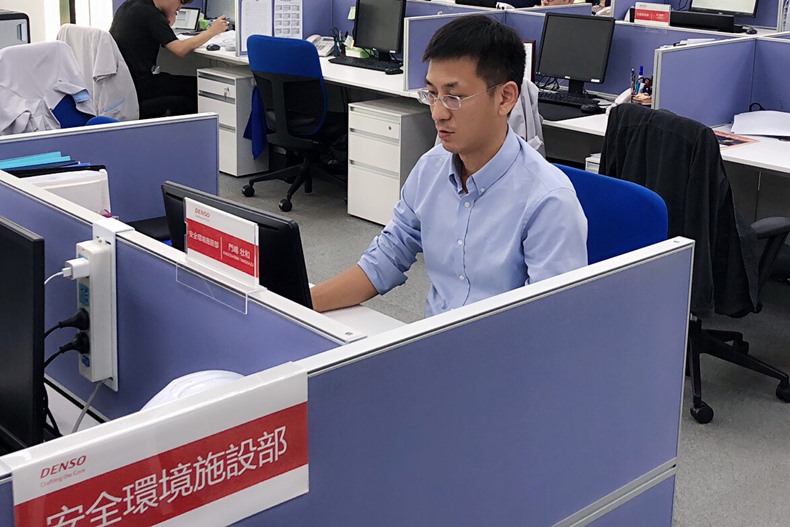 "Know Yourself and Outperform Yourself"
Since starting work, I have always kept Laozi's maxim in mind: "He who knows himself is intelligent; he who overcomes himself is mighty." I will follow this maxim throughout my career, analyze my performance honestly, acquire new knowledge and habits from coworkers, and achieve personal growth.

Impressions about Wu
We asked Masanobu Furuta of DENSO's Machinery & Tools Div. who joined Wu Xiaoguang's project.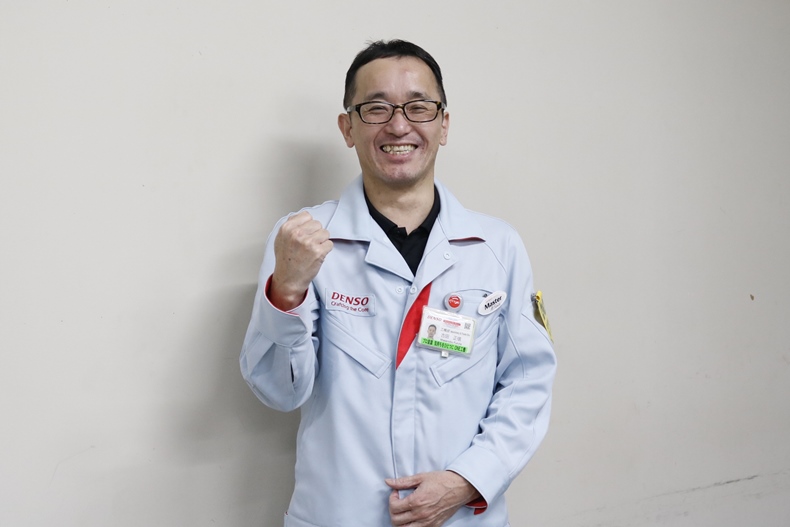 Wu has ambition. He is dedicated, and actively goes beyond the scope of his own work. He is one of the top global production engineers of DENSO in both his aspirations and positive attitude. He is affiliated with the production engineering section at the head office in China and is responsible for planning and designing next-generation advanced production lines. Associates in charge of large projects tend to leave the details of each equipment to others. However, he practices genchi-genbutsu (onsite verification) and visits partner companies to check the manufactured equipment, which is highly impressive.
He fully understands the disadvantages and issues of DICH's manufacturing as well as what needs to be done. He knows himself, and so can involve many key persons both in and outside the company to overcome the weaknesses. Naturally, he succeeded in this project, and I hope he will continue to play a key role with confidence. All of the manufacturing team at head office are keen to support him.
DENSO associates from around the world (D-person)