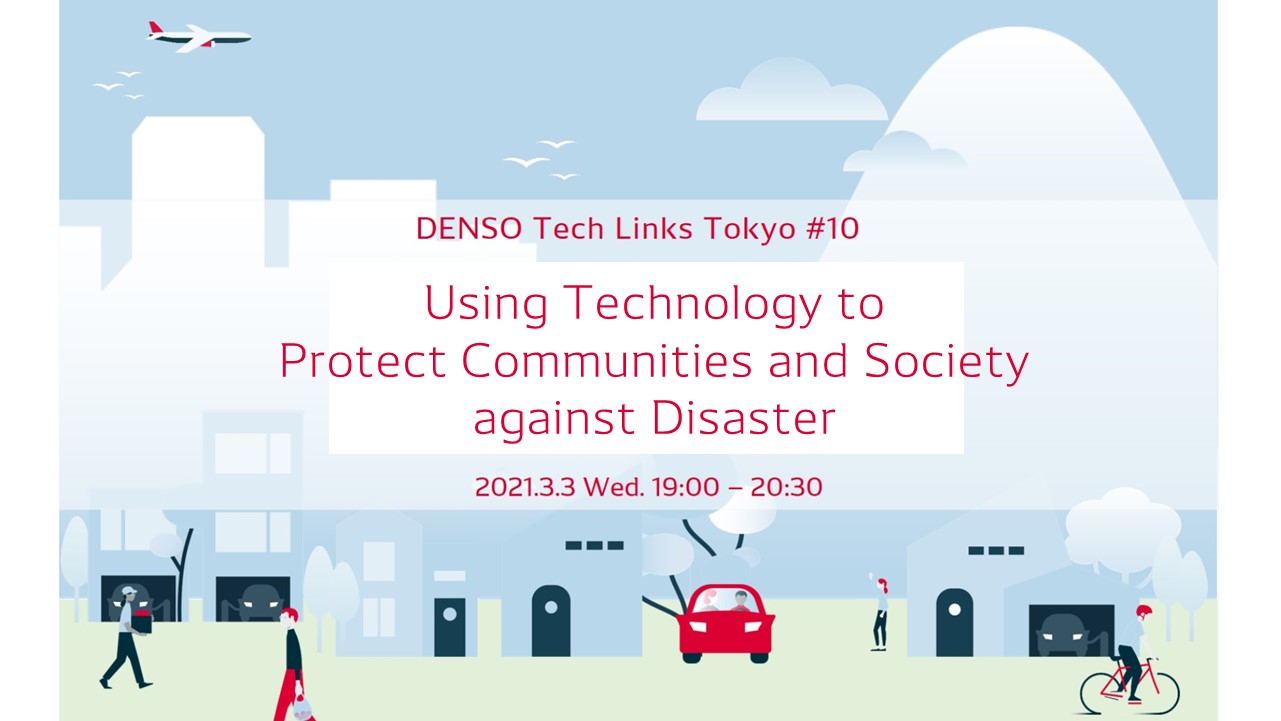 Providing Correct Information While Avoiding Panic Situations in Local Governments Goal of Lifevision, a community communication app developed by DENSO
On March 3, 2021, DENSO Tech Links Tokyo #10, an event organized by DENSO Corporation, was held as a webinar. The theme was "Using Technology to Protect Communities and Society against Disaster." Koichi Sugiyama of the Automotive & Life Solutions Div. talked about Lifevision, an app developed by DENSO.

【Speaker】
Koichi Sugiyama
Community Network Solution Business Dept.
Automotive & Life Solutions Div.

"Lifevision" Initiative

Koichi Sugiyama: Good evening. I'm Koichi Sugiyama. Thank you for having me.

I'd like to explain our community IT service initiative. It is called "Lifevision" as shown here. I will explain how we are assisting disaster management.

What is Lifevision? As shown in the slide, it is an app which provides local government information to tablets and smartphones. The system will also allow residents to receive various community services.

Its basic function is to provide disaster information and daily community information to tablets and smartphones. Residents will also be able to receive community public services. For example, elderly women will be able to book a taxi and receive telemedicine services via their tablets and smartphones.

"Disaster Radio System" for Providing Community Information

How do people receive local government information in your communities? This slide shows various methods of distributing community information.

For example, a disaster radio system uses speakers on steel towers to broadcast audio messages. Community circulars may be distributed, and local governments may issue paper-based monthly community magazines.

Lifevision is most closely related to disaster management, which is the theme of this presentation. As shown in the slide, local governments use disaster radio systems. In rural areas, speakers are installed in homes to enable local governments to provide various information.

You may wonder how a disaster radio system is used in daily living. To give you a better idea, let me talk about the movie Your Name., which most Japanese probably know.

In the latter half of this movie, a girl urges community residents to evacuate using a disaster radio system. Strictly speaking, her action violated Article 74 of the Radio Act. Anyway, this is how a disaster radio system is used to deliver information to community residents.

In rural areas, the melody of Yuyake Koyake, a children's song, is played from the speakers in the evening. I hope you get the picture. When a disaster occurs, these speakers are an important means of urging residents to evacuate, as in the case of the Great East Japan Earthquake.

Local Government Services for Elderly Persons

What are local government services? Local governments and communities offer various services for elderly persons, including monitoring and assisting with mobility for those who have voluntarily returned their driver's license or who struggle to get around.

These services are particularly important in local areas which are becoming increasingly depopulated and aging. The number of elderly persons is increasing, and there are too few young people to underpin communities. Mobility has become difficult. Public transport for getting around is very limited. The number of physicians and local shops is decreasing, making daily life inconvenient. Many local areas face these problems.

However, by using IT in local areas, it is possible to shop online and have products delivered by home delivery services, making life more convenient. There are many such gaps in local areas.

People of working age tend to assume elderly people can't use IT, and give up. We have been working on this project to enable elderly persons to take full advantage of IT to make their lives more convenient.

Concept: "A Friendly App for the Elderly"

We developed Lifevision as a portal for distributing community information including about disasters, and providing various community services. Lifevision is already being used by more than 40 local governments across Japan.

The concept is "an app that is easy to use for elderly persons." We carefully designed the interface screen to be easy to use.

Let me briefly explain the system. "Lifevision CMS" is a screen for entering information. Information entered in the browser is sent to the app via a cloud server we manage.

We coordinate with existing disaster management-related systems of local governments, such as disaster radio systems, J-Alert, which also gives warnings about incoming missiles, and L-Alert, so that information can be sent to the app efficiently.

There Is No Perfect Information Media in a Disaster.

How do you get information when disaster strikes? Possible ways include via the TV, radio, and social media on PCs and smartphones.

If there is a power outage, you cannot use the TV. Also, most of the information on TV and the radio covers an entire area; it is rarely for just your community. Disaster radio systems broadcast only audio information, and can be heard only when you are outside. Residents may misunderstand or fail to hear the messages.

There is no perfect information media in the event of a disaster. It is important to fully understand the advantages and disadvantages of the types of information media and to use them depending on their characteristics.

Collection of On-site Information after the 2016 Kumamoto Earthquakes

We visited a disaster-stricken community to improve the usability of Lifevision in the event of a disaster, and developed it on site. We analyzed how to provide readily useful information through the app and built a model of various services and functions.

The 2016 Kumamoto earthquakes killed more than 200 people. We visited the affected areas with our developers to collect information about what had happened immediately after the earthquakes and also some time after the earthquakes. We also interviewed local people.
These are four problems that occurred immediately after the earthquakes.

First, local government officials received phone calls and inquiries from residents. They went to the sites and could not return quickly to the city office, causing the city office to be understaffed and the remaining staff to be too busy.

Second, it was difficult to use all types of media and send information properly because there were too many media available. Only one media was used frequently.

Third, social media, such as Twitter and Facebook, were used to send information, but they were full of false information. You may remember a fake photo showing a lion that had escaped from a zoo in Kumamoto. Old evacuation notices were repeatedly circulated on social media. Users received old information repeatedly.

Fourth, it was difficult to send information properly to the information-poor, including the elderly and disabled. The local government panicked, and information did not reach residents as intended.

We placed Lifevision devices in the city office and shelters three weeks after the earthquakes. We provided support in various ways and developed functions toward the next phase.

Lifevision provided information by text, photos, and audio messages, making it possible to send official information properly to evacuees at shelters. The app's video conferencing function was used to share information about the on-site situation, which local people really appreciated.

We visited the affected areas to help us develop useful functions that met the disaster management needs.
How to Deliver Correct Information to Residents and the Information-Poor

We focused on two purposes during development. The first was to provide residents with correct information, which is crucial. To avoid problems of social media, we improved the system so that official information sent from local governments is correctly presented in chronological order. To avoid situations where residents fail to hear messages or misunderstand them, we also made sure that information is sent by text so that it can be read later.

We made sure to reach the information-poor, including the elderly and persons with impaired hearing. Notably, people with hearing difficulties cannot hear messages from disaster radio systems, so we arranged for the information to be available by text. We also improved the system so that foreigners can get information in their own language.

It is difficult for residents to judge when to evacuate when they receive an evacuation advisory. We thought it is important to tell residents when to evacuate, and urge them to do so.

How to Enable Local Governments to Function Properly

As I mentioned earlier, local governments are likely to panic, and it's important to help them function properly so that they can provide various services to residents.

To do this, it's important and efficient to distribute information to multiple media by a single input. With the two purposes in mind, we set out to create a system where information can be collected without having to visit the site so that officials can obtain various information and give proper instructions from their office.

Our on-site survey showed the critical importance of supporting local government officials.

Summary of the Lifevision Functionality

Based on such information, we developed various new functions for Lifevision. As this slide shows, the app is designed to deliver information to the information-poor. For foreigners, the app provides information in different languages. For persons with hearing difficulties, the screen blinks when push information is received.
When prompting residents to evacuate, the screen shows a message to evacuate, including when to evacuate. When a disaster strikes, people tend to have what is called "normalcy bias," and believe they will be safe even if they do not evacuate. Our app urges them when to evacuate, and help them take evacuation action. We have been implementing this kind of app because we believe it will make them possible.
Regarding centralized management of information that has been input, the server can be linked with various media. We linked the Lifevision server managed by DENSO with various existing media of local governments, so that information could be distributed to many types of media by a single input. I said earlier there is no perfect media; nevertheless, we aimed to create an environment where residents can receive information in some way or other.
The final point is collection of on-site information. For example, heads of neighborhood associations and administrative districts, and fire departments can send information about the local situation to the city office by smartphones and tablets. The disaster management headquarters collects the information, checks the situation and damage of local sites, and then takes action. Furthermore, the information can be displayed on a map, such as "This road is closed here" or "Evacuation centers are crowded".
Based on feedback from the sites, we created a system that can gather information without having to visit sites, and can deliver that information to residents.

The mission of our community IT service is to reflect the experience of victims in the app by using technologies. We will continue working to update the app in various ways.

Thank you very much.