DENSO Wins Medals at the 42nd WorldSkills Competition
Kariya (Japan) - DENSO Corporation and DENSO's subsidiary DENSO E&TS Training Center, which is responsible for providing engineering and technical training for DENSO employees, won two gold medals in the Plastic Die Engineering and CNC Turning categories at the 42nd WorldSkills Competition. The competition was held in Leipzig Germany, July 2-7, 2013.
"In addition to achieving excellent results in the competition, we aim to improve the spirit, technique and physical condition of young technicians," said Kazuo Hironaka, senior executive director of DENSO Corporation. "We will continue to provide systematic special training to potential highly skilled technicians and pass on manufacturing skills to younger generations."
DENSO participants from Japan competed in eight categories: Manufacturing Team Challenge; Plastic Die Engineering; Industrial Control; Mobile Robotics; CNC Turning; CNC Milling; Mechanical Engineering Design-CAD and Electrical Installations.Masaki Takamine won the gold medal in the Plastic Die Engineering category. Also, for the fourth consecutive time, DENSO employees from overseas subsidiaries participated in the event. This year, Preecha Maniwongrungrot from DENSO (Thailand) Co., Ltd. (DNTH) won the gold medal in the CNC Turning category. This was the third gold medal, following the one won by DNTH in the CNC Turning category of the previous WorldSkills competition, received by a participant from DENSO's overseas subsidiary.
The WorldSkills Competition, first held in Spain in 1950 and held every two years, is a premier world event for skills recognition and advancement. For most categories, participants must be no older than 22-years-old. In order for participants to be eligible to compete in the Worldskills Competition, they must win first place in the most recent competitions held in their country or region. This year, approximately 1,000 people from 52 countries and regions tested their skills by competing in 46 categories.
DENSO has participated in the WorldSkills Competition since 1971. To date, DENSO employees have won 28 gold medals, 15 silver medals, and 13 bronze medals.
Since the establishment of its Technical Training Center* in 1954, DENSO has been focusing on developing skilled technicians and passing on manufacturing expertise to future generations.
DENSO Corporation, headquartered in Kariya, Aichi prefecture, Japan, is a leading global automotive supplier of advanced technology, systems and components in the areas of thermal, powertrain control, electric, electronics and information and safety. Its customers include all the world's major carmakers. Worldwide, the company has more than 200 subsidiaries and affiliates in 36 countries and regions (including Japan) and employs more than 130,000 people. Consolidated global sales for the fiscal year ending March 31, 2013, totaled US$38.1 billion. Last fiscal year, DENSO spent 9.4 percent of its global consolidated sales on research and development. DENSO common stock is traded on the Tokyo and Nagoya stock exchanges. For more information, go to www.denso.comor visit our media website at www.densomediacenter.com
.
* DENSO's Technical Training center is now the technical skill development division of DENSO E&TS Training Center Corporation.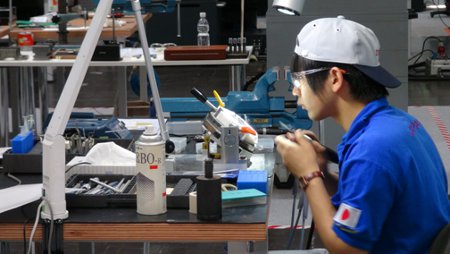 Masaki Takamine competing in the Plastic Die Engineering category

Preecha Maniwongrungrot competing in the CNC Turning category