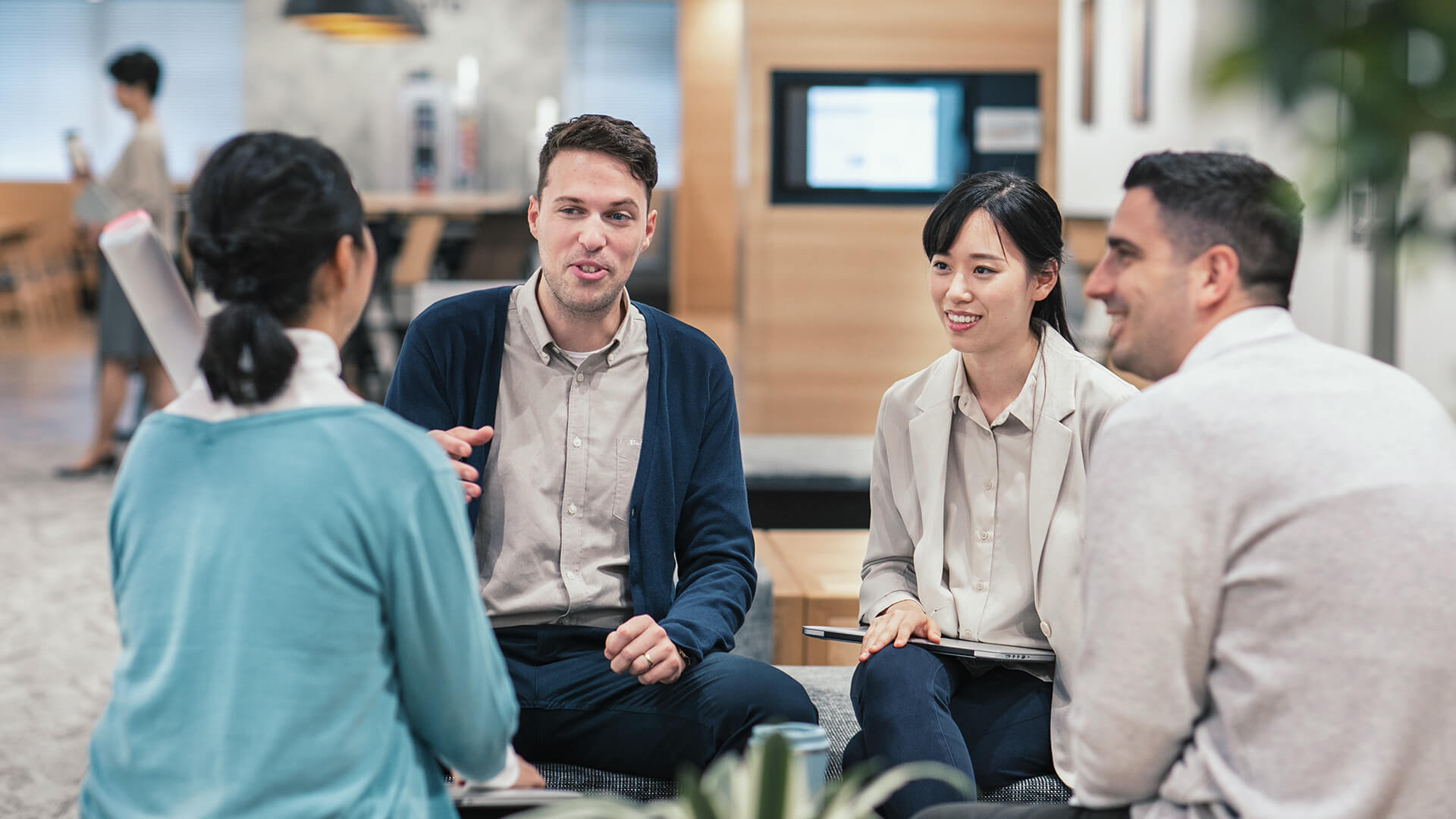 Communication Based on Mutual Trust and Responsibility
Basic Stance —Working to Ensure Long-Term, Stable Employment
DENSO believes that worksites where associates continue to work proactively with a sense of pride and a high level of motivation will lead to sustainable growth of the DENSO Group. Guided by this belief, we encourage dialogue and discussion with our employees, the basis on which we have made improvements to working conditions, including working hours, holidays, and salaries, which are compliant with laws and regulations, etc. We are also making efforts to deepen the bonds of mutual trust and responsibility by creating a sense of organizational unity, enhancing each associate's morale, and improving the workplace environment to make it a better place to work. In these ways, we strive to ensure long-term, stable employment.
Furthermore, we engage in these kinds of initiatives toward long-term, stable employment in accordance with the laws and regulations of each country and region by sharing information on these initiatives between our headquarters and each Group company.
Number of Associates by Region [DENSO Group]
Average Service Years, Retention Rate, and Turnover Rate [DENSO CORPORATION]

Fiscal 2015

Fiscal 2016

Fiscal 2017

Fiscal 2019

Fiscal 2020

Average
service
years

21.29 years


male:
22.64 years
female:
15.55 years

21.95 years


male:
22.81 years
female:
15.58 years

22.07 years


male:
22.93 years
female:
16.18 years

21.76 years


male:
22.66 years
female:
16.07 years

21.67 years


male:
22.58 years
female:
16.18 years
Turnover
rate*1
0.47%
male:
0.31%
female:
1.78%
0.45%
male:
0.34%
female:
1.30%
0.50%
male:
0.33%
female:
1.69%
0.84%
male:
0.69%
female:
3.69%
0.78%
male:
0.68%
female:
2.55%
Retention
rate*2
98.40%
male:
97.65%
female:
92.48%
95.91%
male:
96.78%
female:
91.94%
97.64%
male:
97.72%
female:
97.32%
97.76%
male:
97.55%
female:
98.45%
95.95%
male:
96.34%
female:
94.81%
Specific Initiatives
1. Creating channels for communication
DENSO encourages active communication between managers and associates to ensure a mutual understanding of management policies, issues related to management, and issues related to the workplace environment, in addition to solving these issues. To realize this basic policy, we hold regular meetings and round-table conference both Company-wide and at each individual workplace. We also work to promptly share information through the various channels for communication, such as messages from the CEO and in-house bulletin boards.
2.Initiatives to Improve Associate Satisfaction
In order to raise the overall level of satisfaction of associates, DENSO conducts associate morale surveys and ascertains associates' motivation toward their work and level of satisfaction in terms of supervisors and the workplace. Feedback is provided to managers to encourage improvements in the workplace and is also utilized in consideration of human resource policies.
In addition, we hold regular events to encourage workplace unity, such as a Companywide sports festival and family day, in accordance with the conditions of each region and Group company. In doing so, we are working toward strengthening the bond between the Company and associates.
(The Companywide sports festival and family day for fiscal 2021 have been canceled due to the COVID-19 pandemic.)
3. Welfare Programs
Based on associates' needs and the laws and customary practices of each country, DENSO is working to expand welfare programs that foster a comfortable workplace as well as improve the motivation of associates and support their lifestyles. For example, since 2007 DENSO CORPORATION has been introducing a selection-based welfare program called the DENSO Cafeteria Plan to meet diverse welfare needs. In addition, the Company has established new recreational facilities, cafeterias, and other facilities, as well as an asset building assistance program and a Group insurance system.
Future Initiatives
Sustainable growth of the DENSO Group is essential in continuing to secure long-term stable employment. By placing even more importance on communication with our associates and further reinforcing the bond of mutual trust and responsibility, both associates and we will make efforts together to realize growth and development of the DENSO Group.