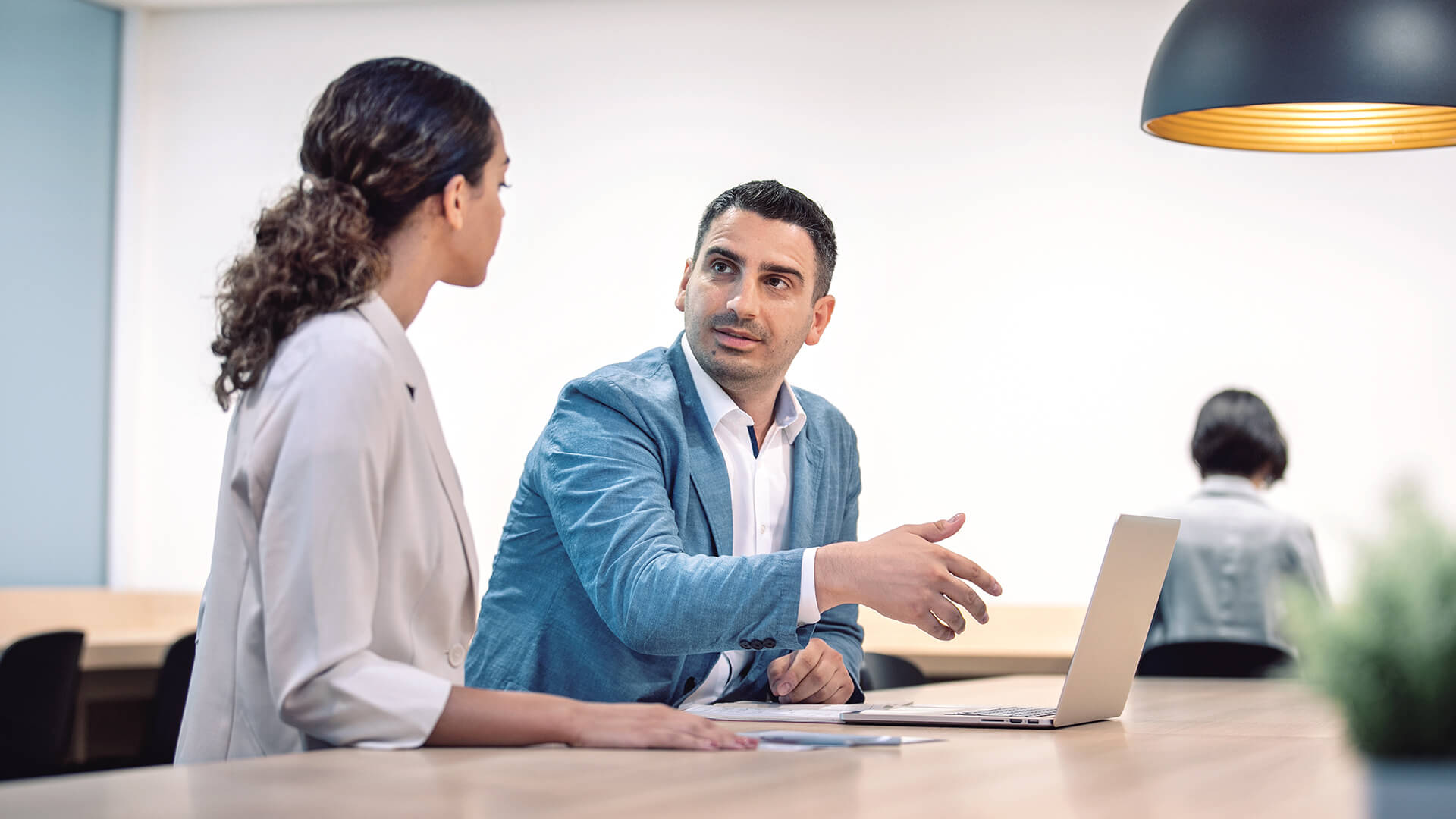 Human Resource Development
Basic Stance
DENSO is working to provide a range of opportunities for skills development and to develop fair and impartial evaluation systems so that all Group employees worldwide, each of whom possesses a unique character, can share common values and take active roles while deriving a sense of growth and achievement in their work.
The Opening New Frontiers Personnel System at DENSO CORPORATION
DENSO aims to develop and establish new technologies, new markets, and new workstyles by promoting the growth of individuals and enhancing teamwork through the cultivation of a corporate culture that tackles challenges head on. Guided by this aim, DENSO has put into place a personnel system under the slogan of "Opening New Frontiers."
Specific Initiatives
1. Introduction of Globally Standardized Human Resource Systems
With roughly 2,300 executives—including executives from overseas Group companies—as our target, we have introduced a shared global human resource system (from January 2016).
We introduced the "Global Individual Grade," a shared global system that focuses on demonstrated individual ability in global management positions. Basing evaluations on a consistent criteria allows employees worldwide to plot careers from anywhere within the Group. Through this system, we hope to further develop DENSO's businesses worldwide by appointing employees with diverse values and abilities.
Global Management Position and Education by Grade
Proportion of local employees in overseas Group company management positions
Fiscal 2014 result
Fiscal 2015 result
Fiscal 2016 result
Fiscal 2017 result
Fiscal 2018 result
31%
(22 persons / 71 posts)
33%
(24 persons / 73 posts)
33%
(25 persons / 74 posts)
33%
(25 persons / 77 posts)
28%
(26 persons / 92 posts)
2. Fostering the Development of Young Technical and Skilled Employees
DENSO believes that the development of highly capable technical and skilled employees who can develop and produce creative products is critical to corporate growth. Guided by this belief, DENSO operates DENSO Technical College, which offers technical high school and technical college curriculums, in an effort to continue the traditions of the Technical Training Center that opened in 1954. Outside of the domestic Group, we are supporting the development of technical and skilled employees of several suppliers. Furthermore, at overseas offices, we are offering support in such ways as establishing training facilities at offshore production bases, introducing educational tools, dispatching instructors, and accepting trainees into the DENSO Technical College.
These education systems have produced many young graduates who have won medals at the WorldSkills International Competition, a tournament in which world-class technicians compete.
World Skills Competition cumulative medal count (DENSO Group)
【TOPICS】Winning a Total of Four Gold Medals at the 55th National Skills Competition and the 37th National Abilympics
At the 55th National Skills Competition held in November 2017 in Tochigi Prefecture, 34 DENSO participants competed in 10 categories. Of these categories, our participants won gold medals in "mechanism assembly," "punching dies," and "ambulatory robots." In addition, two DENSO participants competed in the 37th National Abilympics, winning a gold and silver medal in the "electronic device assembly" category.
In addition to achieving outstanding performances, our goal for participating in the Skills Competition and Abilympics is to refine the mentality, techniques, and constitution of our young technicians, who will become experts in the future, through training and to pass the necessary skills on to them.
Going forward, we will continue to cultivate and pass on skills to our young technicians through efforts in the Skills Competition and Abilympics.
Initiatives of DENSO Corporation
(1) Implementing Career Planning and Level-Specific Training That Emphasizes Independence
At DENSO Corporation, we carry out evaluations that take into account the individual growth of each employee and the process he or she used to achieve that growth. These evaluations are conducted by having employees establish individual goals for themselves each year and meet with their supervisors regularly to discuss their individual progress toward reaching these goals. In terms of medium- to long-term goals, we have our employees share their future vision with their supervisors and compare that vision with the development plans supervisors have for each employee. Based on these visions and plans, we provide employees with the necessary work experience and conduct workplace rotation. In these and other ways, we provide meticulous support for developing the individual careers of each employee.
In addition, we have set up various programs to encourage career development. These include level-specific educational activities that are conducted at major career turning points, an internal talent recruitment program that selects necessary employees from a wide range of in-house talent, and a career consultation office where employees can receive advice on their career path and personal skill development.
Career Planning Initiatives
(2) Promoting Initiatives for Training New Employees
Within the new employee training at DENSO Corporation, we keep elements that need to be taught by superiors and learned by new employees to a minimum with the aim of fulfilling our mid-term policy of realizing human resources that can learn, think, and take on challenges on their own initiative.
With the aim of encouraging independent and thorough learning habits for new employees, we are incorporating a blended learning method that combines e-learning and group training. The basic structure of new employee training comprises three elements: "independent preparatory study (utilizing mobile devices such as iPads and smartphones)," "group training centered on discussion," and "class-wide sharing and reflection on matters learned." In addition, a certain section of the training's curriculum entrusts new employees with tackling management-related issues themselves.
(3) Other Initiatives
We have in place the "certified professionals system" (started in fiscal 2011), which recognizes and certifies personnel who have extremely high expertise and achievements and who are likely to become a role model for young people. We also have set up a system that promotes temporary employees to permanent employees.
Number of employees certified under the "certified professionals system"

| | | | | | |
| --- | --- | --- | --- | --- | --- |
| | Fiscal 2014 | Fiscal 2015 | Fiscal 2016 | Fiscal 2017 | Fiscal 2018 |
| No. of persons | 3 | 1 | 2 | 2 | 3 |
Number of employees promoted from temporary to permanent positions

| | | | | | |
| --- | --- | --- | --- | --- | --- |
| | Fiscal 2014 | Fiscal 2015 | Fiscal 2016 | Fiscal 2017 | Fiscal 2018 |
| No. of persons | 79 | 85 | 108 | 168 | 295 |
Future Initiatives
Under the belief that the growth of each employee forms the basis of corporate development, we will work toward offering opportunities for improvement and cultivation through our human resource system to enable every employee worldwide to work energetically while fully exerting his or her capabilities.