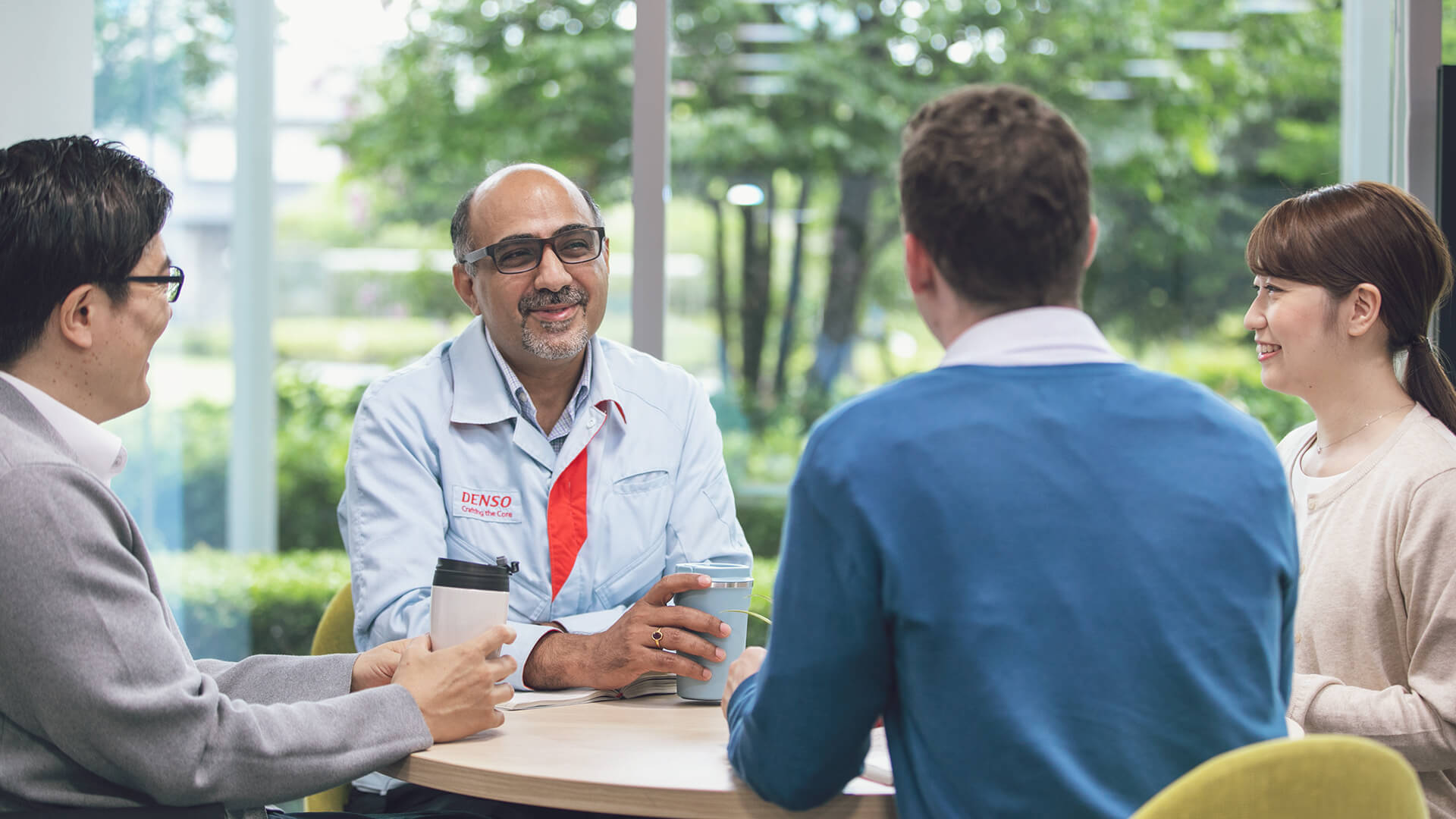 Encouraging Diversity and Promoting a Work-Life Balance
Basic Stance
Continuing to Be a Company That Is Inspiring
For DENSO to maintain the trust and understanding of society while continuing to grow going forward, it has become essential for the Company to leverage the strengths and viewpoints of its broad range of employees around the world. In other words, DENSO must further promote diversity and inclusion. Valuing the new ideas that are born out of the diverse value systems held by employees and fostering a warmhearted atmosphere where kindness and respect are shown to the individuality of each employee are two irreplaceable aspects in realizing sustainable growth for the Company. To this end, DENSO is working on a global scale to realize an organizational environment and culture that embraces all individuals, regardless of personal attributes such as race, gender, gender identity, gender expression, age, nationality, religion, disability, sexual orientation, career history, or value systems, thereby allowing a diverse group of employees to work with enthusiasm and energy.
1. Global Initiatives
In 2016, DENSO's president & CEO issued a message on diversity, which was released via the Company's corporate website, internal intranet, in-house newsletter, and other outlets. This message was delivered with the aim to communicate senior management's approach to diversity and inclusion initiatives both internally and externally. Guided by our management's strong conviction to promote diversity and inclusion, we will actively pursue relevant initiatives in each country and region of operation going forward.
Message from the Officer in Charge of Diversity & Inclusion Promotion
DENSO's philosophy is to contribute to a better world by creating value together, and that is why we incorporate social issues and needs in our business direction and strategy. We believe that companies should exist to help build a better future for all people, so we are united in one global vision of carbon neutrality by 2035 and mobility technologies and solutions that provide greater peace of mind.
To do this, we need innovation and creativity. And innovation and creativity are nurtured in an inclusive environment where everyone feels welcomed, valued, respected, and heard. When we have open and sincere communication—talking and actively listening—we can safely share our diverse ideas, experiences, and dreams, and we can work together to bring these dreams to life. That is Diversity and Inclusion. That is how DENSO can inspire and make a difference in the world.
Kenichiro Ito,
Senior Executive Officer,
Chief Human Resources Officer
Examples of Initiatives
D&I themes are different according to each country and culture; therefore, DENSO promotes activities that are suitable for each region. For example, in Vietnam, Malaysia, Indonesia, the Philippines, and Thailand, where a large number of women work at our production sites, production lines adapted for pregnant women have been installed, enabling them to work while sitting down. By doing so, DENSO has created an environment where women at production sites can work energetically without experiencing stress during pregnancy, and these efforts also include supportive care for breastfeeding mothers. In North America, we hold an internal event during Pride Month* in June of every year to eliminate unconscious bias toward sexual minorities.
In fiscal 2022, we simultaneously held events in North America, Europe, India, and Japan to promote the active role of women in the workplace. The events were held in March to coincide with International Women's Day. In addition to a message to all employees delivered by our chief human resources officer (CHRO), panel discussions and lectures led by experts were held in each region, with hundreds of employees attending each event.
2. Domestic Initiatives
(1) Encouraging Diversity
The promotion of an active role for female employees, senior employees, persons with disabilities, and employees from overseas is a key issue for DENSO. To this end, we have been strengthening our organization exclusively for promoting diversity since January 2014. Under the leadership of the CHRO, we have also taken steps to enhance our systems and raise internal awareness of this issue.
Fiscal year
2018
2019
2020
2021
2022
Female employees
5,345
(13.1%)
5,674
(13.9%)
6,529
(14.2%)
6,631
(14.6%)
6,710
(15.1%)
Senior employees
(employed post-retirement age)
1,869
3,396
3,406
3,679
4,053
Persons with disabilities *1
634
(2.18%)
743
(2.22%)
774
(2.25%)
825
(2.28%)
829
(2.36%)
Employees from overseas *2
260
286
369
278
231
(2) Promoting the Active Role of Female Employees
At DENSO CORPORATION, we are working to bolster our employment of women. At the same time, we are continuously pursuing activities to promote the active role of our female employees through such means as establishing an environment that allows women to advance their careers throughout each major life event and implementing career support systems. In these ways, we are making proactive efforts to promote the active role of female employees.
Road Map for Promoting the Active Role of Female Employees
Targets for Promoting the Active Role of Women
DENSO has set targets for the end of fiscal 2026 and is promoting activities centered on strengthening the recruitment of women, supporting the career development of female employees, and supporting male employees in participating in childcare.
Percentage of women hired as new graduates: Business fields: 50%, Technological fields: 15%, Technical fields: 30% or more (from fiscal 2022 and beyond)
Number of female employees in managerial positions in business fields: 200
Number of female employees in managerial positions in technical fields: 200 (by the end of fiscal 2026)
Percentage of male employees taking childcare leave: 13% for a period of one month or more
Percentage of female employees taking childcare leave: 99% for a period of one year (by the end of fiscal 2026)
Main Initiatives

| | |
| --- | --- |
| Career planning | Once a year, female employees on a main career track have an interview with their supervisors. Based on the discussions held at these interviews, supervisors create medium- to long-term plans for career development. By having female employees carry out their daily work in line with these plans and nurturing them along the way, we are working in close cooperation with our female employees with the aim of realizing ideal career designs. |
| Leader training for women | We offer classroom learning to newly appointed female managers that provides an outline of and introduces methods for organizational management. In addition, guided by the support of supervisors, we implement training that helps female managers create ideas and pursue organizational management methods as leaders through the resolution of workplace issues. |
| Promotion of women in technician roles | We hold discussions on issues and engage in efforts to resolve issues for female managers and supervisors working in technician roles and as female plant general managers. These discussions aim to realize a workplace in which everyone regardless of gender can work with enthusiasm and energy. We are also expanding networks to connect female employees with each other, including through the introduction of role models. |
| Training for Managerial Personnel on Diversity | In order to facilitate an understanding of the significance of diversity and inclusion, beginning with promoting the active role of female employees (significance for management and significance for the workplace) among personnel in managerial positions, and to ensure that such personnel become advocates for changing the workplace culture, we conduct interactive training that covers such matters as the importance of promoting active roles for women, ways to interact with female subordinates, career development, and evaluation. |
| Diversity Training for New Employees | We conduct training for new employees to make them aware of how important it is for a corporation to promote the active role of not only women but also of a diverse group of human resources. This training also aims to make employees aware of any unconscious bias they may have. |
| Seminars on Promoting the Active Role of Female Employees | We hold lectures to enhance awareness of women's career development, attended by female employees, as well as by managerial personnel who have female subordinates. |
| Health Seminar for Women | We implement a seminar to help women understand specific health issues they face and to ensure that they can work in good health and with enthusiasm. |
| Seminars for Encouraging Male Employees to Take Childcare Leave | To foster a culture in which both men and women are involved in childcare, we hold seminars aimed at staff in managerial positions to encourage male employees to take childcare leave. |
| Interviews Before/After Taking Childcare Leave | Time can become easily restricted during the period of raising children, and it is therefore important for employees to take on work-related challenges that will lead to their individual growth, without having to give up on continuing their career. We believe that it is necessary for supervisors and subordinates to come together to discuss workstyles and career development. To that extent, we conduct interviews with employees before and after they take childcare leave. |
| Seminars for supporting returning to work | To give employees an image of what it will be like coming back to work after taking leave, we hold online seminars in which not only our female employees but also their partners can participate. Through these seminars, we provide support to allow women to smoothly return to their jobs. At the same time, we work to raise awareness for our employees' partners regarding the importance of teamwork when it comes to balancing work with raising a child. |
| Handbook for Supporting a Work–Life Balance | We have prepared handbooks (special versions for male employees, female employees, and their supervisors) that describe what to do during each phase of pregnancy, from the time an employee or their partner becomes aware of the pregnancy to the time the employee or their partner gives birth and returns to work. In this way, we offer support for achieving a work–life balance throughout the pregnancy and childbirth process. |
| Consultation center for female employees | We have established a specialized center that allows our female employees to easily seek consultation on the various concerns they may have, including those that relate to career plans, giving birth, and returning to work after giving birth. In addition, the center provides support to female employees in a variety of ways, including introducing them to other female employees who have gone through similar experiences. |
| System to rehire employees who have moved due to a spouse's job transfer | We have in place a system for rehiring employees who have left due to a spouse's job transfer or nursing care-related reasons. |
| System for Changing Positions | We have in place a program for changing positions to enable employees who joined as members of administrative staff to build new careers in career-track positions. |
| Various Work Systems | We offer a variety of options for work, such as teleworking, flextime, shortened working hours, exemption from overtime work, exemption from night shifts, paid leave in half-day units, accumulated paid leave, side jobs, a reemployment system (nursing care and spouse transfer), and remote work (for childcare or nursing care reasons). |
Number of women in executive and management positions [DENSO CORPORATION]
Fiscal year
2018
2019
2020
2021
2022
Officers *1
1
1.9%
1
1.8%
2
7.1%
2
7.4%
2
8.0%
Women in management positions
69
0.9%
86
1.1%
103
1.3%
113
1.5%
127
1.7%
Number and ratio of female new graduate hires
Fiscal year
2018
2019
2020
2021
2022
Administrative positions
28
48%
24
41%
29
52%
25
48%
5
29%
Technical positions
52
16%
58
14%
54
14%
46
14%
31
12%
Engineering work *2
69
28%
123
32%
101
29%
79
30%
70
28%
Administrative work
36
100%
29
94%
19
100%
27
100%
3
100%
Overall Employment
27%
26%
25%
24%
18%
(3) Supporting the Role of Senior Employees
At DENSO, to leverage the abundance of experience and skills that our senior employees possess and to support a fulfilling role for them, we are offering assistance for a diverse range of workstyles and lifestyles in a manner that tailors to individual life plans. At the same time, we are implementing systems to encourage an active role for employees hired out of retirement and introducing policies to enhance their motivation to take on new challenges. Approximately 84% of employees who have reached retirement age have made use of these rehiring systems, leveraging the experience they have gained through their service with the Company in new roles.
(4) Initiatives related to employing people with disabilities
Employment of people with disabilities
DENSO commenced the regular employment of people with physical disabilities in 1978 with the aim of having them participate in society and become self-reliant. In 1984, we established DENSO Taiyo Co., Ltd., a special-purpose subsidiary that primarily hires people with physical disabilities, in Aichi Prefecture, which was the first of its kind at the time. In 2016, we established the new special-purpose subsidiary DENSO Blossom Co., Ltd. This company employs people with mental and intellectual disabilities, who primarily perform clerical work.
At DENSO CORPORATION and its special-purpose subsidiaries, over 800 employees with disabilities are earnestly engaging in their work and playing a valuable role in strengthening our competitiveness.
Policy on employing people with disabilities
With the aim of providing an opportunity for a large number of people with disabilities to play an active role and continue to work with peace of mind, we have adopted the following two policies and are promoting efforts based on these policies.
Actively employ people with disabilities with the aim of having them participate in society and become self-reliant

Become a company where people with disabilities can leverage their capabilities and work in a lively and energetic manner
Trend in the Ratio of Persons with Disabilities Employed
Main Initiatives
At DENSO CORPORATION, people with and without disabilities work side by side in the same workplace. We provide various support and accommodations depending on the nature of our employees' disabilities so that employees can work safely and productively without feeling hindered by their disability.
Barrier-Free Access
Safety Measures
Our facilities are fully equipped with elevators, ostomate toilets, and sliding doors.
On our production lines, employees who are hard of hearing are able to confirm the operational status of equipment via lights and vibration.
Establishment of Sign Language Supporters
Distribution of Speech-to-Text Tools
Dispatch of Sign Language Interpreters
disabilities, we are training employees who can sign (sign language supporters), distributing tools that automatically recognize and convert speech into text, and dispatching sign language interpreters to meetings and training sessions.
Competing in the Abilympics
We are proactively supporting employees' participation in the National Abilympics, a nationwide competition for people with disabilities to showcase the skills they have cultivated in the workplace.
Since fiscal 2005, we have competed in the electronics assembly category every year, in which we have constantly ranked highly.
(5) Efforts toward the LGBTQ+ Community
At DENSO CORPORATION, with the aim of realizing a workplace where everyone can play an active role, we are working to enhance employee awareness and understanding so that we offer workplaces where discrimination based on gender, gender identity, sexual orientation, and gender expression does not exist. At the same time, we are working to improve various frameworks to ensure that they are not discriminatory.
Examples of Initiatives
Implemented harassment training targeting approximately all 3,100 general managers of production lines

Implemented diversity training for new employees

Made employee number design style and uniforms the same for male and female employees

Established in-house consultation center and provided individual responses to issues brought to our attention through this center (response to toilets, locker rooms, health checks, etc.)

Introduced same-sex partnership program

Distributed handbook to promote understanding of LGBTQ+ issues

Held events during Pride Month to promote understanding of LGBTQ+ issues
To coincide with Pride Month, the employee cafeteria offered a special "Rainbow Menu."
(6) Initiatives for Mid-Career Hires
DENSO CORPORATION is promoting mid-career hires in order to increase diversity of experience and acquire knowledge that the Company has been lacking. New mid-career hires account for around 25% of the total number of employees we hire for regular positions. We have in place various types of support to help mid-career hires overcome any mental or physical anxieties, including helping them establish a personnel network with through introductory training sessions and providing them with a consultation center.
Going forward, we aim to maintain the current level of standards with regard to mid-career hires.
(7) Initiatives for Promoting the Acceptance of Diverse Religions and Faiths
At DENSO CORPORATION, we understand that religion and faith are elements that form each of our employee's personal set of values, and we make considerations to ensure that employees who have various religious and faith obligations in their daily lives can work with peace of mind. An example of such considerations is the establishment of prayer rooms in our offices.
3. Initiatives for Realizing a Work–Life Balance
To make DENSO CORPORATION a more inviting place to work for employees who live various kinds of lifestyles, we have established flexible systems that provide support for realizing a work–life balance. At the same time, we are taking steps to raise awareness and reform workstyles at all of our offices.
Main Initiatives
Enhancement of paid leave systems and workstyles related to childcare and nursing care
To ensure that our employees have peace of mind in continuing their work while engaging in childcare or nursing care, we have established paid leave and work systems to an extent that far exceeds legal requirements.
Operation of in-house childcare facility
We operate an in-house childcare facility that is available to children from eight weeks old to roughly six years old, prior to entering elementary school. Not only is this facility open on holidays in accordance with the corporate calendar, employees are able to drop off their children in early morning or late at night. This in turn provides support for a diverse range of workstyles that best suits the circumstances of each individual employee.

Tacchicchi House
(operated together with five Toyota Group companies: Kariya City, Aichi Prefecture, four locations; Kota, Nukata District, Aichi Prefecture, one location; Daian, Inabe City, Mie Prefecture, one location)

Kirakira Nursery
(Kosai City, Shizuoka Prefecture, one location)

Holiday daycare for employees in technical positions
We have established a daycare space within our plants for holidays on which the Company still operates. This helps establish a structure that enables our technicians with children to come to work on holidays.
Remote working system
To support employees who face the challenge of balancing work with childcare or nursing care, we offer a remote working system.
Introduction of teleworking system
We have introduced a teleworking system that allows employees to work from home or at a location outside the office all day, or before they come into the office or after they return home from the office. In this way, we are working to secure flexibility for employees in terms of work location and working hours.
Measures to promote communication between supervisors and employees who are expecting the birth of a child
Employees who are expecting the birth of a child and their supervisors are given opportunities to discuss workstyles for balancing work and childcare.
Number of Employees Utilizing Childcare and Nursing Care Leave (DENSO CORPORATION)
Number of Employees Utilizing Childcare and Nursing Care Leave (DENSO CORPORATION)
Fiscal years
2018
2019
2020
2021
2022
Childcare leave
Female
277
286
349
316
330
Male
32
45
57
123
269
Nursing care leave
Female
7
8
9
2
5
Male
8
7
16
8
9
Shortened hours for childcare
Female
315
307
344
361
354
Male
3
2
6
9
10
4. External Evaluation
2016
Recognized as part of the Ministry of Economy, Trade and Industry's Diversity Management Selection 100
2017
Recipient of Company of Brilliance Award, from Aichi Prefecture
2018
Recipient of the Ministry of Health, Labour and Welfare's "Excellent Equal Opportunity / Work and Family-Life Balance Companies" award in the Family Friendly Company category.
Received the Ministry of Health, Labour and Welfare's Award for Excellence
2019
Winner of the 8th Japan HR Challenge Award Incentive Prize
2021
Continued to be recognized as a "Family Friendly Company" by Aichi Prefecture
Future Initiatives
Initiatives for promoting diversity are essential in attaining sustainable growth of society as a whole as well as of the DENSO Group. Going forward, we will take on the promotion of diversity and inclusion and the support of a work–life balance as a Groupwide managerial issue and work together across the Group to enhance and reinforce related initiatives.