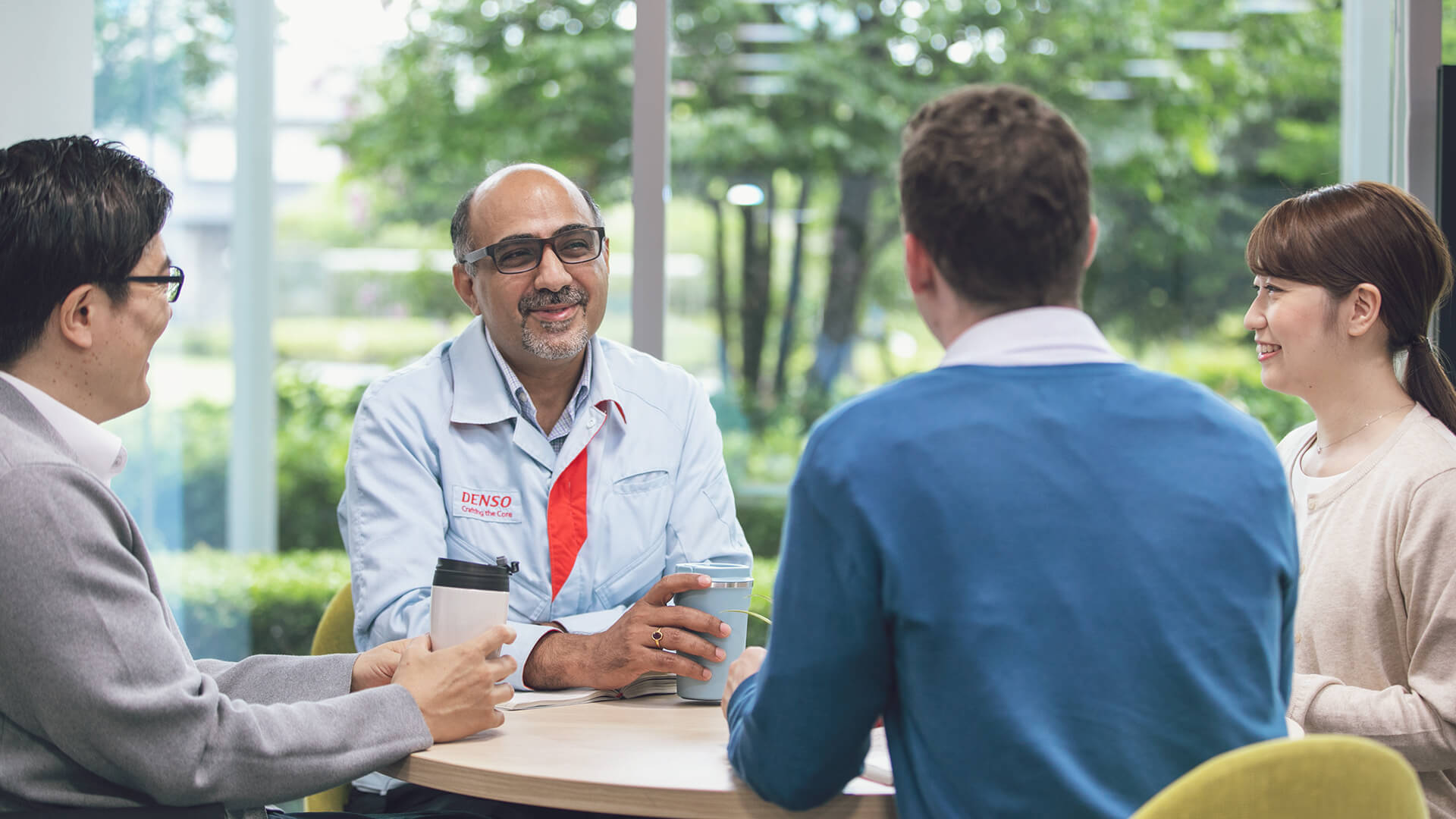 Encouraging Diversity and Promoting a Work-Life Balance
Basic Stance—Continuing To Be a Company That Is Inspiring
For DENSO to maintain the trust and understanding of society while continuing to grow going forward, it has become essential for the Company to leverage the strengths and viewpoints of its broad range of employees around the world. In other words, DENSO must further promote diversity and inclusion. Valuing the new ideas that are born out of the diverse value systems held by employees and fostering a warmhearted atmosphere where kindness and respect are shown to the individuality of each employee are two irreplaceable aspects in realizing sustainable growth for the Company. To this end, DENSO is working on a global scale to realize an organizational environment and culture that embraces all individuals, regardless of personal attributes such as gender, age, nationality, disability, sexual orientation, career history, and value systems, thereby allowing a diverse group of employees to work with enthusiasm and energy.
Promotion System
In order to clarify global policy, discuss challenges shared on a global basis, and share the status of regional issues and initiatives, DENSO has established the Global Diversity & Inclusion Committee, which is made up of executives and representatives of each region.
Meetings of the Global Diversity & Inclusion Committee
To realize the active role for each of our 170,000 employees around the world, the Global Diversity & Inclusion Committee holds meetings twice a year. At these meetings, regional Diversity & Inclusion officers come together to discuss the best way for DENSO to promote efforts related to diversity and inclusion.
Message from the Officer in Charge of Diversity & Inclusion Promotion
DENSO is a global supplier that engages in transactions with customers around the world. To meet the expectations of society going forward and to continue to be a company that is inspiring, our 170,000 employees on a global basis must come together in collaboration. This collaboration represents DENSO's diversity. As cultures and economic conditions vary by country, we face various diversity-related issues. However, I believe the nature of our diversity-related efforts, which involve understanding those around you, embracing differences, and considering the perspective of others, is the same across the globe. Through our activities to promote diversity and inclusion, I hope we can transform DENSO into a company that believes in the individual potential of employees with diverse personal attributes and allows all employees to leverage the abilities they possess to the greatest extent possible.
Promotion System and Initiatives [DENSO CORPORATION]
1.Encouraging Diversity
The promotion of an active role for female employees, senior employees, persons with disabilities, and employees from overseas is a key issue for DENSO. To this end, we have been strengthening our organization exclusively for promoting diversity since January 2014 in order to enhance our systems and raise internal awareness of this issue.


Fiscal2014
Fiscal2015
Fiscal2016
Fiscal2017
Fiscal2018
Fiscal2019
Female employees

4,770




(11.6%)

4,821




(11.9%)

4,954




(12.3%)

5,103




(12.7%)

5,345




(13.1%)

5,674




(13.9%)

Senior employees (employed post-retirement age)

1,395

1,626

1,822

1,963

1,869

3,396

Persons with disabilities


DENSO CORPORATION*1

590




(2.09%)

599




(2.15%)

594




(2.08%)

597




(2.07%)

634




(2.18%)

647




(2.22%)

Domestic Group companies*2

937




(1.99%)

961




(2.04%)

993




(2.06%)

1,027




(2.09%)

1,088




(2.16%)

1,178




(2.22%)

Employees from overseas*3
185

202

215

203

260

286
2.Promoting the Active Role of Female Employees
At DENSO, we are working to bolster our employment of women. At the same time, we are continuously pursuing activities to promote the active role of our female employees through such means as establishing an environment that allows women to advance their careers throughout each major life event and implementing career support systems. In these ways, we are making proactive efforts to promote the active role of female employees.
Career planning
Once a year, female employees on a main career track have an interview with their supervisors. Based on the discussions held at these interviews, supervisors create medium- to long-term plans for career development. By having female employees carry out their daily work in line with these plans and nurturing them along the way, we are working in close cooperation with our female employees with the aim of realizing ideal career designs.
Interviews before and after taking childcare leave
Providing a position that can lead to future personal development gives employees the motivation to continue their careers even during the hectic period of raising children, when there are limitations on the amount of time one can work. To this end, we believe that discussion between supervisors and their subordinates regarding career development is essential, and, accordingly, supervisors hold interviews with employees before and after they take childcare leave (approx. 300 people interviewed a year).
Seminars for supporting returning to work

To give employees an image of what coming back to work after taking leave will be like, we hold seminars in which not only our female employees but also their partners can participate. Through these seminars, we provide support to allow women to smoothly return to their jobs. At the same time, we also work to raise the awareness of partners toward the importance of teamwork when it comes to balancing work with raising a child.

Cumulative total of 450 people (80% partner attendance rate)

Consultation center for female employees
We have established a specialized center that allows our female employees to easily seek consultation on the various concerns they may have, including those that relate to career plans, giving birth, and returning to work after giving birth. In addition, the center provides support to female employees in a variety of ways, including introducing them to other female employees who have gone through similar experiences.
System to rehire employees who have moved due to a spouse's job transfer
We have in place a system for rehiring employees who have left due to a spouse's job transfer or nursing care-related reasons.
Action Plan for Promoting the Active Role of Female Employees[DENSO CORPORATION](Japanese)
Number of New Female Graduates Entering the Company
Fiscal year
2014
2015
2016
2017
2018
2019
Administrative positions
13
25%
19
37%
21
37%
15
23%
27
47%
28
41%
Technical positions
16
7%
10
4%
31
12%
47
16%
51
15%
58
14%
Engineering work*1
43
28%
32
21%
41
23%
55
28%
69
28%
123
32%
Administrative work
38
34
36
36
36
29
Number of women in executive *and management positions [DENSO CORPORATION]
Example
Female Employees Active on a Global Scale
Since entering the Company, I have been involved in technological development for the field of information security. While I had always aimed to work overseas, my desire to do so rose significantly as I dealt with Chinese-related businesses through my work and came to understand the opportunities and challenges I could pursue if I were to work in China. I communicated my intention to work overseas to my supervisor at our annual interview. Additionally, in my private time, I traveled to China and studied the Chinese language. Also, I began attending a business school with the aim of furthering my career. This helped me broaden my horizons.
I am currently in charge of the planning and sale of products related to telecommunications and driving safety at the Shanghai Technical Center. While collaborating with other departments at the center, my position involves engaging in close communication with customers and seeking the assistance from relevant divisions in China and Japan so that we are able to create and propose new products and services. While at times the language barrier and the difference in value systems can present challenges, I make concerted efforts to understand, listen, and relate to the issues facing those I work with and engage in face-to-face communication with them. Also, as a manager, I am involved in nurturing four local engineers. I am also tasked with enhancing the motivation and abilities of the employees I oversee and finding ways for us to achieve results as a team.
I want to continue to visit new places and accumulate a broad range of hands-on experiences. While determining my vision for becoming the kind of leader that best suits my personality, I will draw on such experiences to contribute to the development of the automotive society in China and the elimination of traffic accidents.
3.Supporting the Role of Senior Employees
At DENSO, to leverage the abundance of experience and skills that our senior employees possess and to support a fulfilling role for them, we are offering assistance for a diverse range of workstyles and lifestyles in a manner that tailors to individual life plans. At the same time, we are implementing systems to encourage an active role for employees hired out of retirement and introducing policies to enhance their motivation to take on new challenges.
4.Initiatives related to employing people with disabilities
DENSO commenced the regular employment of people with physical disabilities in 1978 with the aim of having them participate in society and become self-reliant. In 1984, we established DENSO Taiyo Co., Ltd., a special-purpose subsidiary that primarily hires people with physical disabilities, in Aichi Prefecture, which was the first of its kind at the time. In 2016, we established the new special-purpose subsidiary DENSO Blossom Co., Ltd. This company employs people with mental and intellectual disabilities, who primarily perform clerical work.
At the DENSO Group, over 700 employees with disabilities are earnestly engaging in their work and playing a valuable role in strengthening our competiveness.
Policy on employing people with disabilities
With the aim of providing an opportunity for a large number of people with disabilities to play an active role and continue to work with peace of mind, we have adopted the following two policies and are promoting efforts based on these policies.
Actively employ people with disabilities with the aim of having them participate in society and become self-reliant

Become a company where people with disabilities can leverage their capabilities and work in a lively and energetic manner
Efforts to support the activities of people with disabilities
At DENSO CORPORATION, employees with disabilities work together with employees without disabilities and are involved in the same tasks. To ensure that these employees can play an active role in a safe and productive manner without feeling restricted in any way, we provide the necessary support and consideration in accordance with the characteristics of individual disabilities.
Improving communication methods in the event of an emergency

We normally use alarms to indicate an emergency. However, employees with hearing impairment are unable to detect the sound of these alarms. Accordingly, we have installed large-scale rotating warning lights in areas where there are no or few employees in surrounding areas so that people with hearing impairment can detect emergency situations using their sense of sight.

Improving methods to ascertain the operating status of equipment

Normally, for employees involved in the operation of production equipment, a sound emitted from an indicator on the equipment notifies employees when operation initiates and finishes. A visual indicator is also displayed so that employees with hearing impairment can also ascertain the operating status of equipment. However, this indicator alone is not enough to sufficiently ensure that these employees are notified. We therefore communicate information using a tool (specialized wristwatch) that provides notification via vibrations when equipment commences operation. In this way, we work to ensure safety for our employees with hearing impairment while enhancing their operational capabilities and productivity.
Work Support
As an effort to promote education in the workplace and support the communication required during meetings, we dispatch sign-language interpreters and copyists who provide written summaries of meetings. In addition, we have established the sign language supporter system, which encourages employees to learn sign language in an effort to enhance communication with employees with hearing impairment. At the moment, 180 employees have registered as in-house sign language supporters. Furthermore, we actively make use of communication support tools. In 2017, we introduced portable writing pads. In 2018, we introduced tools that automatically recognize spoken language and convert it into written language. These tools are being utilized at many of our offices. At offices to which employees with hearing impairment belong, we conduct specialized training to enhance employee understanding of hearing impairment. In this manner, we ensure that work at our offices is conducted smoothly by instilling an understanding of hearing impairment among all employees.
Participation in the Abilympics
We actively encourage our employees with disabilities to compete in the Abilympics (nationwide skills competition for the disabled) in an effort to boost their motivation. At DENSO, employees have been competing in the "electric device assembly" category since fiscal 2005. In fiscal 2018, our employees received a gold and silver medal at the competition.
Consideration of Safety
We give consideration to the safety of employees with disabilities in accordance with personal requests and the specific circumstances of each office. For example, at offices where people of short stature work, we replaced all doors in areas where employees are active with see-through sliding doors to ensure safety when opening and closing doors. In addition, we installed handrails at a low level to assist in climbing staircases. In these ways, we are promoting efforts that place the utmost priority on safety.
We are focusing our efforts on supporting adaptive sports. Among the employees with disabilities that belong to DENSO CORPORATION and its Group companies, there are players who compete in international competitions for deaf soccer and deaf volleyball. In addition, employees from DENSO Taiyo compete every year in a wheelchair marathon held in Oita Prefecture.
Special subsidiary
At our special-purpose subsidiary DENSO Taiyo, we have adopted the slogan of "No charity, but a chance" in order to support the self-reliance of people with disabilities. The company was established in 1984 through a joint investment with Social Welfare Organization Japan Sun Industries. DENSO Taiyo primarily employs people with physical disabilities that make it difficult for them to work in a regular office. As a special-purpose subsidiary that focuses on manufacturing, DENSO Taiyo is entrusted with production operations from manufacturing divisions of DENSO CORPORATION. Guided by the aim of becoming a company trusted for its quality, DENSO Taiyo is making proactive efforts to thoroughly improve various production processes and establish a workplace that secures high levels of productivity and quality.
Two years have passed since the establishment of the special-purpose subsidiary DENSO Blossom Co., Ltd. Currently, the company employs 28 people with intellectual disabilities, three people with mental disabilities, and two people with physical disabilities. These employees distribute mail within the premises of DENSO's head office and conduct cleaning tasks. By working together in the same office, these employees with various disabilities learn to embrace each other's differences, thereby creating an in-house atmosphere where people are highly considerate of others. The "Blossom" part of the company name and the use of nasturtium, saffron, and gaillardia in the company's symbol, which stand for growth, trust, and teamwork, reflect our strong belief that the skills and capabilities of each employee of DENSO Blossom can bloom to their full potential. At DENSO Blossom, which primarily employees people with disabilities, we believe that the most important task is to create an environment where people can work with peace of mind over a long period of time. Accordingly, we give consideration to the characteristics of individual disabilities and make efforts to ensure that work can be performed comfortably and safely (easy to see, easy to hold, easy to carry). To this end, we strive to implement various measures and improvements on a daily basis.
5.Efforts toward the LGBT Community
At DENSO CORPORATION, with the aim of realizing a workplace where everyone can play an active role, regardless of sex, gender identity, and sexual orientation, we have established consultation centers and are constantly examining and promoting efforts to support members of the LGBT community as a company.
Initiatives for Realizing a Work–Life Balance
To make DENSO CORPORATION a more inviting place to work for employees who live various kinds of lifestyles, we have established flexible systems that provide support for realizing a work–life balance. At the same time, we are taking steps to raise awareness and reform workstyles at all of our offices.
Enhancement of paid leave systems and workstyles related to childcare and nursing care
To ensure that our employees have peace of mind in continuing their work while engaging in childcare or nursing care, we have established paid leave and work systems to an extent that far exceeds legal requirements.
Childcare Support
Nursing Care Support
Number of Employees Utilizing Childcare and Nursing Care Leave (DENSO CORPORATION)
Fiscal years
2014
2015
2016
2017
2018
2019
Childcare leave
Female
279
257
290
256
277
286
Male
17
17
21
27
32
45
Nursing care leave
Female
3
5
3
3
7
8
Male
9
14
5
9
8
7
Shortened hours for childcare
Female
242
268
290
316
315
307
Male
2
2
1
3
3
2
In-house childcare facility Tacchicchi House

We manage Tacchicchi House together with five companies of the Toyota Group. Not only is this facility open on holidays in accordance with the corporate calendar, employees are able to drop off their children in early morning or late at night. This in turn provides support for a diverse range of workstyles that best suits the circumstances of each individual employee.

Introduction of mobile working*

Mobile working can be used in conjunction with our flextime system, which we have been implementing for many years. In this way, we are working to secure flexibility for employees in terms of work location and working hours.
* Mobile working: A flexible workstyle that leverages information technologies to allow employees to work in a manner unrestricted by location or time

Trial implementation of Morning Shift (Starting in 2015)

Morning Shift shortens DENSO's core time by one hour (from 10:10 a.m. to 2:45 p.m.) and also encourages employees who come into work before 8:40 a.m. to leave early. In these ways, Morning Shift raises employees' awareness of time and encourages them to change the way they work so that they are able to achieve a high level of results in a shorter period of time.
External Evaluation
In addition, DENSO received the Minister Prize in Equal Employment/Work-Life Balance for Fiscal Year 2019, Excellence Award (Family-friendly Enterprises Category), which is offered by the Ministry of Health, Labour and Welfare. The Company received this award in light of its efforts to establish workplace environments that enable both male and female employees to fully leverage their capabilities throughout the entire period of their vocational lives. Furthermore, without being constrained by unconscious biases and preconceived notions, we adopt a scientific approach toward information related to human resources to ensure that we are able to fully leverage the capabilities of our diverse pool of employees and achieve business success as a result. In this way, we are working to realize the optimal allocation of our human resources in a manner that best suits their individual strengths. These efforts have garnered high praise, allowing us to receive the Prize of Encouragement at the 8th JAPAN HR CHALLENGE AWARDS.
Future Initiatives
Initiatives for promoting diversity are essential in attaining sustainable growth of society as a whole as well as of the DENSO Group. Going forward, we will take on the promotion of diversity and inclusion and the support of a work–life balance as a Groupwide managerial issue and work together across the Group to enhance and reinforce related initiatives.