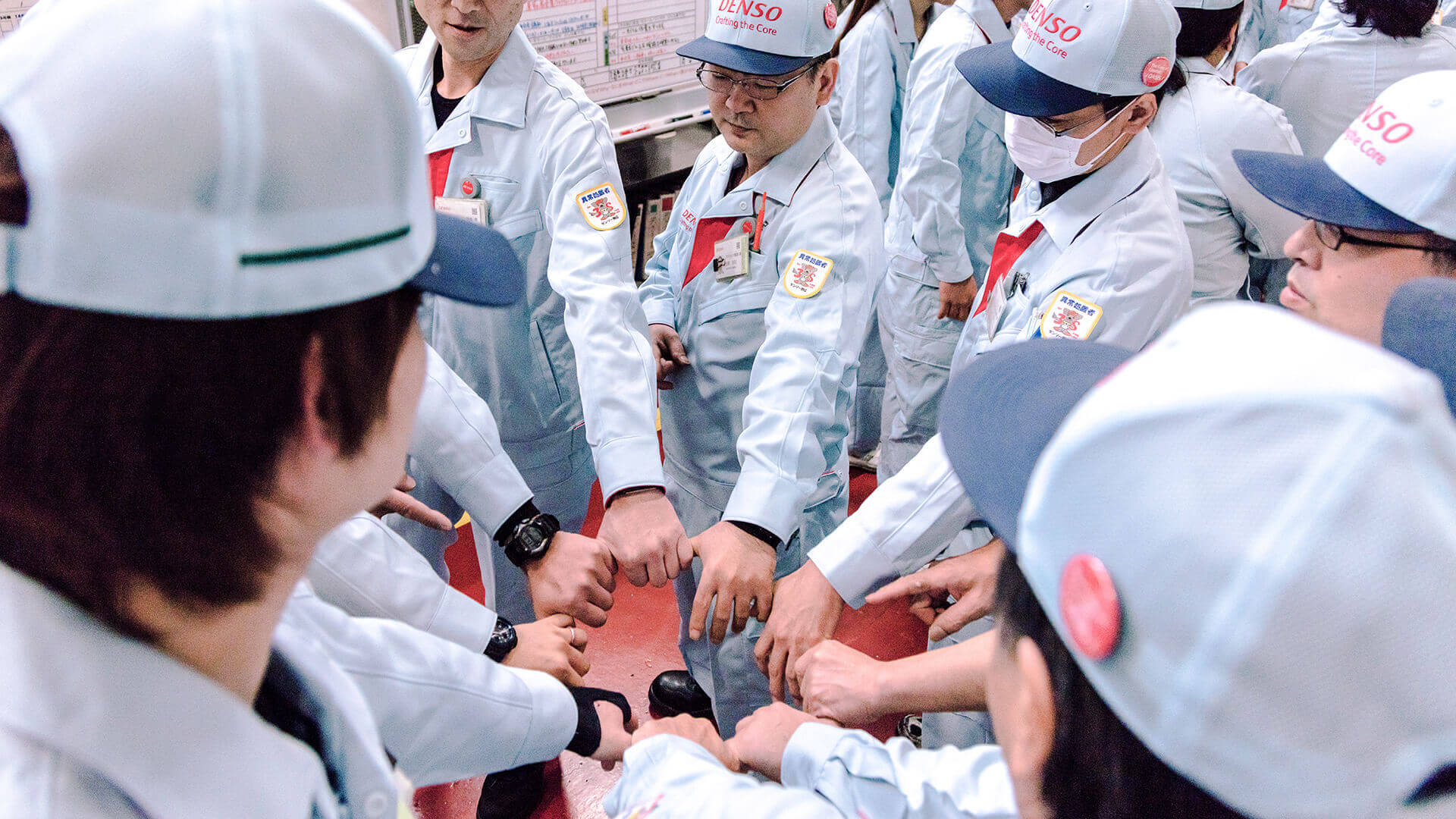 Basic Stance
To ensure DENSO's business foundation as a global company, it is absolutely essential to improve safety and health management. As such, the DENSO Group is working to achieve continuous improvements in safety and health based on the premise that creating safe and comfortable working conditions is the best way to realize both human dignity and high productivity. This policy is built on the fundamental principles of safety, health, and the environment established by DENSO CORPORATION in 1969.
1. Fundamental principles of safety, health and environment
Human beings should never lose their life, health, or physical function due to work.
Thorough observation of policies "creating safe and ideal working conditions is the best way to realize both human dignity and high productivity"

Pay attention to environmental protection and the preservation of ecological systems/resources in all business activities. Furthermore, live in harmony with local communities through environmental protection.

Each organization, managerial person, and associate in each workplace should participate in all such activities fully applying their creativeness and ideas.
2. Action agenda for practicing the fundamental policy
Safety and Health matter is a prior condition to promote business activity and each one of us will enhance to take actions as "Safety is a top priority."

Observe law, company rules and DAS.

Operate Safety and health, environment management system certainly to maintain and improve workplace that is easy to work as safe and continue environment preservation activity.

For environment preservation activity, each aspect of technical development, plant operation and associate's behavior will contribute to "harmonize with environment to create enriched and growing recycling-based society.

Create better future for region, maintain activity which will be received recognition from society originally or in cooperation with society.

Promote positively safety, health and environment activity participated by all members toward "Zero accident/disaster" via improvement activity by each one of innovation and modification with the company motto "Safety and Quality First"
Promotion System
At DENSO, committees are established for each business group (region), workplace, and Group company under the Safety and Health Committee (chairperson: vice president with oversight) to achieve continuous improvements in safety and health.
Furthermore, taking the laws and regulations of each country into consideration, DENSO CORPORATION actively supports each business through independently establishing safety and health management systems that are top tier in their respective countries.
Specific Initiatives
Occupational Safety and Health Management
DENSO practices the PDCA (Plan, Do, Check, Act) cycle based on domestic and international occupational safety and health management system (OSHMS) standards. As of fiscal 2017, 32 overseas Group companies have been certified under the OHSAS 18001 standard as defined by the British Standards Institution.
In fiscal 2019, we worked to establish methods for examining serious accident prevention, improving and expanding risk prevention for serious accidents, and enhancing management of overseas construction, as well as using 3S and first touch procedures in malfunction correction work on derricks, with an emphasis on preventing fires caused by explosions and serious accidents and reducing accidents involving machine parts and heavy objects.
DENSO's Safety and Health Management System
Control Items and Results (Fiscal 2019)
DENSO Corporation
Group companies in
Japan
Group companies overseas
Target
Result
Result
Target
Result
Result
Target
Result
Result
Safety marks
(cases)
55
26
(8)
○
52
29
(10)
○
84
40.5
(10)
○
Lost time frequency
rate
0.04
0.03
○
0.06
0.05
○
0.1
0.01
○
Safety and Health Activities
As part of the 3-3 activity, managers and directors stop and stand in one place for three minutes, in three separate places throughout the day, to observe work methods, behavior, and equipment. By providing guidance on and improving flaws, as well as commending strengths, we are making efforts in accident prevention primarily from a behavioral perspective. Furthermore, we are promoting "3S and first touch use on derricks (3S + D)" disaster prevention activities with the goal of eliminating accidents caused by a failure to turn off equipment. These activities ensure equipment cooling time and prevent hasty actions and careless mistakes through the use of pointing and calling at important locations on the equipment as a means to properly switch off equipment during abnormal conditions.
Ensuring the Safety of Contract Construction Workers
Together with affiliated companies that conduct facility and equipment installation, remodeling, and equipment relocation within Company premises, DENSO CORPORATION has established Safety and Health Council regarding the Work within DENSO premises. This Committee works to prevent accidents from occurring during construction work on Company premises by promoting safety education, conducting safety patrols, and other means.
Future Initiatives
Moving forward, we will create systems to protect against particularly serious fires caused by explosions and accidents and engage in activities to share accident warnings throughout the Group, provide follow-up care, and ensure that lessons learned from previous accidents are not forgotten. In doing so, we aim to make Groupwide efforts to improve the level of safety at DENSO.
Work-related accident ratio (Lost time injury frequency) [DENSO CORPORATION]
Safety marks (Scoring depending on scale and type of accidents. Lower number is better.) [DENSO Group]
COLUMN: "Safe DENSO," the Origin of Our Accident Prevention Training
In September 1969, an explosion occurred at a safe die-casting factory. Six people died, making this the biggest disaster since the Company's founding. Directly after this incident, Nihon Denso (formerly; DENSO hereafter) established a disaster response task force headed by top management. This task force secured medical treatment for those wounded in the incident, assisted injured employees, investigated the cause of the explosion, and repaired damaged equipment.
This incident redoubled DENSO's resolve to ensure that another such accident would never happen again, and in October of the same year, the new "Safe DENSO" slogan was created. That December, the Industrial Safety and Health Department was established. DENSO Safety, Health and Environment Standards (DAS) were instituted the following year, and the Company later added safety requirements for the installation of new technology and measures to prevent accidents. Over the years, improvements have been made and a foundation in support of safety, health, and the environment laid.
This accident is one the Company will never forget. Additionally, to ensure that we never forget this accident and remain constantly aware of safety, we established September 8 as "Safety Day." On this day, even many years after the accident occurred, we distribute a Companywide notice regarding the accident and undertake special safety activities. Also, starting from fiscal 2018, we have established the DENSO Group Safety Day, which we recognize at Group companies in Japan and overseas.