What are SDGs?
It is the common name for the Sustainable Development Goals , which are international goals adopted at the UN Summit in 2015 and targeted to achieve from 2016 to 2030. It consists of 17 goals for realizing a sustainable world, including "Building a Foundation for Industry and Technological Innovation" and "Creating a community where people can continue to live".
Contribution to SDGs for Materiality: Primary social issues
DENSO has selected primary social issues from among various ones and defined these issues as "Materiality." Through our business activities, we are contributing to the achievement of the international goal that is the Sustainable Development Goals (SDGs) by addressing selected issues related to "Environment," "safety," and "corporate foundation."
We have also determined KPIs for each of our selected materiality. These KPIs are monitored and deliberated as Companywide targets by the Management Deliberation Meeting and the Board of Directors.
Examples of Initiatives through Business Activities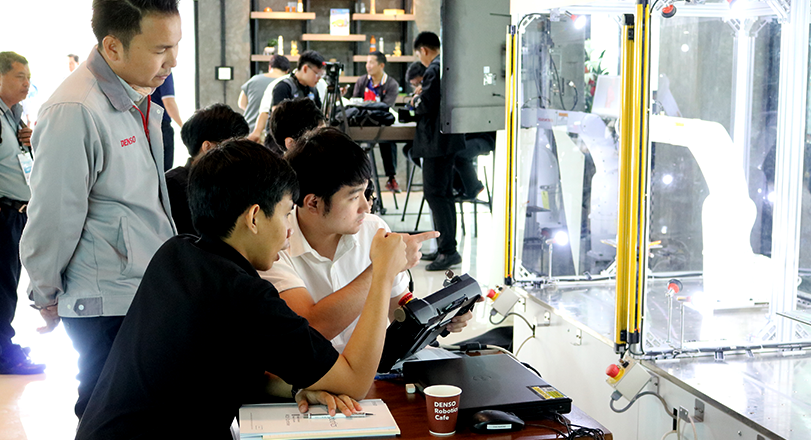 Training Lean Automation System Integrators through Collaboration between Japan and Thailand
We are conducting a demonstration project to train system integrators in Thailand by utilizing the highly efficient automated production system "lean automation" that we have adopted in our own production processes.
Making Use of the Natural Resources in Amakusa to Offer Educational Activities for the Next Generation
Leveraging the know-how in microalgae that we have cultivated through many years of research, we are promoting efforts to invigorate the regional industries of the city of Amakusa and develop the next generation of leaders who will oversee these assets in the future.
Commitment to the Environment
Vision
Contribute to an eco-friendly and sustainable society by reducing environmental burden and realizing highly efficient mobility
Reduce CO2 emissions from our factories to zero

Contribute to the electrification of automobiles and reduce our CO2 emissions to the greatest extent possible

Contribute to realizing a carbon-neutral society through technologies that collect and reuse CO2

Reduce environmentally harmful substances, emissions, and waste to help permanently preserve the global environment
Materiality: Primary social issues
Prevention of global warming
Prevention of air pollution/Reduction of environmental burden
Effective utilization of resources
Conservation of water resources
Related SDGs
KPI
Fiscal 2026 Target
Fiscal 2023 Target
Total emissions from

Monozukuri

activities
(Scope 1 + Scope 2)
-100% compared with fiscal 2021
(carbon-neutral electricity, carbon-neutral gas with use of carbon credits)
-25% compared with fiscal 2021
Popularization of products in the electrification domain
Sales of ¥1 trillion
Sales of ¥760.0 billion
DENSO's Environmental Strategies
Around the world, carbon-neutral initiatives aimed at transitioning from low carbon to carbon free have been accelerating.
In addition to further promoting its conventional environmental initiatives, DENSO aims to achieve carbon neutrality in its Monozukuri activities by 2025 with the use of carbon credits and by 2035 without the use of such credits.
Our initiatives aimed at achieving carbon neutrality by 2035 were outlined at DENSO DIALOG DAY (held in May 2021).
Examples of Initiatives
An inverter is a power converter device that converts direct current power from the battery to alternating current power and supplies that power to the motor for operation. The popularization of xEVs is an essential element in realizing the electrification of the mobility society, and inverters support the driving power of xEVs. Accordingly, enhancing the performance of inverters is the most important issue for car manufacturers. Inverters take in an electric current at a high voltage from the battery, and as such the semiconductor device generates a high level of heat. Figuring out how to keep the semiconductor device cool is the key to realizing smaller xEVs with higher performance as well as lowering their overall cost. To that end, we came up with the idea to cool the semiconductor device not from only one side, as had been done conventionally, but from both sides by making use of the heat exchange technologies that we have cultivated through the development of radiators. By doing so, we realized compact, highly efficient inverters.
DENSO is moving forward with the development of technologies that contribute to the promotion of vehicles powered by fuel cells, which use hydrogen to generate electricity.

In fiscal 2015, DENSO developed various products for fuel cell vehicles, such as a fuel cell monitoring unit, high-pressure hydrogen sensors, and a hydrogen charging ECU. In addition, DENSO-developed products have been installed in the MIRAI, the fuel cell vehicle manufactured by Toyota Motor Corporation. These products include high-voltage power system components, such as a power control unit and fuel cell boost converter, as well as cooling system parts, such as a radiator and cooling pump, that greatly improve cooling performance.

Going forward, DENSO shall continue to utilize technology developed for hybrid, gasoline, and diesel vehicles in order to provide products that contribute to improving the reliability and performance of fuel cell vehicles while at the same time reducing the cost of such vehicles.
With the aim of reducing its environmental burden, DENSO has been engaging in the research and development of resin materials that utilize the molecular structures of plants. We have also applied starch-based bio-polycarbonates and castor oil-based urethane resins in certain products. Plant-based resins do not make use of fossil fuels, making them a renewable resource. In addition, these resins are garnering attention due to the fact that they do not increase total CO2 volumes in the atmosphere even if they undergo thermal recycling. For many years, we have pursued the development of plant-based resins, and in 2009, we developed a castor oil-based radiator tank together with E. I. du Pont de Nemours and Company. We are currently working to commercialize these radiator tanks and expand their installation in vehicles.
With the aim of achieving net-zero CO2 emissions from our plants, we are moving forward with the development to a CO2 circulation plant designed to capture and recycle CO2. In April 2021, we established demonstration equipment for such a plant inside the Electrification Innovation Center at the Anjo Plant and subsequently commenced a verification test.
The CO2 circulation plant is designed to capture CO2 primarily generated by the plant and recycle it as an energy source for the facility and for other uses. In the process, we have verified that the plant synthesizes methane, which is made from CO2 emitted by gas-fueled equipment, and hydrogen, which is produced by renewable electricity, and reused as a source of energy.
The CO2 circulation cycle of the demonstration equipment will be applied not only to the production facilities of DENSO but also to manufacturing sites in the world with the aim of achieving carbon neutrality.
Related Content
We have established a long-term environmental policy "Eco Vision" to promote the resolution of environmental issues. Please see the details of EcoVision below.
EcoVision
Commitment to Peace of Mind
Vision
Contribute to a society where people can have peace of mind by eliminating traffic accidents and providing flexible and comfortable movement for all
Popularize safe products in order to eliminate traffic accidents

Address the need for ensuring a safe air environment and provide comfortable spaces

Support working people by offering technologies that help resolve the issue of a declining workforce
Provide safe and secure products that are of high quality to gain the trust and satisfaction of our customers
Materiality: Primary social issues
Reduction of traffic accidents
Provision of flexible and comfortable movement
Provision of safe and secure products
Response to decrease in birthrate and aging population
Related SDGs
KPI

| | Fiscal 2026 Target | Fiscal 2023 Target |
| --- | --- | --- |
| Popularization of safety products (ADAS products) | Sales of ¥500.0 billion | Sales of ¥428.0 billion |
DENSO's Strategies toward Peace of Mind
The initiatives for achieving our vision of creating a secure society were outlined at DENSO DIALOG DAY (held in May 2021).
Examples of Initiatives
The need for safety products such as those that help prevent collisions is rising, and it is anticipated that the use of such products will rapidly become widespread in the future. DENSO has developed a vision sensor and a millimeter-wave radar sensor that can detect not only vehicles but also pedestrians. By combining the functions of these two sensors, the special features of both sensors can be leveraged and objects in front of and behind vehicles can be detected in a more prompt and accurate manner. These sensors are being used in Toyota Safety Sense P, Toyota Motor Corporation's pre-collision safety package, and have been installed in new Prius and Land Cruiser models.
DENSO aims to expand the scope of collision prevention by developing products that are able to detect bicycles and nighttime pedestrians.
Recently, customers and greater society have been turning their attention to accidents resulting from drivers mistaking the gas pedal for the brake pedal as such accidents, primarily by the elderly, become an increasingly serious issue. To address this issue, DENSO and Toyota Motor Corporation jointly developed an acceleration control safety device to help prevent such accidents from occurring.
This product uses displays and buzzers to inform the driver when ultrasonic sensors attached to the bumper detect an obstacle in a vehicle's course when the gas pedal is pressed while the vehicle is parked or stopped. If the driver continues to apply strong pressure to the gas pedal, mistaking it for the brake pedal, the device will limit acceleration to reduce the force of any resulting collision. Furthermore, if a driver is backing out of a parking space or otherwise putting their vehicle in reverse, the device will limit excessive acceleration if the gas pedal is pressed to an extent that would result in speeds of over 5 km per hour, even if an obstacle is not detected.
Since Denso Wave Inc. (then DENSO Corporation's Business Division) first developed QR codes in 1994, these codes have become popular throughout the world and continued to evolve, helping to conserve time and resources for companies in a wide range of industries.

Recently, Denso Wave launched and commenced sales of "Q-revo trace," a service that visualizes distribution from the producer to the consumer using a tracing function that leverages QR code and cloud technologies. With this service, users can easily confirm via their smartphone who produced a product, when a product was shipped, and how a product was delivered. In doing so, Q-revo trace allows reliable products to be delivered to consumers with peace of mind.
The main causes for the occurrence of traffic accidents are vehicles, infrastructure, and people. Aiming to realize a society without traffic accidents, DENSO offers products that ensure safety. In addition, DENSO also implements traffic safety educational activities, which are carried out by employees, for members of local communities around the world (educational activities commenced in 2015 and, as of fiscal 2018, have been carried out by 55 Group companies in Japan and 19 other countries and regions around the world).

Our employees act as models for practicing traffic safety and work to form connections with local communities. By doing so, we believe we can encourage people around the world to give consideration to the perspective of sustainability.
Related Content
Corporate Foundation Initiatives No.1
Vision
Ensure that each employee acts in a fair,honest,and ethical manner while complying with laws and regu-lations in each country and region

Provide safe and reliable products to customers,protect information assets,and prepare for cyber security risks that the "connected society"faces
Materiality: Primary social issues
Related SDGs
KPI

| | Fiscal 2026 Target | Fiscal 2023 Target |
| --- | --- | --- |
| Compliance | Zero serious violations of laws | Zero serious violations of laws |
| Information security | Zero serious incidents | Zero serious incidents |
Related Content
Corporate Foundation Initiatives No.2
Vision
Promote the development of "people," "organiza-tions," and "the working environment" to encourage our employees to maximize their abilities and work with enthusiasm and peace of mind

Respect the human rights of all our stakeholders, including our employees and people throughout our supply chain, in our business activities

Pursue business activities that take into account environmental issues, human rights issues, and compliance together with our suppliers
Materiality: Primary social issues
Healthy and safe working environment
Protection of human rights
Related SDGs
KPI
Fiscal 2026 Target
Fiscal 2023 Target
Diversity and inclusion
Local employees in leadership roles at overseas bases: Over 20
Local employees in leadership roles at overseas bases: 20
Number of women in management positions at DENSO CORPORATION: 200 in business fields and 200 in technical fields
Number of women in management positions at DENSO CORPORATION: 145 in business fields and 145 in technical fields
Health
Employee Lifestyle Score at DENSO CORPORATION: Over 77 points
Employee Lifestyle Score at DENSO CORPORATION: 77 points
Safe working environment
Safety mark *1: Under examination
Safety mark *1: 50.0 marks at DENSO CORPORATION; 36.0 marks at domestic Group companies; and 48.5 marks at overseas Group companies
Workstyle reform /Job satisfaction enhancement
Rate of positive response to work engagement *2 at DENSO CORPORATION: 78%
Rate of positive response to work engagement *2 at DENSO CORPORATION: 72%
Protection of human rights / Sustainable procurement
Attendance rate for human rights education for newly appointed managers and new employees at DENSO CORPORATION *3: 100%
Attendance rate for human rights education for newly appointed managers and new employees at DENSO CORPORATION *3: 100%
Corporate governance
DENSO will support the above targets for Materiality and progress to a more effective governance system as necessary based on factors such as social trends, changes to the external environment, and DENSO's corporate culture.
Examples of Initiatives
To continue to achieve growth while remaining a company that earns the trust of and inspires society, it is becoming even more important to promote diversity and inclusion, which means utilizing the strengths and perspectives of various employees from around the world. To that end, DENSO is promoting initiatives to realize a working environment and an organizational culture that enables an active and fulfilling role for diverse human resources in terms of gender, gender identity, sexual orientation, age, race, nationality, religion, and disabilities as well as unseen differences such as experience and value systems.
For example, in order to further expand our business on a global scale going forward, we are strengthening the development of local leaders who can oversee the future of DENSO and drive new business creation. We are also working to promptly discover outstanding personnel in collaboration with the head office and our overseas bases and are providing such talent with support through the Global Leadership Development Program and other initiatives.
In addition, we aim to provide fulfilling workplaces where employees can work with enthusiasm regardless of gender or gender identity. To that end, we are providing various kinds of career development support, including career development meetings between employees and their supervisors, women leadership training for newly appointed female managers, and role model roundtable discussions. Furthermore, in Vietnam, Malaysia, and other countries in Asia, where a large number of women work at our production sites, production lines adapted for pregnant women have been installed, enabling them to work while sitting down. By doing so, DENSO has created an environment where women at production sites can work energetically without experiencing stress during pregnancy.
Good physical and mental health underpins employees' ability to feel energized in their work and is essential for ensuring the happiness of our employees and their families. DENSO positions promoting the health of its employees as an important management task and is practicing health and productivity management* for this purpose. In this regard, we announced our Health Declaration in September 2016. At the same time, DENSO is working to enhance its health-related initiatives from the perspectives of both physical and mental health to encourage workplace-level action and to improve employee health awareness.
Also, to promote health management at domestic and overseas Group companies, we formulated the DENSO Group Health and Productivity Management Basic Principles in February 2019. By sharing these principles globally and implementing health management activities based on the conditions at each company and in each country, we will improve the health awareness of all employees and establish a more comfortable working environment across the entire Group.

Related Content